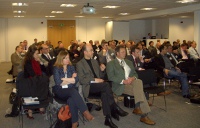 Organised by ESA's Integrated and Telecommunications Applications Department, the 2nd ARTES Applications Workshop is ongoing. Over 160 attendees have come to the premises of the International Space Innovation Centre (ISIC), Harwell (UK). To follow the workshop online as close as possible, please find presentations of Day 1 available for download. A detailed report will follow shortly.
Presentations: ARTES Applications Workshop 2012
Please click on the links to download individual presentations. A zipped archive containing all presentations is available for download at the bottom of this page.
19th April 2012

10:00-11:00

Introductions & Keynote speeches

11:20-12:40

Health

14:00-16:00

Transport

16:30-17:50

Consumers
Last updated at 05 June 2014 - 11:53