The meeting was organised by ESA and the Technical University of Denmark (DTU) under the auspices of the Agency.s Integrated Applications Promotion (IAP) programme.
Close to 100 participants including decision-makers, users, academics and industry were asked to fill out questionnaires to provide input to help establish IAP activities in the Arctic region based specifically on user needs.
Responses have been positive, with a number of ideas and suggestions already submitted.
"Our main goal with this workshop was to generate new activities dedicated specifically to the Arctic region that can benefit from a holistic approach including space applications", explained Tony Sephton, Head of Awareness Activities for the ESA IAP department.
"Based on the responses already received, our goal has been achieved. Many challenges must be met in the region, but this also offers many opportunities."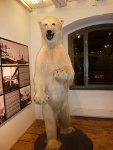 Specific considerations need to be taken into account when dealing with the Arctic given the region's extreme conditions, location and its sensitive environment.
During the conference, the importance of supporting the quality of life of people living in the Arctic was emphasised, as well as taking care to maintain a sustainable environment.

A total of 16 presentations were given during the workshop covering a wide range of potential activities including oil and gas exploration, shipping, fishing, search and rescue, telemedicine, tourism, space weather awareness, the legal framework, risk governance, and delivering information over low bandwidth connections.
Reactions from attendees indicate the importance of matching existing space capabilities with well-defined user requirements.
ESA's IAP department encourages further input, not only from delegates to this workshop but to any user who has an interest in the Arctic region.
Presentations:
Session 1
Amnon Ginati, Welcome from ESA (download)
Adam Worm, Overview of the Arctic strategy for the kingdom of Denmark (download)
Christian Mracussen, Operating conditions in the Arctic (download)
Session 2
Pierluigi Mancini, IAP user pull strategy (download)
Tony Septhon, ESA's IAP Arctic Awareness Strategy (download)
Kathy Kelly, Northe American ICe Service (NAIS) (download)
Torsten Neubert, Space Weather Awareness in the Arctic (download)
Reto Schneider, Risk Governance for the Arctic (download)
Kaare Bangert, The role of space infrastructure ... (download)
Session 3
Kim Partington, Oil and Gas Exploration in the Arctic (download)
Ilja Leo Lang, Operational challenges for ship-based tourism in the Arctic (download)
Ed Gough, Use of Naval resources in the Arctic ... (download)
Hans Ole Nielsen, Search & Rescue in extreme environments (download)
David Jackson, Canadian experience in Arctic Search & Rescue (download)
Session 4
Rune Sandbakken, Norwegian Satellite AIS for ship monitoring in the Arctic (download)
Andrew Fleming, Delivering tailored sea ice and oceanographic information ... (download)
Leif Erik Nohr, Utilizing space assets in telemedicine (download)
Brian R. MacKenzie, Fishing in Arctic Waters (download)

Jean-Pierre Contzen, IAP Applications for the Arctic (download)
Workshop Summary
Workshop summary by Jean-Pierre Contzen, IAPAC (download)
Workshop summary by Tony Sephton & Jean-Pierre Contzen, ESA IAP (download)
Last updated at 23 March 2015 - 11:59