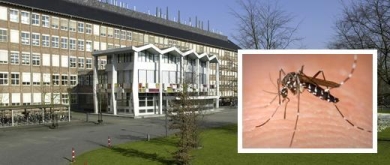 Vector-borne diseases (VBD), i.e. diseases transmitted by arthropod vectors such as mosquitoes, ticks, midges, are (re-)emerging and spreading across the world and are having a profound impact on human and veterinary health, ecology, socio-economics and disease management. Typically these vectors are highly sensitive to environmental and eco-climatic conditions and shifts which can be monitored through linking earth observation data (EO) to results from field sampling supported by satellite navigation (GPS, EGNOS, Galileo).
ESA has recently started the VECMAP feasibility study, which is a concept for an end-to-end system and associated service aimed at the mapping and surveillance of mosquitoes coordinated by Avia-GIS (Belgium) in partnership with ERGO (UK), MEDES (France), VITO (Belgium), EARS (Netherlands) and RIVM (Netherlands).
A workshop was held from 5-7 January 2010 at the National Institute for Public Health and the Environment (RIVM) in Bilthoven, the Netherlands, in order to bring together developers and primary user groups as to discuss user needs, technical possibilities, possible co-operation and service models.
The consortium presented its capability in vector and disease distribution modelling and forecasting, based on field data and Earth Observation. The projected users presented their eventual needs, present capabilities and technology gaps. An introductory discussion was then held in order to converge to actual user requirements for the VECMAP service.
Users
Potential users were present from Belgium, France, Italy, The Netherlands, Switzerland and the UK. Three groups of users were identified, each having their particular view on the matter:
Public Health

Mosquito Control

Research
Required services
The public health authorities expressed the need for:
Modelling the current and future distribution of Aedes albopictus at the continental scale using input data from the recently created VBORNET network at ECDC (Sweden);
Mapping of the distribution of Aedes Albopictus, an invasive mosquito species that enabled the spread in 2007 of the tropical disease Chikungunya into northern Italy after introduction by a tourist;
Mapping absence and presence of endemic species, with eventual focus on biodiversity indicator species and/ or species groups of particular importance to disease transmission (e.g. West Nile Virus);
Control and monitoring of (invasive) populations including rapid response capability in case of threats of disease outbreak.
Influence of landscaping activities, climatic changes and seasonal development of the vector population are to be better understood.
The researchers are primarily interested in data collection and testing both spatial and temporal models. Historical data sets have to be built up over large periods in order to make more reliable forecasts. In addition researchers also may team up with PH authorities and VECMAP to conduct national surveys.
Mosquito controllers aim to maintain population levels below certain thresholds above which there is a danger for nuisance or even spread of disease. Control should preferably be applied in an environmentally friendly manner on the larvae, shortly after hatching. The conditions, location and timing of hatching vary widely between species however. Highly detailed and frequent information is required on the local environment and weather conditions that the mosquito populations are exposed to. By combination of various Earth Observation data sets (radar, optical, infra-red) with data from sensors installed in the field an adequate model may be developed. Also distributed sensor networks were suggested for this purpose, e.g. to monitor the controlled flooding of rice fields by their owners, an event that affects the hatching of certain species. It will have to be investigated what is readily achievable as part of a sustainable service and what needs further research.
All parties subscribe to the need for some sort of standardization to be able to consistently compare and combine datasets from different sources and epochs.
It was also recognized that the same VECMAP toolset should be used for mapping other vectors (like ticks or even birds and mammals) and for mapping the spread of (human or veterinary) disease.
Next steps
The user requirements will now be detailed and compared with currently present capabilities to determine the required functionality of VECMAP, and eventually the VECMAP service model and architecture.
VECMAP is a Feasibility Study under ESA's ARTES 20 Integrated Application Promotion programme. IAP Feasibility Studies if successful, will be followed by a demonstration project with the final aim of deploying an operational service.
Last updated at 25 March 2014 - 16:20