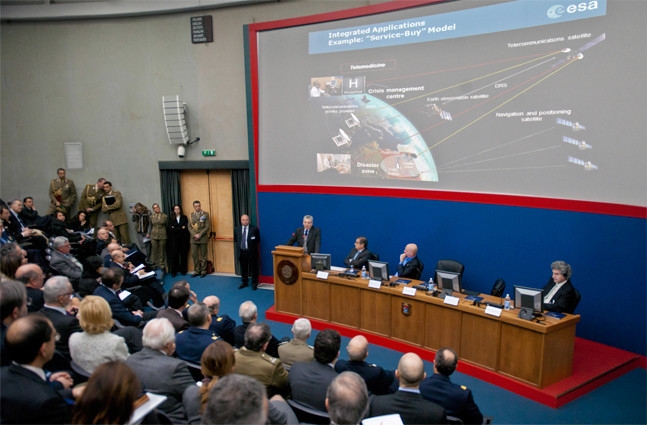 The main objective of the workshop was to understand how services based on space systems can fulfil the various needs of Defence and Civilian Users. The workshop provided an overview on Dual Use Applications at European and Italian level. The main themes were telemedicine, marine safety and security.
A second objective was to encourage Italian organisations that can provide services or involved expertise to participate in the IAP Programme through the Call for User Ideas, Open Competitions (ITT) or Unsolicited Proposals.
The event was attended among others by Giampaolo di Paola (Defence Minister), Marco Airaghi, (adviser to the Minister for Defence Industry Aerospace), Enrico Saggese (President of the Italian Space Agency) and Chintoan-Uta (Head of Satellite Based Monitoring Services Marin of EMSA).
"The aerospace sector can reveal itself as a new engine for national growth". With these words, the Italian Minister of Defence Di Paola underlined that the space industry is a leading sector that creates jobs and innovation. Moreover, the space industry can be a key element in encouraging the development of the technology and investments. The Minister encouraged synergy between the defence and civilian world because only in this way it is possible to achieve goals that would be almost impossible to achieve separately.
Massimo Cavaliere, the new Ambassador of APDUSS, introduced the aims of the platform and how the Dual-Use approach can be used for integrated space applications. APDUSS will act as an interface between ESA and stakeholders of potential Dual-Use services.
All the speakers at the workshop underlined the important results in the Dual-Use approach already achieved by the Italian Space Industry. Opsis, Athena Fidus, Cosmo-SkyMed and Sigma were mentioned as good example of solid infrastructure for developing safety applications that integrate telecommunication, navigation and remote sensing (e.g. telemedicine, e-government).
In the context of telemedicine, it was shown that thanks to a combination of satellite technologies, and in particular communication and positioning services, it is possible to design an effective infrastructure to support telemedicine applications in peacekeeping missions. Such a solution was already successfully implemented in Iraq from 2004 to 2006.
The current situation of the maritime traffic monitoring at Italian and European level was presented. Different data sources (e.g. AIS, VTS and LRIT) are combined in order to get a complete picture of the maritime traffic. The integration requires a high level of collaboration between EMSA, coastguards and local/national port authorities.
The large and very high level of Italian presenters and attendees (approximately 250) from institutions and industry showed that the idea to explore and stimulate Dual Use applications is indeed very promising.
Further Information
For further information on the Ambassador Platform for Dual-Use Space-based Services (APBSR), please contact Massimo Cavaliere:
Email: m.cavaliere@cira.it
Telephone: +358405529658
Last updated at 19 March 2014 - 13:34