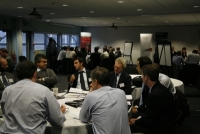 Anyone who travels in the UK will understand the congestion and pollution that result from ever-more traffic forced to use an overloaded infrastructure in a highly urbanised environment. On 21 January, 67 delegates met at the National Space Centre in Leicester to consider ways in which intelligent transport applications can relieve this problem with the aid of integrated space technologies.


During the morning, presentations were made on three examples of the challenges in this field: a case study from Leicester on how pollution monitoring and intelligent transport management can improve urban air quality; an explanation of how informed incident management can be improved by the application of recent research; and a review of challenges affecting international freight transport.

Some of the resources and programmes available to help address these challenges were also presented, including GRACE (the GNSS Research & Applications Centre of Excellence based at Nottingham University), G-STEP (the Global Space Technology Exchange Partnership based at Leicester University, focused on helping business to access Earth Observation data), the SCENS and Technology Strategy Board Knowledge Transfer Networks and ESA.s Integrated Applications Promotion programme.
During the afternoon, delegates split into working groups to discuss three key questions:
What challenges are participants addressing in business sectors relating to the themes highlighted in the case studies?
What are the pressing issues that integrated applications of space technologies can help to address?
What is need by way of technology, partnerships or high priority programmes whereby space technologies could lead to major advances within the next five years?
Some of the principal conclusions on the challenges and issues that IAP could address included the following:
improved asset utilisation in the road haulage market, through reduction in empty loads and part-loading, especially by aggregating the needs of the smaller users rather than just those of the big operators;
better integration of maritime and road-haulage freight and traffic management systems, to reduce congestion and delays at ports (with over 95% of all international freight in the UK coming by sea);
dynamic routing for both road haulage and personal mobility, as opposed to the largely static and often out-of-date systems currently available, including improvements in detailed weather forecasts (nowcasting);
comprehensive digital mapping, combining different intelligence sources to provide information such as road width, weight & height restrictions, historical traffic flows and time series;
improved incident management, especially on motorways, with a focus on timeliness of information (e.g. time-stamped information on satnavs and road signs) and on the integration of multiple data sources (e.g. pollution plumes and location information from cellular phones and satnavs to build up an accurate, real-time picture of congestion).
Major areas in which issues need to be resolved by programmes and partnerships included:
road user behaviour change management, involving both carrot and stick;
this issue of motivation equally applied to user communities such as local authorities, who often have only negative motivation for e.g. pollution reduction in order to meet government targets, rather than seeing positive benefits (especially financial ones!);
standardisation and data/system interoperability are critical, because currently there is usually a silo mentality in which the different elements of a potential integrated traffic management system are completely unconnected in technical, operational, financial and management terms.
technical awareness of some space capabilities is low even among industry, let alone users, most notably with respect to the capabilities of Earth Observation systems . there is a real need for some kind of easily accessible EO catalogue.
Finally, it was generally agreed that future events must ensure that end-users are fully involved, in partnership with industry, so that market requirements are correctly identified and that any IAP project proposals really are user driven.
Further detailed conclusions from each of the four working groups and all of the individual presentations will be posted on this website shortly.
Last updated at 07 March 2014 - 16:32