This story is part of our new Story Series: Meet ESA Space Solutions Network. In this new series, we're going to introduce you to the great teams across our Network that are using space to develop business applied in daily life. Curious about their highlights and advice? Read on.
Who is ESA BIC Hessen?
ESA BIC Hessen was initially established as ESA BIC Darmstadt in 2007 as the second site of the European ESA BIC network and has since been continuously managed by the Centre for Satellite Navigation Hessen (cesah). It is located in Darmstadt in the immediate vicinity of the European Space Operations Centre (ESOC). As of December 2020, 111 companies were incubated into the programme, out of which 68 have graduated to alumnus status.
Tell us about the people in your team and what strength/added value do you bring through.
Dr. Frank Zimmermann is our Managing Director with more than 25 years of work experience in space engineering and business development. For more than 12 years, he has been responsible for managing the business incubation carried out by cesah on behalf of ESA, not only passing on his experience to the start-ups, but also broadly supporting the Technology Transfer activities at cesah, participating as a coach and jury member in innovation competitions, as well as ensuring the growth of our network.
Tim Deimel, our Chief Financial Officer, has a background in business administration and is not only responsible for all aspects related to financial controlling but also provides substantial support and coaching in this domain to the incubatees. In addition, he is also a key support in the organisation of events such as hackathons, conferences or trade fair participations.
Francesco Possanzini is our ESA BIC Manager and day-to-day point of contact for our start-ups. As a senior operations and systems engineer he has more than 25 years of experience in technical management of software, systems and operations at large aerospace companies and international organisations. He has been involved in Earth Observation, Navigation, Science and Geo/Telecom missions and shares this know-how with our start-ups.
Sascha Heising is the Head of EU projects at cesah. He has a background as a studied geographer with focus on geo-data and soil sciences combined with long year experiences in the start-up scene due to his own company which he co-founded in 2013. He is mainly responsible for the organisation of open innovation activities at cesah. Here, he plans, organises and executes various event formats such as hackathons, bootcamps, start-up weeks and workshops.
Fausta Iarussi is responsible for all aspects of the regional funding provided to our start-ups by the state of Hessen. She knows everything related to eligibility of cost and the details of the funding process. She is therefore the direct point of contact for our start-ups on these matters and interacts closely with those responsible for the provision of the funding in Hessen.
Silke Seibold is our Marketing and Communication Manager with an international background in PR and media. She is responsible for our monthly newsletter, social media, and provides support in the organisation of events. In addition, she is the point of contact for our start-ups when preparing success stories with them and for supporting to their own marketing activities. Within the BOOSTER activity, she promotes complementary ESA funding opportunities for our alumni and organises webinars with business angels and investors.
Steffen Paukner is an experienced space engineer having provided extensive operations support to satellite missions on-site at ESOC as well as EUMETSAT in Darmstadt. At cesah he provides support to our technology transfer activites as well as within the BOOSTER activity, which is aimed at supporting our alumni to access complementary ESA funding such as through the Business Applications programm, GSTP and SPARK.
Dr. Henno Boomkamp is our ESA Technology Transfer Broker with an extensive international network and a lot of experience with ESA-funded projects. As a senior aerospace engineer he has more than 25 years of work experience in the space industry, notably as a navigation engineer on-site at ESOC in Darmstadt. He is himself an experienced entrepreneur with his own company and advises our start-ups on the application of space technologies.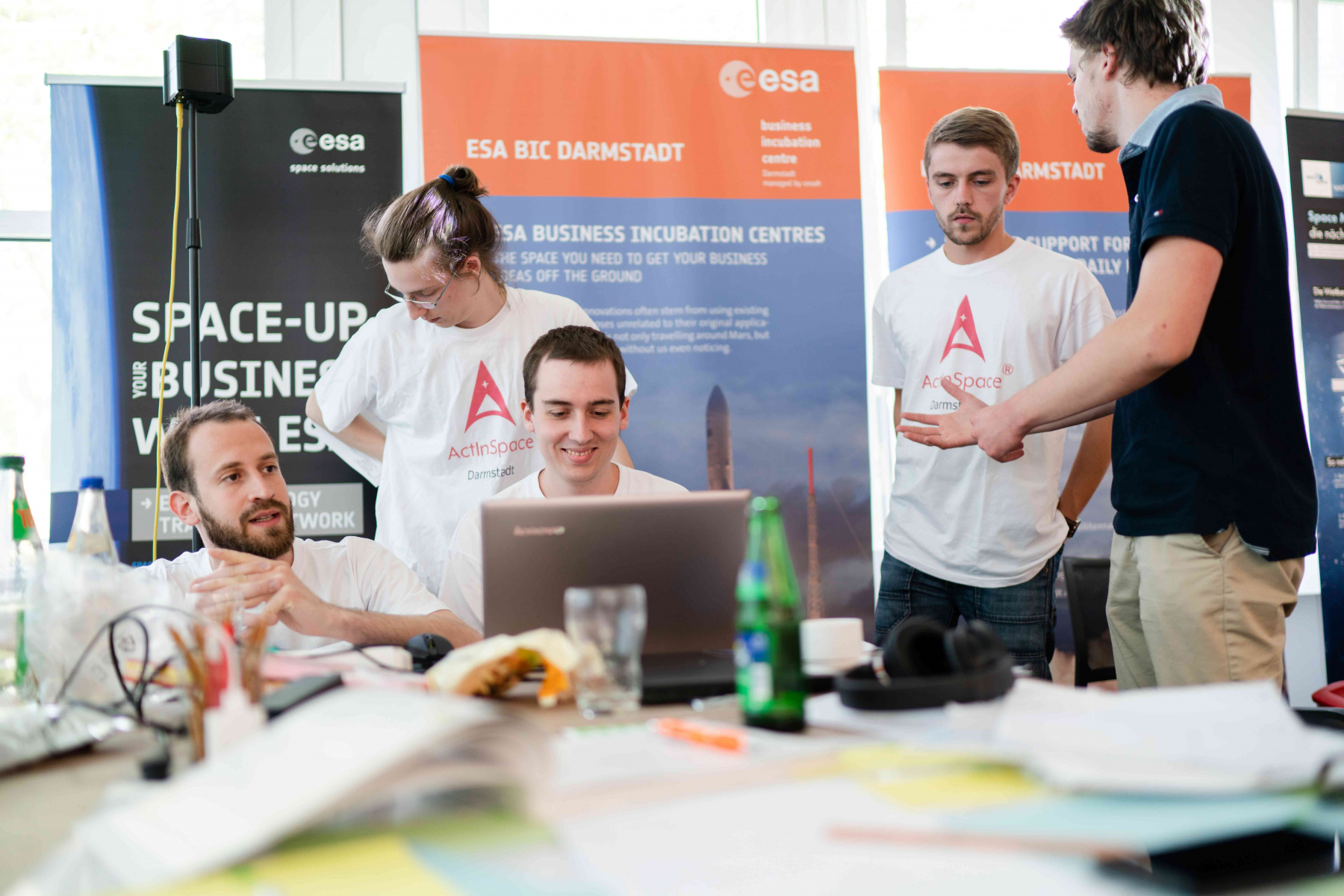 What has inspired you to work in the space industry?
For most of us, space is a long-term passion fuelled by the desire for knowledge and progress. Others were drawn to the industry by a community feeling and the wish to support start-ups in their business development. But all of us were inspired by the diversity and creativity of ideas which are made possible through space technology and which show that space is everywhere around us!
Do you look for/have start-ups working to solve big world problems?
Not exclusively, but of course! We love seeing our start-ups contribute to a safer, healthier and more sustainable world (or space for that matter). Nonetheless, we would also like to stress that sometimes contributions like this can be just as important on a smaller, more personal scale.
Please present between 1 and maximum 4 examples with the name of the start-up, website and a short sentence of what are they doing.
Sustainability:
UptoEarth (Agriculture)
Carbon emissions represent the main challenge for Climate Change and its reduction is considered the first international priority to achieve sustainable development.
Uptoearth GmbH has developed a set of services aimed at monitoring, certifying and encouraging agricultural soil carbon sequestration through the combination of satellite images from the Copernicus programme and advanced machine learning techniques. UptoEarth will reduce the time it takes to define agricultural carbon-offset projects from over two years to a matter of weeks.
Solorrow (Agriculture)
Farmers spend about 20% of their time with data analysis (satellite, weather stations, agricultural machinery etc.). This is a complex process requiring specific know-how, which often results in about 40% over and 20% under fertilised fields.
Solorrow is a mobile app, which offers precision farming recommendation maps by analyzing the long-term growth potential (5-years of crop development) of a field, using satellite imagery. The Solorrow approach ensures that farmers apply the exact amount of input according to the field potential and in-field variability, leading to optimal yield with minimal environmental impact at the same time.
Safety:
Supervision Earth (pipelines)
SuperVision Earth created a pipeline monitoring software operating data from satellite images, which delivers weekly information about risks to gas pipelines directly to the customer's desk.SuperVision Earth
It is a cloud application, which automatically downloads the latest radar and optical satellite images of where the pipeline is located and executes a change detection algorithm. Detected changes are classified by an artificial intelligence algorithm based on their type and risk level.
Vyoma (space surveillance and awareness)
A growing number of satellites and space debris are causing an exponential increase in the number of close approaches between objects in space and force satellite operators worldwide to carry out expensive evasive manoeuvres. Because of insufficient observation data, leading to large uncertainties in the calculated orbits, the current approach is inefficient, unreliable and not cost effective. Reliable information and automation are the key to solving the problem in a financially sustainable manner.
Vyoma plans to build and operate an innovative, satellite-based, passive, optical observation system for space debris monitoring. Using state-of-the-art data processing algorithms, some of which the team developed during their doctoral studies, the system will enable comprehensive space situational awareness (SSA) monitoring.
Would you like to share an interesting/inspiring story from one of your alumni?
It is of course really hard to pick one example out of the many great success stories of our alumni. Nonetheless, one start-up which truly inspires us is feelSpace. They developed a navigation belt that allows its wearer to feel paths and directions and thus enables visually impaired and blind people to facilitate orientation in their environment. Of course, we aren't the only ones who think that using space technology to make physical space tactile is an amazing idea, the start-up was recently featured in the morning magazine of the German public-service broadcaster ARD – the video is available here until 19.03.2022.
What is your advice for aspiring entrepreneurs?
Believe in your idea and don't be afraid to ask for help when you need it! We are always happy to provide a fresh pair of eyes, give feedback and advice, or provide connections to other experts when we don't know the answer to one of your questions.
Using one word, how would you describe the ESA Space Solutions community?
It might sound a bit cliché, but we would choose "family" as that is what joining the ESA Space Solutions network is like – you gain a supportive, diverse and widespread community of space and business experts, who will support you in your endeavours, create a safe space for you to grow, and provide an invaluable network of open doors.
How would you solve problems if you were from Mars?
Can you be sure that we are not from Mars and doing that already?
What is your website link where the readers can find more about you?
Our main website is https://cesah.com, where you can find information about our general activities, projects and upcoming events. You will be able to reach all relevant sites from there, but if you want to find detailed information on ESA BIC Hessen and the application process you can also visit esa-bic-hessen.de directly. Likewise, if you are interested in our Technology Transfer activities, you should have a look at the Technology Broker Germany website: https://www.esa-technology-broker.de.
The European Space Agency Business Incubation Centre Hessen - Partners
The European Space Agency Business Incubation Centre Hessen - ESA BIC Hessen is managed by cesah on behalf and in close collaboration with ESA Space Solutions and the German Space Agency DLR. In addition, cesah is supported by its shareholders Federal State of Hesse, City of Science Darmstadt, Technical University of Darmstadt, Darmstadt University of Applied Sciences, Deutsche Telekom Business Solutions GmbH, and Telespazio Germany GmbH. Our neighbour ESA/ESOC provides valuable technical support to our start-ups.
ABOUT ESA SPACE SOLUTIONS
ESA Space Solutions is the go to place for great business ideas involving space in all areas of society and economy. Our mission is to support entrepreneurs in Europe in the development of business using satellite applications and space technology to improve everyday life. ESA Space Solutions is designed to provide multiple entry points such as ESA Business Incubation Centres (ESA BICs), ESA Technology Broker Network, ESA Business Applications Ambassadors and ESA Business Applications programme. Funding typically ranges from €50k to €2M and supports everything from technology transfer, business incubation, Feasibility Studies to large-scale Demonstration Projects.
Last updated at 11 August 2021 - 09:28