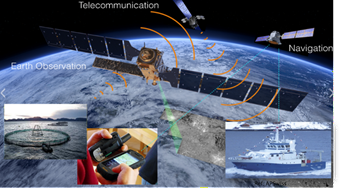 The yearly Norwegian ESA Business Applications seminar took place at the Spaceport Norway Conference in Stavanger on 19th June 2017. The theme this year was "Norwegian Space opportunities within ESA's Business Applications programme". Approximately 50 participants joined the session.
A thorough introduction to the programme was given by Tony Sephton, including an overview of the opportunities, instruments and guidelines to a successful activity. Bjørn Ottar Elseth from The Norwegian Space Centre then presented Norwegian space activities, the Norwegian Space Centre´s role and their downstream strategy, as well as other Norwegian incentive schemes to support downstream activities in Norway. Among these were Innovation Norway´s new funding scheme promoting innovative, new solutions utilizing satellite data.
The introductions were followed by presentations on possible uses of space technologies from the industry. The Norwegian company EDInsight presented their solution for improved water research management using data from the Sentinel satellites. The solution can have a great impact to the electricity power market. Viking Ice Consultancy presented their solution for sea ice monitoring and navigation, using satellites. The inclusion of satellite pictures has increased/can increase vessels´ velocity from 5 to 20 knots, leading to significant savings within maritime shipping sector, as well as positive environmental effects.
After the presentations, participants were given the opportunity to have individual talks with representatives from ESA, the Norwegian Space Centre and AP Norway. Three meetings took place.
All in all, a successful workshop, and a good place for Norwegian industry actors to network and to meet ESA, the Ambassador Platform in Norway (SINTEF Ocean), the Norwegian Space Centre and successful users of satellites and to find a way forward for new innovative ideas in the ESA's Business Applications programme.
Presentations
The presentations from the conference can be downloaded.
Agenda
Norwegian Space opportunities within ESA's Business Applications programme

Where

SPACEPORT NORWAY 2017, Stavanger Forum

When

19 June 2017

Registration

Further information

Mob +47 90057068

Introduction and opportunities

13.00

Welcome

APNorway - Kay Fjørtoft

13.15

The ESA Business Applications Program

ESA Representative – Tony Sephton

13.30

The Norwegian Space Centre role

Norwegian Space Centre - Bjørn Ottar Elseth

13.45

Questions and discussions regards possibilities

Presentations

14.00

Ice navigation – Polarice, MULDIARCOS

Viking Ice Consultancy – Andreas Kjøl

14.20

Improved water resource management using newly launched space assets

EDInsights - Frano Cetinic

Workshop

15.00 ->

Workshop – Individual talks

Introduction to the Workshop and individual sessions / The way of writing an IAP proposal, the perspectives, open for talks with ESA/NSC/APNorway

ESA, NSC, APNorway

If you would sign up for an individual talk please send an email to kay.fjortoft@sintef.no

BIO's

Andreas Kjøl, Project Director, Viking Ice Consultancy
Andreas's background is as a Nautical Engineer specialising in Hydro-acoustics and electronic navigation. Andreas has served as Captain within the Viking Group for many years on offshore vessels and Icebreakers. As Project Director he is now involved in the sales process and high level follow-up of ongoing projects.



Frano Cetinic, Founder and CEO of EDInsights
Frano has an M.Sc. in Mechanical Engineering and Business Development. He has founded and built Globesar AS to become a well-recognized brand and provider of surface deformation products and services with a focus on the Scandinavian markets. Today his focus is on utilising the vast amount of satellite data available to improve the management of surface water resources.




Tony Sephton, Integrated Applications Programme, European Space Agency
Tony has spent over 25 years in the space industry, in roles covering applications, ground segment and future spacecraft missions. Tony has been working for the Integrated Applications Promotion (IAP) programme at ESA for over 7 years, and as Special Projects Manager he has been engaged in identifying and managing activities in satellite-based services across a broad range of applications such as Precision Agriculture, Animal Tracking, Flood Response, the Arctic, Space Weather and Ageing Society.



Bjørn Ottar Elseth, M.Sc, Lead downstream and technology transfer, Norwegian Space Centre
Bjørn Ottar has an M.Sc in Aerospace Engineering from Delft Technical University. He is Lead for downstream activities in the Norwegian Space Centre. Bjørn Ottar's responsibilities also cover Technology, in particular Technology Transfer (spin-in) and Launchers.

Kay Fjørtoft, Senior Research Scientist, SINTEF Ocean, Norwegian ESA IAP Ambassador
Kay Fjørtoft, MSc, is a Senior Researcher within the Department of Maritime Transport Systems at SINTEF Ocean. Kay has been working in maritime research for more than 20 years, covering Logistics and Transport Systems as well as ICT and Communications. Kay is also an Ambassador for ESA's IAP programme, helping to instigate opportunities particularly in the maritime, Arctic and offshore energy domains.
Last updated at 17 July 2017 - 13:10