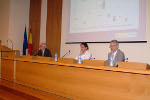 The second EARE Ambassador Platform workshop on "Space and Renewable Energies" organized by ESA, CENER, CIEMAT and CDTI was held on 09/10/2012 at CIEMAT facilities in Madrid (Spain).
The objective of the workshop was to discuss needs coming from the renewable energy sector and show examples on how space capabilities can meet those needs. The workshop was attended by 20 participants from major companies in the sector of renewable energies, including Iberdrola, Gamesa or Abengoa, research centers such as CTC or INTA and space companies like GMV or INSA.
The workshop started with an overview of the activities carried out by the EARE platform in 2011 from the last workshop (30/02/2011) until today; these include the stimulation of two wind energy activities as a first example of collaboration between the space and the renewables sector. The day continued with presentations related to the situation of various renewable energy areas done by the Spanish associations AEE (wind energy), UNEF (solar photovoltaic), Protermosolar (solar thermal) and APPA (biomass). Finally, the workshop led to discussions between attendees and speakers, reflecting about some of their key problems including areas such as weather forecasting, facilities planning, logistics, and the integration of large volumes of renewable-generated energy in the power grid.
Workshop Presentations
Download Presentation
General Manager of CIEMAT, Mr. Cayetano López Martínez.
Download Presentation
EARE - IAP Ambassador Platform (Mr. Ignacio Martí, Deputy Technical Director for R&D, CENER).
Download Presentation
Revision of ESA's activities in renewable energies (Gonzalo Martín de Mercado, ESA).
Download Presentation|
Biomass, AEBIOM (European Biomass Association)
Download Presentation
Photovoltaic Solar Energy, UNEF (Spanish Business Association)
Download Presentation
Solar Thermal Energy, PROTERMOSOLAR (Solar Power Industry Association in Spain)
Last updated at 06 March 2014 - 13:39