'Space is Open for Business' seminar took place in Helsinki on 1st September 2015. The main goal of the seminar was to represent opportunities with space assets specially for companies dealing with smart traffic and industrial internet applications. Event was organized by European Space Agency, Finnish Industrial Internet Forum, Finnish Location Information Cluster, Intelligent Transport System, Tekes, and assisted by Geowise Ltd.
The event started at 13:00 with welcoming words from Markku Ihonen, The Federation of Finnish Technology Industries host and Kimmo Kanto from Tekes. Mr. Kanto mentioned, that Tekes has been promoting 'downstream' applications for new business possibilities since 2004, but no real actions has been taken so far. In Finland, especially the arctic area is promising for space data-related actions.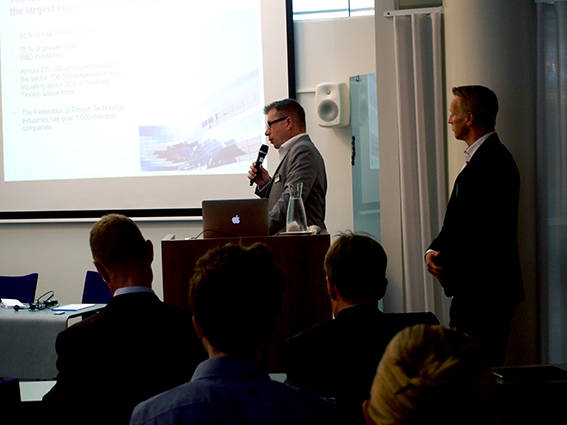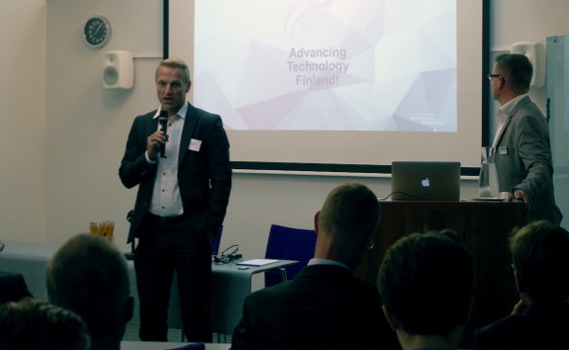 The first presentation was given by Mr. Ville Mickelsson, a veteran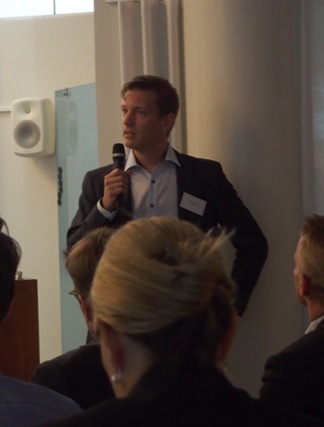 innovator of the Internet of Things and the CEO of Cyberlightning Ltd. Cyberlighning is an interesting start-­up that combines the 3D Internet, real world visualization and big data analytics to drive breakthrough applications for managing the Industrial IoT.

Mr. Mickelsson gave the audience an insight to the future of multifarious Internet usage for industrial sector. Local optimization, distributed intelligence, 'Internet of everything' and the converge of multiply data converges were some of the topics of Mickelsson's speech.

Next was the turn of Francesco Feliciani from ESA, to represent how the European Space Agency cooperates with companies, and helps them to hit the market. According to Mr. Feliciani, there are a lot of opportunities in space, and lot of possibilities to take them 'down to earth'. ESA's Advanced Research in Telecommunications Systems (ARTES) programme is dedicated to create a bridge from companies (developers) to markets (customers). Small-­sized companies may be somehow uncomfortable or hesitant in contacting large-scale organization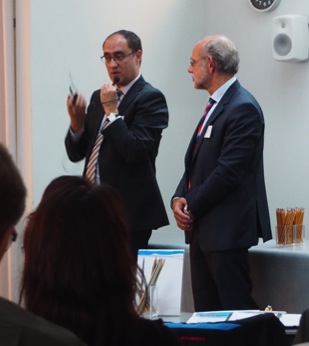 like ESA, but there is no reason for doubting – more than 50% of ESA's contracts are done with SME's and many of them are newcomers. "Newcomers are very much welcomed!", added Massimo Crisci, also from ESA. Outline Proposal is the first step to approach ESA, and the key in the process of preparation of a project. "Basically we need to understand your business idea", said Mr. Feliciani. Mr. Jorge Monteverde (ESA) also contributed by answering questions from audience.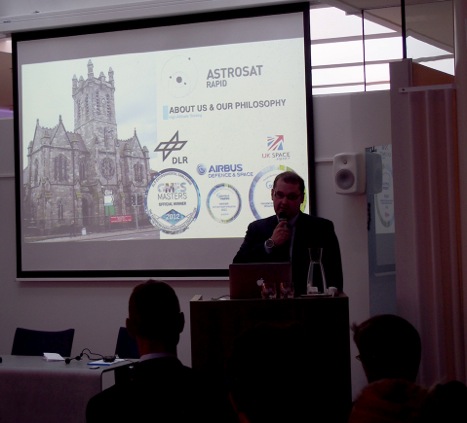 The seminar continued with a guest speaker from the United Kingdom, an astronautics and aeronautics professional Alan McLarney, who leads the technical team at Astrosat Ltd, the frontier of the commercialisation of the space sector. Alan spoke about space-data usage in smart industries.
Michelle Le Saux, from ESA, spoke about 'Position matters: GNSS User products and technologies. Satellite navigation is focused on technology and products. GNSS satellite constellations are related typically in actions like banking systems, power, transportation and navigation, communication,
safety&s
ecurity, gaming, cloud computing, etc. GNSS accelerates the technological change – it is said that one trillion machines, and 3-­‐5 billion humans will be connected to Internet by 2020.
After the networking break, Sampo Hietanen, from ITS‐Finland, gave his presentation on advantages of technology to transport, significant market area, that comes right after housing. Automotive field cries for digitalization. Mr. Hietanen has been the first person to introduce the concept 'Mobility as a Service', a paradigm change in transport offering. The future vision is that transport systems will become consumer business, when there would be more shared transport
utilities and also 'Internet of Traffic'.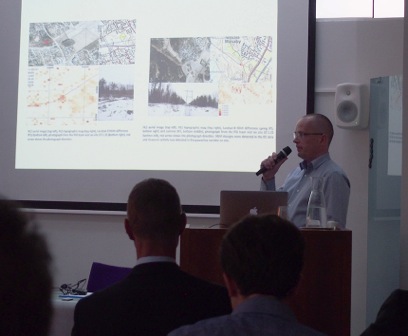 Sixth presentation was held by Mr. Tero Heinonen, founder and CEO of Sharper Shape Ltd, the global leader in UAV based automatic inspection. Mr. Heinonen started his presentation with humor, and made all the audience laugh. Sharper Shape has carried out project with ESA (SharperSAT), and Tero shared his experience of working with ESA as a startup. According to him, the contractual structure is quite heavy, but ESA was highly cooperative, with supportive attitude and they have good understanding of everyday life and realities of a startup. Mr. Heinonen highlighted, that ESA is an expert and developer partner and should not be taken as a financer. Shortly, two advices that Tero shared were:
1. Need money? Seek an investor!
2. Allocate one person to coordinate the project and do the paper work – a lot of writing and reporting comes with a project.
Then, Prof. Heidi Kuusniemi, Director the Department of Navigation and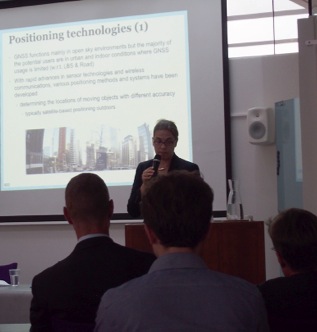 Positioning at the Finnish Geospatial Research Institute (FGI) gave audience an insight on opportunities with reliable navigation technologies. Her speech included the highlights of FGI studies related to positioning technologies – GPS-positioning is getting augmented by visual & acoustic positioning, and some of the future's most feasible things would be Multi-GNSS, self-contained sensors, the backups for GNSS (magnetic fields, landmarks) – reability is important, navigation must work seamlessly indoors & outdoors.
Seppo Hellsten, from the Finnish Environment Institute held the last presentation about needs to monitor surface waters around the mining sites. Monitoring the reactive waters is considered important after the Talvivaara mining accident. Mr. Hellsten, who has been working as a hydrobiologist for 30 years, was even invited to give a speech in the parliament about this topic, right after the accident.
The seminar was very successful, and approximately 77 participants were active and had very good questions for the speakers. Pertti Woitsch from Geowise moderated the discussions after each presentation. At 16.40 Miranda Saarentaus from Geowise, Advisor for ESA IAP Ambassador Platform Finland had the last words, and the participants & speakers continued with relaxed networking & snacks.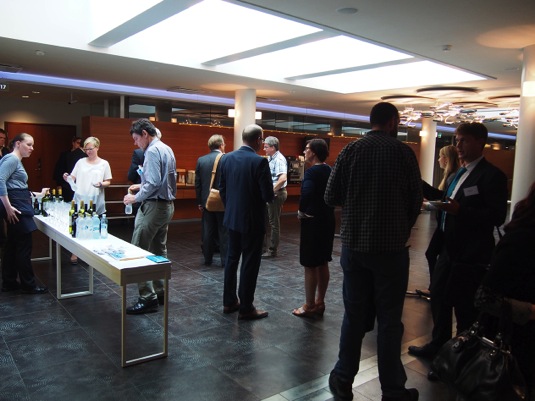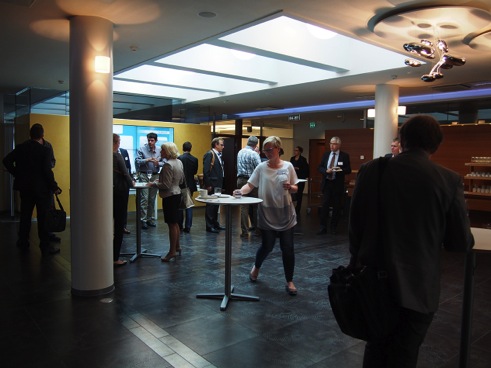 Last updated at 09 September 2015 - 16:47