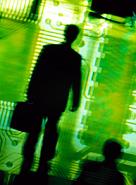 HElsinki on 12th April, 2010
A workshop on Information and Communication Technology Services for Environment, Safety and Security in the Baltic Sea was held in Helsinki on 12 April 2010. The workshop was jointly organised by BONUS EEIG (representing nine research funding agencies around the Baltic Sea), TEKES (the Finnish Funding Agency for Technology and Innovation) and the European Space Agency.
The aim of the workshop was to initiate discussion on the R&D topics to be eventually addressed in joint calls in the future. There were about 80 participants in total from a broad range of scientific, research and end-user disciplines. The workshop gave a great opportunity for Baltic users and stakeholders to have their say on the most urgent and promising areas for services and expected future technological trends.
The ESA representatives presented the IAP programme, with examples of ongoing and planned Feasibility Studies as a way of stimulating ideas for future IAP activities in the Baltic.
Three parallel sessions were held in the afternoon in the areas of Safety and Security, Environmental Monitoring and Funding Cooperation, leading to ideas for future research funding and potential Call Themes. The workshop led to the identification of the following research themes for further investigations: Search and Rescue, Oil Spill detection, enhanced communications, real-time maritime risk assessment, and creating commercial services from a system of systems.
To download the presentations of the event please click here.
Last updated at 23 March 2015 - 14:24