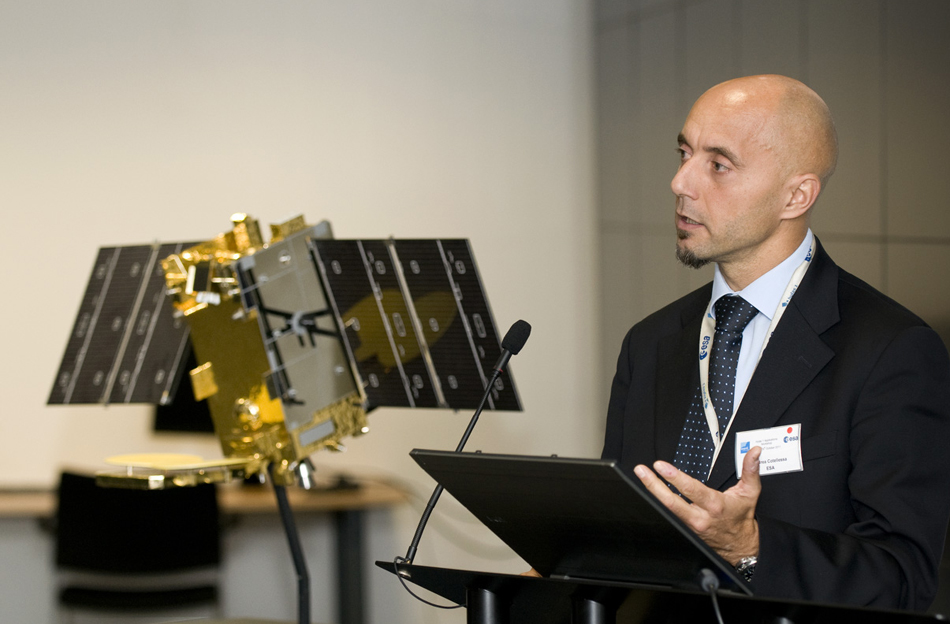 Opportunities to use capacity on the HYLAS 1 satellite are being met with high interest from European space application providers.
Close to 100 participants representing satcom product and service providers from ESA Member States including the UK, the Netherlands, France, Romania, Germany, Austria and Sweden, attended a workshop organised by ESA and commercial operator Avanti Communications to discuss demonstration application opportunities onboard HYLAS 1. National space agencies were also in attendance. The workshop took place at the International Space Innovation Centre, nearby ESA's office in Harwell in the UK.
Applications Opportunity

ESA's interest in the Applications Opportunity initiative is to stimulate the use of ESA-Avanti financed technology, help bring creative ideas to market and to help generate profitable and sustainable businesses. The offers from Avanti are flexible and range from raw bandwidth to a managed service using a pre-existing VSAT hub. HYLAS 1 capacity has already been used to demonstrate a video caching service, as part of an ESA project called NXY, which was presented to the participants at the workshop.
Bidders intending to apply for this opportunity need to meet certain conditions in addition to the ones already presented in the related Open Call for Proposals AO5891 SATCOM-APPS (part of ARTES element 3-4) and AO6124 for IAP (ARTES element 20 demonstration projects). Click here for more information.
"ESA and Avanti Communications cooperation on HYLAS 1 was very successful," explains Francesco Feliciani, head of ESA's commerical projects applications section. "It shows the will of ESA to stimulate technological innovation by European space Industry and to foster a wider use of space assets, in particular satellite communication, across European user communities."
HYLAS 1 is an innovative mission put together in a new way: it is ESA's first public–private partnership resulting in a full satellite system. UK-based Avanti has contributed most of the mission budget and will use the satellite to deliver broadband services to customers. ESA's involvement focuses on HYLAS 1's payload technology. In March 2011 the satellite successfully finished in-orbit testing and entered service.
The state of the art technology onboard the HYLAS 1 payload allows configuration of each transponder in terms of bandwidth, frequency plan and power allocation. This flexibility makes it possible to adjust to market needs, in turn making satellite communication businesses more sustainable.
Presentations given at the workshop are available for download below.
Agenda and Presentations
Last updated at 04 November 2021 - 06:20