Objectives of the service
The EN platform will enable detailed monitoring and analyses of natural resources and their changes in order to provide quick and easy access to up-to-date data relevant for forestry and insurance sectors' business cases.
The key problems of the users (our business partners) are:
information on forest resources of their clients is old or not available at all
data on the changes in the forests and effects to the forest value or coming management needs are not available
customer data and other potential data sources essential for customer's business are not easily utilizable by the customers
Users and their needs
Users:
Forest companies and forest owner associations (and their employees and customers i.e. forest owners)
Insurance, banking and asset management businesses
User needs:
Getting easy access to up-to-date forest data (basic forest variables)
Getting quickly information on changes in forests (cuttings, storm damages, risks for insect damages …) and their severity
Getting business-specific data on forests produced by combining/refining different data sources, essential for customer business cases (forest value, climate risks, cutting potential, future development, carbon balance, etc)
Easy access to the services via mobile and web apps
Operational challenges:
Getting good optical EO data depends on weather and is not available throughout the year
SAR data is not weather-dependent, but is more tricky to be utilized in modeling
Target countries:
Finland and Germany in EnviNavigator FS project, but can be any similar forested country in Europe
Service/ system concept
The final concrete services will be:
Automated EO-data based service for fast monitoring of changes in forests (storms, other natural phenomena or forest cuttings) and assessing their effect to the forest resources and value of property
EO-data based service for estimating up-to-date forest status and value (using information from monitoring service on potential changes).
Service for predicting future risks and their impacts to forest property. The service utilizes existing risk models related to climate change driven phenomena. The input for the models are derived from the EO data, climate data and other GIS data sources.
Messaging services, which allow our business customers to send targeted notifications for their clients.
Easy to use mobile solutions for accessing the business-specific services and analysis products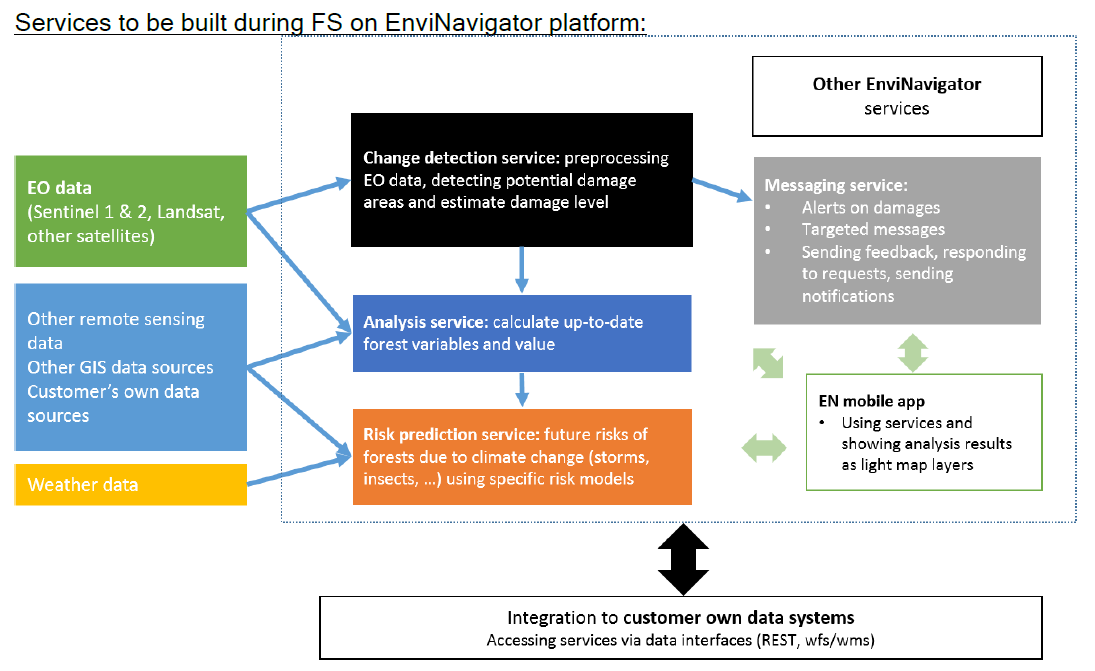 Image credit : Bitcomp, FS EnviNavigator
Space Added Value
Sentinel 1:
For estimating damages based on SAR time series, without being restricted to use images captured only in cloudless conditions
Sentinel 2:
For producing wall-to-wall forest variable maps based on multi-source inventory methods, getting input data for the models
For finer-resolution change detection
In addition to Sentinel products we will test products of commercial EO data providers (high resolution optic and radar data), and combine them with other data sources by using machine learning algorithms to produce customer-tailored data products.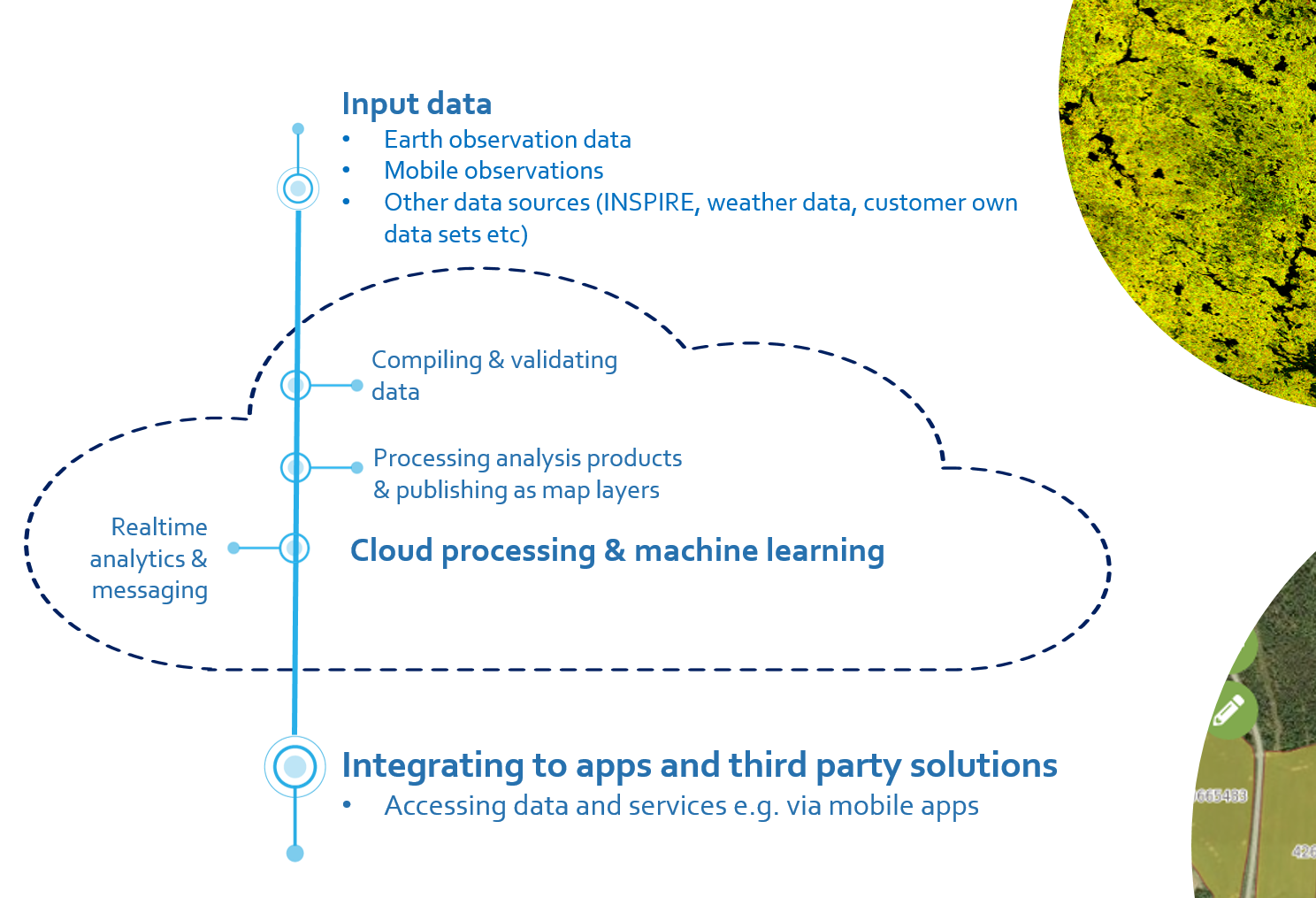 Current Status
The Final Review meeting took place on 21 January 2020. WPs 1-5 have been finalized including PoC:s related to change detection, wind damage estimations, climate change risk prediction and mobile app for forest owner associations. The consortium has decided to continue with the application for a demonstration project to develop the EnviNavigator solution with focus on forest owner associations as main customer segment.
Prime Contractor(s)
Status Date
Updated: 31 March 2020
-
Created: 31 March 2020