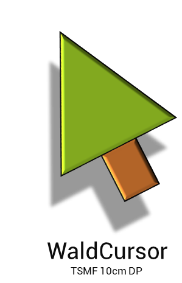 Objectives of the service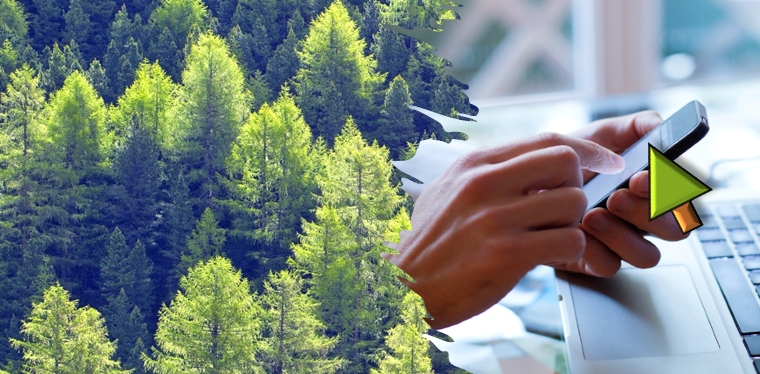 Climate change provides many new challenges for forests and forestry. Long dry periods combined with an increase in extreme weather events call for new solutions in forestry operations and ask for a solid and comprehensive information base. Stakeholders need such an information base for proper and quick decisions in the field as well as in the office.
Key problems of the forest industry, such as the reduced number of people in the field, an increasing degree of climate stress caused damages as well as tight margins of the operations are the primary motivation and driver for Tama to develop through the Tama Situation Map Forestry 10CM pixel resolution Demonstration Project (TSMF_10CM DP) the WaldCursor product. WaldCursor is an app and cloud-based assistant for forest owners and forestry operations that aims to provide powerful phytosanitary alarm services for early detection of stress and other irregularities in forestry operations. Steady monitoring of forests using satellite imagery, analysis supported by artificial intelligence, combined with locally provided drone image data for detailed analysis will assist the individual foresters and owners efficiently and cost-effectively. The service will be provided via an easy to use and robust information management platform. The information from the system will provide a solid record for decision making.
Users and their needs
The WaldCursor is initially aimed at two major user groups: a) professional forestry operations and b) forestry owners which are primarily set-up within the legal structures of Germany, Austria and Switzerland. Representatives of both groups have expressed their strong interest to participate in the project.
The project aims to provide five 'Must-Have' features to cover the needs of the target user groups:
Easy to use digital information platform
Access to satellite imagery even for sat-newcomers
Reliable phytosanitary alarm services
Access to vegetation hight and
Usage of self-created drone imagery
Service/ system concept
The WaldCursor service shall offer users timely, accurate and comprehensive information about their forestry ressources and enable their field teams to take swift action.
Users can easily navigate in their geospatial, forestry and operations data sets, including
Property boundaries
Permanent details such as strip roads
Geocoded event markers set in the field
Marker attributes filled in the field
Phytosanitary alarms
Time series of satellite imagery of the property
Geospatially correct highest resolution imagery from self-flown drone data
Elevation of their vegetation
High storm risk area map
High draught risk area map, and a lot more for
daily operations, phytosanitary care and ongoing inventory taking
WaldCursor provides three easily accessible user interfaces.
For mobile use a smartphone app, downloadable from Google Play and Apple Store
For office use a browser based system login and, for drone service providers,
A browser based system login for data transfer
The WaldCursor services become available by three software modules, all running in the cloud
Agent S, visualizing and analysing ESA Satellite imagery
Agent A, visualizing and analysing drone imagery
A Drone Terminal, providing data transfer and photogrammetric capabilities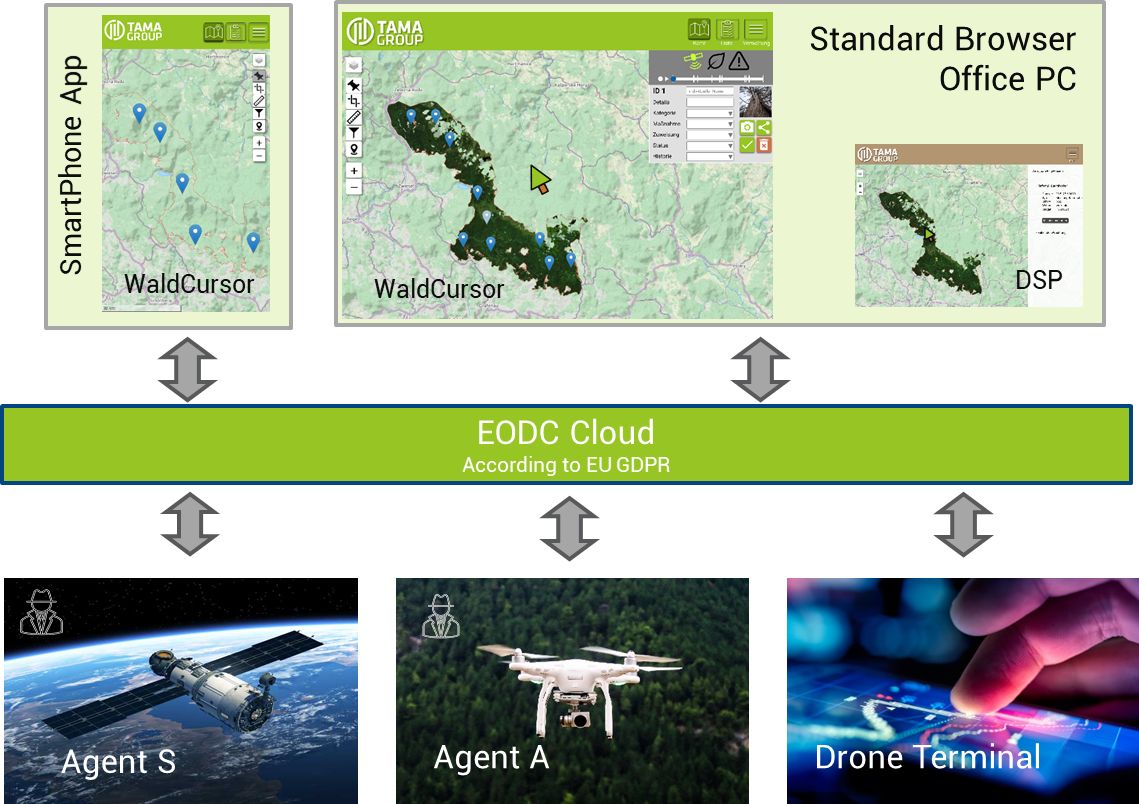 Space Added Value
The Tama WaldCursor services utilises Satellite Earth Observation data and Satellite Navigation. Optical imagery from Sentinel-2 satellite are used for visualisation and derived NDVI for vitality information analysis and change detection. In addition, WaldCursor benefits from usage of GNSS data. In most cases in forestry, even a 10m level accuracy of local position as provided by commercial smart phones allows the WaldCursor to support tailored visualization, analytics, alerts and guidance for field teams.
Current Status
For system design and system requirements validation Tama has deployed a rapid prototyping approach which allowed to visualize the planned system to project partners and other stakeholders before hardwiring the system.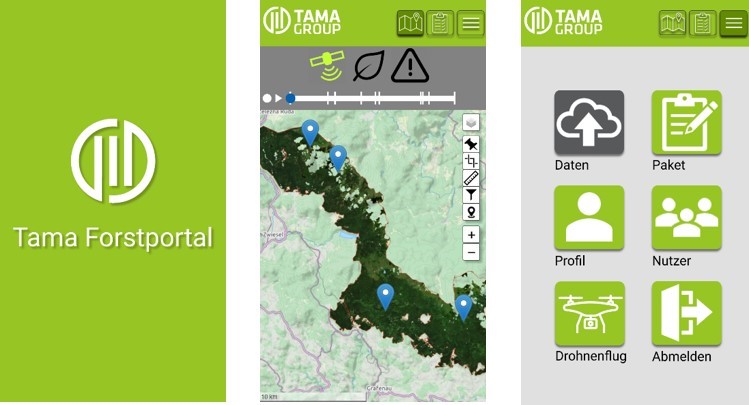 User interview workshop sessions provided strong confirmation of the prototype design introduced, delivered a whole arena of additional application ideas going even beyond the current scope for and led to the sign up for market testing in the second half of the project.
With our general design and scope confirmed we selected an appropriate market name for the product now in development, the WaldCursor. The word "cursor" is originally a latin word, meaning "running". Many of our target users consider themselves as "wood runners", or WaldCursor.
The Design review took place on 29 April 2021.
Prime Contractor(s)
Status Date
Updated: 09 June 2021
-
Created: 09 June 2021