Prof. Hans Sünkel,
Martin Moessler &
Inês Plácido
Science Park Graz
Stremayrgasse 16
8010 Graz
Austria
Phone: +43 316 873 9101
Fostering Austrian cross-sectorial innovation, based on the capabilities of space data and services, leading to increase economic activity, growth and prosperity in Austria and beyond.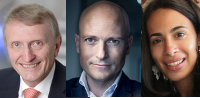 Introduction
Science Park Graz is a business incubator with a 15-year track record of interfacing with science and industry. It is supported by such stakeholders as the regional governments of the State of Styria, the City of Graz, Graz University of Technology and other universities within the region. It cooperates with various industry clusters (e.g. green tech, automotive), ensuring long-term relationships between industry, SMEs, scientific bodies and start-ups. With extensive experience in interacting with industry, Science Park Graz is embedded in a strong community of players within multiple sectors.
News and Events
Application Deadline is 10 April 2017, 2pm CET.
WHY PROMOTE SPACE APPLICATIONS IN AUSTRIA?
ESA's ARTES Applications programme offers Austrian companies and communities powerful tools to fully exploit space assets for the benefit of the economy and everyday life. At the heart of these activities, the Ambassador Platform for Austria will promote the utilision of space-based products and services such as Earth Observation data, Satellite Navigation, Telecommunication services and technologies derived from Human Spaceflight for applying these assets to successful terrestrial applications and services.
With the objective to create new and sustainable businesses, the Platform fosters engagement between both space and non-space players from industry and academia into national and international partnerships. In addition, it serves as a starting point to perform business and technical feasibility checks, undertake demonstrators and pilots, and to obtain both technical expertise and funding from ESA and industry partners.
The Platform is operating to support interested companies, entrepreneurs and research organizations taking advantage of the multiple opportunities within the ARTES Applications programmes, strengthening and enlarging the Austrian community that is already exploring space data to create sustainable services.
The Platform's goal is therefore ultimately linked to fostering Austrian cross-sectorial innovation, based on the capabilities of space data and services, leading to increase economic activity, growth and prosperity in Austria and beyond.
AUSTRIAN AMBASSADOR PLATFORM
Our activities include:
Providing information and coaching on programmes and support to the submission of proposals to ESA ARTES Applications opportunities;
Fostering networking and awareness raising through the organization of workshops and thematic events, putting together complementary stakeholders (e.g. space data experts, service providers, entities in a value chain, potential customers);
Implementing the Small ARTES Applications call, a national funding opportunity (detailed below);
Leveraging on Austria's "one-stop-shop" for space related businesses, creating synergies between Business Incubation, Downstream Applications and Technology Transfer.
SMALL ARTES APPS OPEN CALL
The Small ARTES Applications Open Call is one of the tools put in place by the Austrian Ambassador Platform to establish a first connection to ARTES Applications programmes.
Its purpose is to stimulate the submission of feasible ideas for innovative services using space assets within non-space markets (e.g. transport, energy, health, agriculture, environment, tourism, manufacturing, media, etc.). It shall also be a mean to support de-risking technical and business aspects of an idea, opening a possible path to follow-on projects at ESA ARTES Applications programmes. For successful proposals, the Small ARTES Apps funds up to €25,000 on a co-funding basis up to 50% of the total project cost.
The Call goes into effect February 2017 and targets Austrian space and non-space SMEs, industry and academia, in particular those who have not participated in ARTES Applications projects before.