TASK FORCE FOR INNOVATION IN ENERGY THROUGH SPACE 
Addressing the key challenges faced by the energy sector through the use of space technology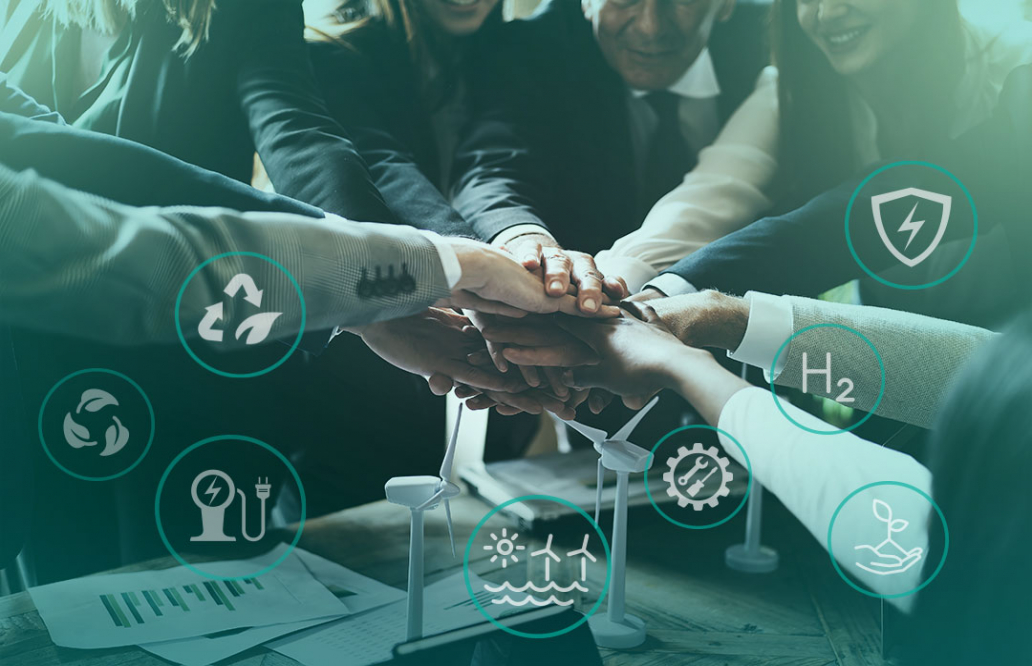 The "Task Force for Innovation in Energy Through Space" (Energy Task Force) was launched in October 2022. Its main purpose is to leverage space applications in innovative, sustainable services that foster a clean, green energy ecosystem and support the growth of a sustainable green economy. The Energy Task Force has a strong focus on implementation, with each member contributing its unique expertise and know-how. Members will participate in dedicated working groups that aim to develop and deliver innovative projects, trials of technologies and user-driven solutions to combat the challenges facing the energy sector. These projects will highlight the socioeconomic and environmental advantages for users and industry. 
The overarching objective of the Energy Task Force is to generate both green and economic impacts by means of the framework mechanisms provided by ESA, with the support of the private sector. It represents an excellent opportunity for institutions, space agencies and industry to demonstrate the potential impact of space technologies on the energy sector.
TOPICS 
ESA, in collaboration with relevant stakeholders, has identified a range of categories of opportunity within the energy sector where space could facilitate innovation. These are:
| | |
| --- | --- |
| | Going beyond achieving net-zero carbon emissions to benefit the environment by removing additional carbon dioxide from the atmosphere. |
| | Using small-scale renewable sources to produce sufficient electrical power for individuals, small businesses and small communities is a strategic alternative to the large-scale generation of electrical power by the traditional centralised grid. It is environmentally friendly, cost effective and in line with low carbon footprints. |
| | Sustainable bio-based and alternative green energy 'carriers' (options that can be used to store, transport and distribute energy) are essential for reducing emissions. To determine the potential of alternative energy carriers, research into alternative fuels, such as hydrogen, needs to be conducted. |
| | The security of energy supply depends on the energy system's resilience to unique and unforeseeable events that threaten the physical flow of energy, or that lead to irregular energy price rises (rises that are not related to other economic factors). |
| | Governments at all levels (national to local) are devising policies on how to reinvent their infrastructure to accommodate the growing number of electric vehicles (EVs) using their roads. This topic addresses the issue of energy logistics, covering the link between electricity generation from renewable energy sources and EVs. |
| | The decommissioning of oil and gas platforms involves activities such as removal of underwater structures and topside platforms –activities that need to be handled carefully in order to minimise any environmental impact and avoid oil spills. |
| | Decarbonising the power sector means reducing its carbon intensity: that is, reducing the emissions per unit of electricity generated. |
| | Timely and effective maintenance of assets is vital for safety and can extend the lifetime of energy facilities. The efficient production and transmission of energy from renewable energy sources is an essential part of the transition to green energy, and asset management is one of the most important aspects in the operation of energy systems. |
The Energy Task Force will work on these topics in order to:
• Maintain an up-to-date overview of current green energy-related policies and activities in each thematic area.
• Identify and agree on short- and long-term priorities in each one, and the potential space added value.
• Implement initiatives in selected thematic areas to be undertaken with Energy Task Force partners.
MEMBERS OF THE ENERGY TASK FORCE 
Members of the Energy Task Force are: 
More members will be added to the Energy Task Force in the future.