THE CHALLENGE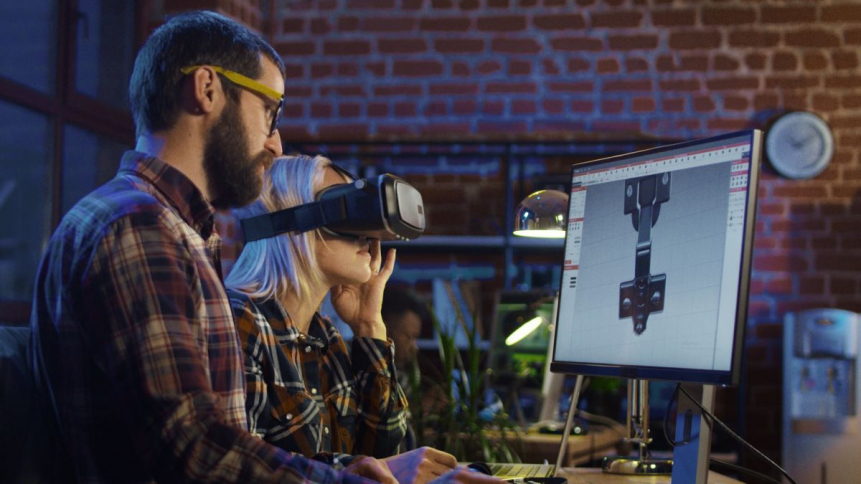 The "future of work" describes evolution of work, workforce and workplace in the coming years, influenced by technological, generational and social shifts. It is anticipated that by 2030 digital technologies including 5G, the Internet of Things (IoT), cloud and edge computing, Artificial Intelligence (AI), robotics and Augmented Reality (AR)/ Virtual Reality (VR)/ Mixed Reality (MR)/ Extended Reality (XR) will be at the core of new products, new manufacturing processes and new business models, based on fair sharing of data in the data economy.
According to the Fortune Business Insights, the global IoT market is projected to grow from $478.36 billion USD in 2022 to $2,465.26 billion USD by 2029, at a Compound Annual Growth Rate (CAGR) of 26.4% in the forecasted period. A slice of this growth is being funnelled into improving the office experience. The COVID-19 pandemic accelerated the existing digitalisation trends and caused organisations to re-evaluate many aspects of work. Embracing digital technologies in the workplace became an imperative for businesses. As a result, tendencies of the future of work will be complex, changeable and competing.
TOPICS OF RELEVANCE
The following relevant topics on people, infrastructure, sales and marketing were identified for this Kick-Start theme, along with examples of potential applications that could be proposed.
Digital workforce (People)
Network of spaces 
Accelerated by the shift to remote working necessitated by the COVID-19 pandemic-related restrictions, the vision for the future physical workplace is shifting from "the place" to work to a "network of spaces" that serve many purposes. This shift creates opportunities to consider and improve business processes towards sustainability, while increasing the workforce's productivity and efficiency and sustaining inclusive growth of business sectors. With this change in location-based and time-based work, organisations need to develop innovative approaches to human resources service management and contractual mechanisms in order to maintain performance and keep the skills of an essentially virtual workforce up to date.
Video conferencing has become a staple in work-from-home practices, but VR/ MR/ XR are emerging to make the experience more immersive and productive. Environmental condition and elevation information derived from Satellite Earth Observation (SatEO), along with Global Navigation Satellite System (GNSS) will add value by creating the real time virtual environment. Innovative 5G networks, integrating terrestrial with satcom connectivity for robust, dependable, and non-patchy coverage, will be essential in making these experiences seamless across multiple geographic locations. The upcoming high-definition images and videos from new SatEO constellations could be used to derive near real-time and dynamic input to create the 3D immersive environment of assets such as mining sites, offshore wind turbine and dams which are pin-pointed by GNSS location. 
Training
According to the PwC 2022 Global Workforce Hopes and Fears Survey:
39% of employees have said that they are concerned about not getting sufficient technology training from their employers to help keep skills up to date
77% of workers worldwide have indicated that they are ready to learn new skills or to retrain completely
Using an AR headset and camera connected to a 5G device, the trainer can observe the work of a trainee in real-time and provide step-by-step maintenance and remote support through video collaboration, via an application server in the cloud. The same technology could also be used to monitor employee performance and provide tailored training programmes. Hybrid satcom – terrestrial 5G networks will play a key role in supporting a wider applicability of this type of solution, addressing remote areas underserved by terrestrial communications.
Health and Wellbeing
According to the World Health Organization (WHO)/ International Labour Organization (ILO) "Joint Estimates of the Work-related Burden of Disease and Injury, 2000-2016: Global Monitoring Report", almost two million people die from work-related causes each year, of which workplace exposure to air pollution (particulate matter, gases and fumes) was responsible for 450,000 deaths. SatEO data, in combination with AI and 5G, can be used to predict and raise the alarm about unsafe environmental conditions such as heatwave and air pollution.
To provide safer working environments for remote workers, a combination of IoT sensors, high-definition cameras, AI and GNSS with reliable satcom can be used to transfer massive data files quickly and reliably, enabling safety officers to monitor the health and safety of workers remotely and take timely actions. For the first time, WHO recommends manager training in this area, to build their capacity to prevent stressful work environments and respond to workers in distress.
Virtual reality worlds powered by AR, VR, and 3D technology in combination with seamless hybrid 5G connectivity, could become an ideal platform on which to build a virtual work environment where employees can participate in social activities with co-workers from the comfort of their own homes. Dynamic planning tools could be developed which can integrate indoor and outdoor navigation to visualise the locations of the workforce for arranging team meetings at short notice and taking into account everyone's needs and available resources. This can also include virtual 3D white board/table functionality which encourages team participation.
Smart Workplace (Infrastructure)
Office space
A smart office, also known as a responsive or digital workplace, uses technology  to make the physical work environment intelligent and adaptable to company workflows. Smart Office market size was valued at $34.94 billion USD in 2021 and the total revenue is expected to grow at 13.2% between 2022 to 2029, reaching nearly $94.22 billion USD.
The IoT and smart technologies are the technological backbone of the smart office which includes:
smart lights
thermostats
smart security (such as access control via biometrics)
virtual reality cameras
virtual reality speakers, etc
When workers arrive at their office building, wearable devices could let them know which floor to go to through sensor data which is updated regularly. Occupancy sensors may enable companies to optimise energy consumption across facilities. The lighting, heating and air condition inside the office could be adjusted based on the surrounding environmental data using SatEO to derive  thermal imagery and pollution maps incorporating cutting-edge solutions, such as IoT, into smart offices will enable physical equipment to communicate via sensors, actuators, network connectivity, and software. For instance, super-apps could be developed bringing together a range of SatEO data such as thermal data, air quality data, pollen data and windspeed data.  Combined with location and IoT data, this could be used by senior officials, employees, IT and estate management authorities and catering management specifically for dynamic planning during drastic weather conditions such as heatwaves, cold snaps, flooding and snowfall, which are increasingly widespread as a result of climate change. This approach will also help meet sustainability targets. 
Logistics
With 5G, companies will be able to monitor and manage the flow of processes and services while adjusting in real time if a problem occurs by maintaining the same service level. For example, a mobile app for a warehouse or distribution centre could be developed to integrate the information extracted from each element of the whole supply chain, including procurement, processing, production and distribution to provide accurate and timely information through 5G. Seamless 5G connectivity is a key element, with satellite communications playing an important role in ensuring that connectivity is ubiquitously available, even in remote and rural areas, or in the event of a failure. Satellite connectivity may be able to augment the provision of such services through backhauling of remote sites, back-up connectivity, added security and for surplus throughput. Augmented-GNSS may also support in asset tracking, routing and timestamping of factory machinery and processes, respectively.
Security of operations
Utilising real time location within an IoT network underpinned by 5G connectivity and GNSS can allow IT, management, or inventory teams to locate equipment, saving time  by logging where each piece of inventory is at any given time, and instantaneously informing staff when assets are unavailable or malfunctioning. Organisations can quickly locate stock or identify faulty equipment before it is too late, enhancing their capacity for risk management, and increasing their operational efficiency. SatEO data can help in environmental monitoring including around natural disasters, helping organisations to make quick and informed business decisions.
When it comes to cyber security, increased risks due to supply chain attacks against 5G infrastructure could lead to malicious software and hardware being provided by untrusted vendors. However, geolocation data can be one of the tools that businesses use for their security, and tracking those who are trying to connect to their business and services. This allows business to move closer towards a proactive model where they are able to take preventive measures rather than having to react to malicious attacks.
Customer Intelligence (Sales and Marketing)
Customer Insight
IoT big data solutions have transformed several ways of doing business across industries. Sensors and IoT technologies facilitate the collection of extensive data sets to identify customer patterns. Data security and privacy aspects are fundamental to these technologies and the user must be made aware and provide consent for the data collection. Such customer data can be used to generate digital twins of different customers' categories. With the help of these digital twins, businesses can gain insights into various customer demographics and help them improve their products or services to meet customers' needs and improve the customer experience.
In addition to these improvements, businesses can leverage IoT solutions to identify patterns and new growth opportunities. 5G, with its technological advancements of delivering high speeds, higher connection density and low latency, will enable the distribution of products in the marketplace to previously unreachable customers in remote locations quickly and efficiently.
As well as GNSS location data and 5G.  SatEO can also be used to identify the environment, for example an urban/rural area, greenspace, meaning thermal and pollution data could also be used to build the digital twin.
Customer Experience
AI and big data analytics are currently in use to identify customer patterns to provide a personalised customer experience. While these technologies are focused on improving the cognitive and behavioural dimensions of the customer experience, they lack the emotional and social components. According to latest research, consumers' emotions can be extracted from visual data, such as user-generated images and videos and their interactions with service bots.
Integrating the location of the customer using GNSS and their environmental and geographical parameters such as the type of area they live in (urban/rural), and their socio-economic backgrounds from SatEO, 5G technology could enable new ways of interacting with customers. It will also support product development and testing before a commercial roll-out. 5G and AI-powered virtual assistants enable 24/7 availability, real-time responses and lower operating costs. Multi-access edge computing combined with 5G has the potential to revolutionise the customer experience.
VALUE OF SPACE 
Space assets can play a key role in the implementation and uptake of workplace and workforce digitalisation. Satellite Communications can provide connectivity to remotely-placed workforces to monitor their health and well-being. Similarly, satcom could be utilised to offer remote training and digital engagement with integrated Earth Observation data in an AR/ VR environment. Satcom provides connectivity for sensors and IoT devices deployed in multiple/remote locations that could be used for preventative maintenance activities of the smart workplace. It can also be used to monitor the flow of processes in the supply chain, supporting planning and smart decision- making. High-definition live video support for customers could be performed seamlessly through 5G with its low latency, high network bandwidth and high reliability. It can also be enhanced by digital twin, offering a better customer experience and improving sales. 
Global Navigation Satellite Systems are instrumental in the development of applications requiring geo-referencing, positioning and timing information. It can enable applications in the VR/AR environment, validate access to the virtual platform based on the location of the workforce and the time when the access is made and collect data for the production of images and maps, e.g. for providing relevant parameters into the VR/AR environment, digital twins, training etc.
Satellite Earth Observation allows the collection of information on geographical and environmental parameters relevant to business operations, creating a virtual environment for training and digital engagement. Satellite Navigation and SatEO data integrated with AI can support the analysis, operations and maintenance of the workforce and workplace performance. 
Cutting-edge digital technologies such as Edge computing, AI, and AR/VR could play an essential role. Space data, together with new cloud-based High-Performance Computing (HPC) and related technologies, could enable the creation of a digital twin of the training environment.
WHAT WE LOOK FOR
Kick-Start activities explore the business opportunity and the technical viability of new applications and services that exploit one or more space asset (e.g. Satellite Communications, Satellite Navigation, Earth Observation, Human Spaceflight Technology). 
This call for Kick-Start activities is dedicated to the theme 'Future of work for sustainable growth', which means that the call is open to companies who intend to develop space-enabled applications and services relating to the themes in this domain.
HOW TO APPLY
1.    Register by completing the online questionnaire on esa-star (this provides for the minimum 'light registration'): Home - esa-star Registration System
2.    Visit esa-star publications and search for this opportunity to download the official tender documentation. Official documents will include proposal templates, a draft contract, and additional information about this opportunity.
3.    Use the official documents to prepare your proposal.
4.    Write your proposal and obtain a Letter of Support from your National Delegation, if needed (see Authorisation of Funding section below).
5.    Submit your proposal via esa-star Tendering by the deadline.
AUTHORISATION OF FUNDING
ESA Space Solutions can provide funding to perform Kick-Start activities to any company (economic operator) residing in the following Member States: Belgium, Czech Republic, Denmark, Estonia, Finland, France, Germany, Hungary, Ireland, Italy, Lithuania, Luxembourg, Norway, Poland, Portugal, Romania, Spain, Sweden, and the United Kingdom.
Germany, Luxembourg and the United Kingdom have pre-approved funding for this Kick-Start activity and applicants from these countries do not need to obtain a letter of authorisation from their National Delegation.
Currently, Austria, the Netherlands and Switzerland are not supporting this Kick-Start activity.
Applicants of other Member States must inform the National Delegation of the country they are residing in to obtain a letter of authorisation allowing the funding of the proposed activity. Contact details of each national delegate can be found here.
Kick-Start activities are 75% funded by the European Space Agency up to a maximum of €60K per contract.
WEBINARS
Webinars are scheduled for the following dates:
Tuesday 4 July
Speakers:
Dr Kavitha Muthu, Space Applications Engineer at European Space Agency (ESA)
Jakob Ulcnik, Corporate Partnerships Manager at Plug and Play Europe
Zoe Stones, Co-Founder & CEO at Ambr