***New Closing Date (third batch)***
ANNOUNCEMENT OF OPPORTUNITY 
Society is currently experiencing a transition in the Digital and Green Economy area. It  is revolutionising business models, technology innovation and use, consumption and offering of applications, and sharing of knowledge involving both human and machine spheres.
Digital transformation, integrating digital technology into all areas of a business, will result in fundamental changes to how businesses operate and how they deliver value to customers, while increasing the competitiveness of the industrial sectors, impacting not only the private but also the public sector including agencies and organisations.
Green economy is defined as low carbon, resource efficient and socially inclusive economy, pursuing knowledge and practices that can lead to more environmentally friendly and ecologically responsible decisions and lifestyles, which can help protect the environment and sustain its natural resources for current and future generations.
Telecommunications, together with its space component, will play a major role in the Digital Transition and Green Economy. Therefore, ESA issues a Thematic Call to support companies in delivering their business propositions.
SCOPE
The Thematic Call, in line with ESA's strategy and the Director General's Agenda 2025, targets to boost commercialisation for a Digital and Green Europe, by fostering the development of digital technologies, products and applications targeted by the European Green Deal. Among the domains addressed by the call, are sustainable and smart mobility (connected and automated, multimodal transport) and the transition towards a fully integrated, inter-connected and digitised European energy market. Other vertical sectors, such as urban sustainability, food and agriculture, management of natural disasters, clean waters, are relevant as well.
The call covers four themes including vertical integration between Technology, Products, Services and Applications. The themes are:
Artificial Intelligence and Machine Learning (AI/ML) and Cloud and Virtualisation
Digital Twins
Sustainable Mobility
Green Value
WHAT ARE WE LOOKING FOR
The call offers the opportunity to companies to bring forward their business propositions, which will leverage on space and advanced digital green technologies for delivering sustainable solutions. It is open to all industry in ESA Member States participating in the ARTES 4.0 Programme.
Through a partnership and co-funding scheme, ESA shall typically cover the technology and market risk associated to innovative developments. In return the Partners shall provide the respective private co-funding and develop innovative technologies / systems / products and end-to-end infrastructure.
ESA PROCUREMENT INFORMATION
The Thematic Call is open from October 2021 for a period of 12 months. Pitches can be submitted within two batches (windows of time):
The first batch lasting from October 2021 to March 2022
The second batch lasting from March 2022 to October 2022
The timeline is illustrated below.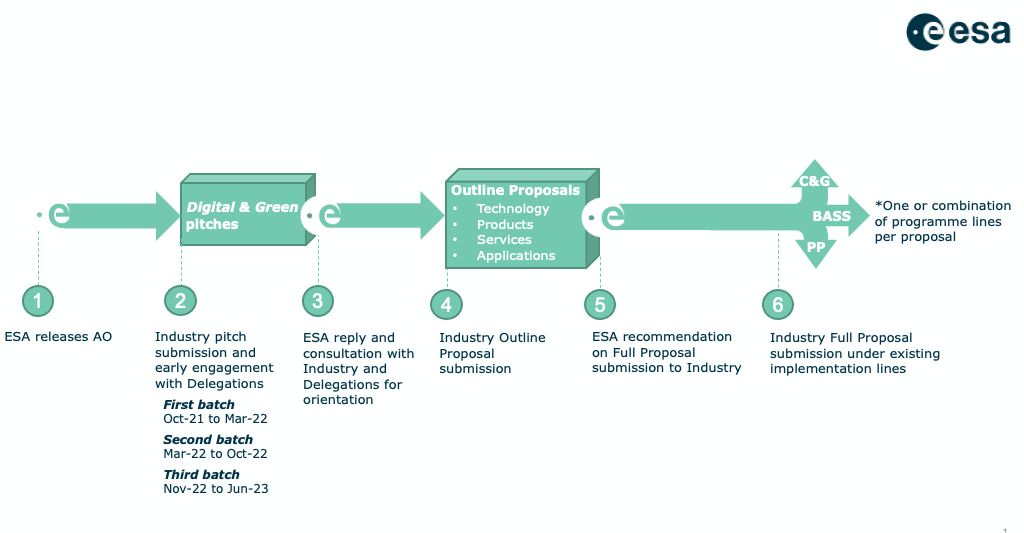 Depending on the proposal content, the contract will be implemented in a suitable programme line of ARTES.
WEBINAR
Batch 1 webinar
11:00 CET, 24 November 2021
Batch 2 webinar
Batch 3 webinar