In the upcoming Announcement of Opportunity, economic operators are invited to propose either a Feasibility Study or a Demonstration Project addressing the theme of:
Law Enforcement and Emergency Response
Key focus areas
Major threats to the safety and security of cities are crime and violence, insecurity of tenure and forced eviction, and natural and human-made disasters. Combined, these three threats to the safety and security of urban residents currently pose a huge challenge to both city and national governments, as well as to the international community. 
Reports also show how these threats can unequally affect citizens, and how the unequal distribution of risk and vulnerability is an important and growing component of daily urban life. 
The impacts of crime and violence are multidimensional. Apart from injury and death, victims of crime and violence suffer long-lasting psychological trauma, and continuously live with the fear of crime. At the national level, crime and violence are impediments to foreign investment, contribute to capital flight and brain drain, and hinder international tourism. 
At the local level, crime and violence result in the stigmatization of neighborhoods or even entire sections of the city. Such areas become 'no-go' zones, and eventually lose out in terms of investment or provision of infrastructure and public services. It is important that the police and the criminal justice systems are 'fit for purpose' in the modern world, and are seen as key contributors to the fight against crime. 
Concerning natural and human-made disasters, when feasible, land-use planning is a particularly effective instrument that city authorities can employ to reduce disaster risk, by regulating the expansion of human settlements and infrastructure. In critical and remote areas, it becomes mandatory to monitor and prevent emergency scenarios. The technological and engineering expertise to achieve this is available; but implementation is still a major challenge, which can vary significantly from scenario to scenario. Therefore, it is of pivotal importance that the cooperation between local community and governmental authorities provide input on the needs and constraints on which the required services shall be tailored.
The following scenarios have been identified as key focus areas:
• Support to Law Enforcement Daily Operations in Monitoring Urban Central Areas
• Monitoring and Prevention of Fire and Illegal Actions in Forestall Areas
VALUE OF SPACE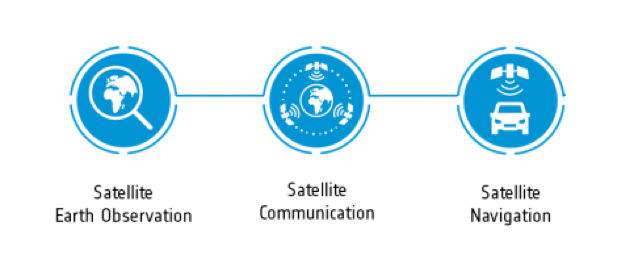 The Space technologies can play an important role in conjunction with the deployment of novel technologies (e.g.AR/VR/immersive reality, UAV) in the law enforcement and emergency response thematic.
The proposed ideas must use satellite or space-based data as well as 5G technology.
• Satellite Communication SatComs can fill coverage gaps in 5G terrestrial deployment or deliver an intermediate solution before terrestrial infrastructure is put in place. They can be rapidly deployed anywhere on Earth providing immediate relief and support to 5G networks where and whenever required, including ad-hoc connectivity during large public events or emergency situations where terrestrial connectivity is not available. SatCom plays a key role, both for payload data relay and command & control of UAVs, in particular for those flying BRLOS (beyond radio line of sight) for surveillance purposes. 
• Earth Observation Earth Observation (EO) satellites can monitor the environment, weather and climate of the Earth. EO data can map terrain, produce detailed imagery, and detect minute changes to vegetation, structures and the atmosphere. The creation of updated maps will be pivotal; both to support services to monitor and prevent disaster in forestall areas, as well in helping the law enforcement in their daily operations. 
• Satellite Navigation Satellite Navigation enables positioning and guidance to support trace, route optimisation, and geo-tagging of in-situ data.
WHAT WE OFFER
We offer funding and support to companies, both for business case assessment and for the development of new, space-based services related Law Enforcement and Emergency Response. Our offer includes:
• Technical & commercial guidance;
• Access to our network and partners;
• Use of the ESA brand for your service.
• zero-equity funding (see the table presented at the bottom of this page) 
WHAT WE LOOK FOR
We are looking for teams that have identified an attractive sustainable opportunity with real potential for engaging customers. Motivation, business experience and domain expertise are all important features. We want to hear about your sustainable ideas that involve either space technology or space data. For this call, companies residing in the following Member States will be eligible to apply: AT, BE, CH, CZ, DE, DK, FI, FR, GR, IE, IT, LU, NL, NO, PL, PT, RO, SE, UK. 
Closing date for the submission of the Outline Proposal: 13th January 2020
Funding
Funded participation to ESA Business Applications is open to any company and/or organisation, be it as group of users, public body or non-governmental organisation, residing in any of those states that subscribe to the ARTES IAP programme.
To date, Austria, Belgium, Czech Republic, Denmark, Finland, France, Germany, Greece, Ireland, Italy, Luxemburg, The Netherlands, Norway, Poland, Portugal, Romania, Sweden, Switzerland and the United Kingdom have subscribed.
The applicable funding level of the individual prime- or subcontractors is subject to authorisation by the involved National Delegation(s). Therefore bidding teams are requested to obtain a Letter of Authorisation from all their national delegations before submitting a Full Proposal.
Activity

ESA Project Funding 
(up to % of Eligible Cost)

ESA Co-Funding Limit

50%**

 

Max ESA price: 200 kEuro     

Demonstration Project
50%**
Max ESA price: 1 MEur  
** ESA will bear up to 50% of the project cost, and the remainder has to be financed by the tenderer and/or other partners through private and/or public sector direct or indirect, in cash or in-kind co-financing.
SMEs (i.e. enterprises fulfilling the criteria defined in the European Commission Recommendation of 6 May 2003 (2003/361/EC) or as updated) involved in Feasibility Studies or Demonstrations Projects, may be funded by ESA up to 80%.