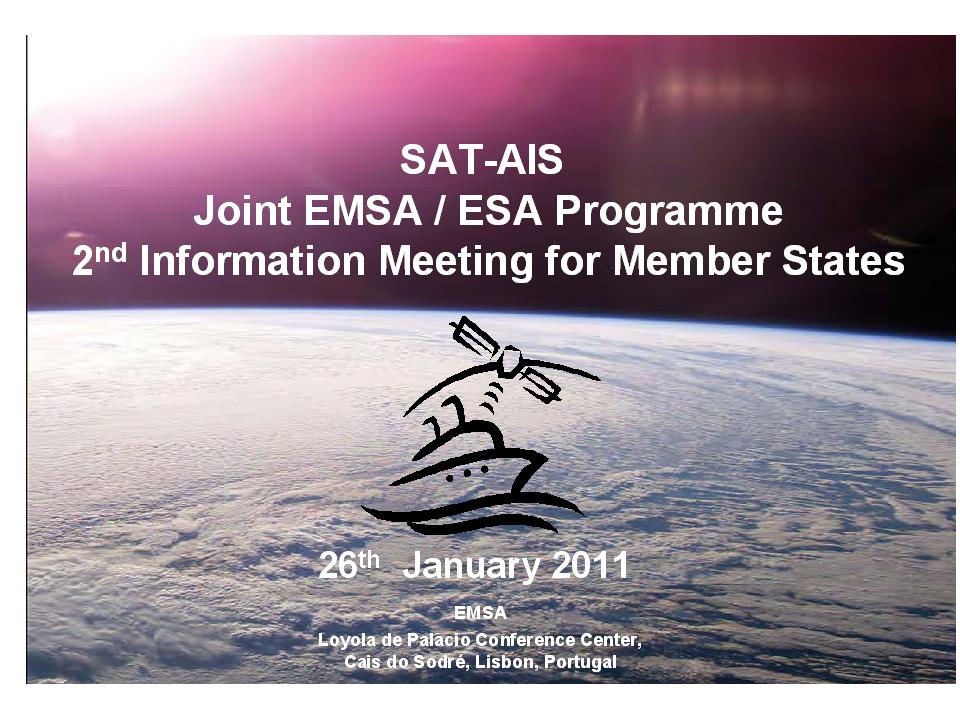 Close to 50 representatives from EU Member States, ESA, the European Maritime Safety Agency (EMSA) and ESA JCB delegates attended the second joint EMSA/ESA SAT-AIS initiative information meeting in Lisbon on 26 January. This meeting reviewed the achievements and work in progress since the first information meeting held one year ago.
"One highlight at this meeting included the presentation of the user benefits questionnaire. A total of 53 entities from 28 nations had responded," said Mr. Carsten Tobehn, Head of SAT-AIS Programme Office Section. "The presentation gave attendees a good overview of information and current status of the EMSA/ESA SAT-AIS Programme."
The status and functions of the common EMSA/ESA Data Processing Centre (DPC) was discussed. The DPC, an equivalent to the regional server of the terrestrial AIS, will form the space segment or "space node" of EMSA's SafeSeaNet. The DPC is currently under development in partnership with EMSA through element 20 of ESA's Advanced Research In Telecommunications Systems (ARTES)programme.
The next steps for the Operational Demonstration Mission (ODEM) were also introduced. The ODEM shall demonstrate the SAT-AIS capabilities in a user-driven operational environment and will allow for early provision of services based on a dedicated geographical use-case area, explained Mr. Tobehn.
Presentations given by EMSA and ESA were complemented by a presentation from the Norwegian Space Centre (NSC) which focused on the AISSat1 background, in orbit experience, cooperation activities with ESA and future plans. Following the NSC presentation, EMSA showed a live demonstration of the Norwegian Satellite-AIS data embedded in SafeSeaNet.
Last updated at 04 November 2021 - 06:20