German company dida is using images from ESA's Sentinel satellites to find solutions for formalising artisanal and small-scale mining. The company received funding to develop the ASMSpotter software through ESA's Kick-Start Activity.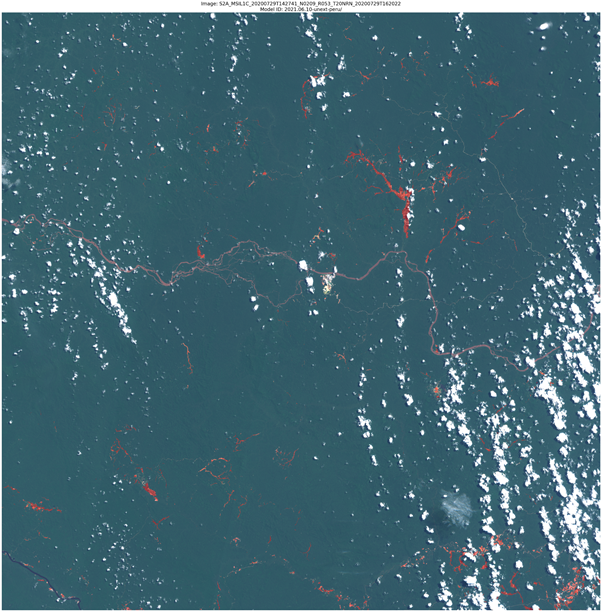 Artisanal and small-scale mining (ASM) directly or indirectly provides a livelihood for an estimated 60–150 million people worldwide, and accounts for a significant portion of the global supply of raw materials. However, informal mining can have severe impacts on the local natural environment and population because of a lack of monitoring and effective control. This is where ASMSpotter comes in.
ASMSpotter uses Artificial Intelligence (AI) algorithms to analyse changes in satellite images for the identification of informal mining sites. Development of the prototype was funded by ESA Space Solutions' Kick-Start Activity in a project which ran from August 2019 to April 2020.
In 2021, Berlin-based dida – which specialise in developing applications using AI for automatic analysis of image files – shifted ASMSpotter to use only free-of-charge images from ESA's Sentinel-2 satellites. This has brought down the cost of the technology for governments, NGOs and the mining industry in target countries such as Suriname, Guyana and Brazil.
Award-winning project
In October 2020, ASMSpotter won the Microsoft AI for Earth prize within the first round of the Artisanal Mining Grand Challenge, run by Conservation X Labs. The AI for Earth programme awards grants to support projects that use AI to change the way people and organisations monitor, model, and manage Earth's natural systems. The competition prize was US$100 000.
At the time, Robert Heesen, Product Director at dida said: "We were honoured that our solution was recognised by such an outstanding jury and by Microsoft. With ASMSpotter, we want to show that AI can make a positive contribution to the big problems of mankind. ASMSpotter helps to minimise environmental destruction and improve the working conditions of the local population.
"Until now, local authorities have lacked solutions for automatic, large-scale monitoring of mining activities. Governments using our solution can regulate the sector much better because they can detect changes and act more quickly."
Future developments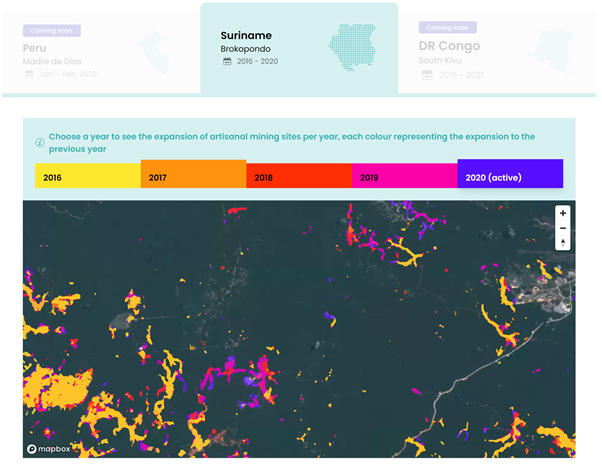 dida is collaborating with Levin Sources, a UK company specialised in ASM and responsible mineral supply chains. Together,they will help governments and private sector clients to support formalisation of artisanal and small-scale mining and apply the ASMSpotter solution effectively, including safeguarding how it is used.
dida plans to extend the solution to enable it to be used to monitor extraction of other raw materials, such as cobalt, or building materials like gravel. It also hopes to begin incorporating radar data from ESA's Sentinel-1 satellites, to improve analysis when cloud cover limits the use of imagery.
Moritz Besser, dida Project Lead, said:

"We are very glad to have received the initial funding for the development of ASMSpotter from ESA. The difficulties of finding a project partner in the tropical regions show that without help from ESA we could not have created the algorithm. In my opinion, ASMSpotter is also a good example of how cutting-edge technological innovations could help to solve global issues like poverty and environmental destruction, but to be developed they need to receive philanthropic capital as a start."
Last updated at 17 August 2021 - 08:50