"This project stands out because it has not only created jobs and added value – it saves lives. B-LiFE has contributed to stopping epidemics. It's a truly sustainable service, improving existing capabilities and developing new ones." Arnaud Runge, Technical Officer at ESA.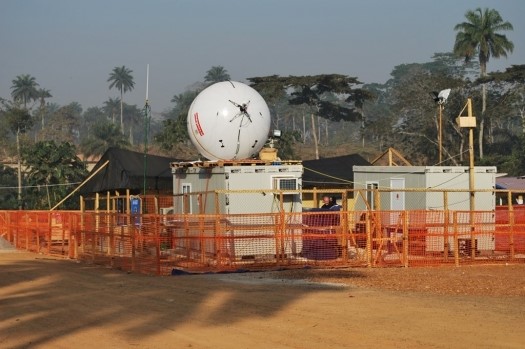 Mobile bio labs are invaluable, offering first response and onsite analysis during a natural disaster or biomedical emergency. The successful management of such crises relies on the ability to perform rapid and reliable detection and identification of pathogens. Transportable bio labs or 'labs-on-wheels' are lightweight units that can be deployed quickly.
ESA and the University of Louvain (UCLouvain) joined forces to create B-LiFE (Biological Light Fieldable Laboratory for Emergencies) in a bid to boost bio-lab capabilities using space assets. The result is an autonomous, rapidly deployable communications 'bubble'.
Lab results in real time
B-LiFE is a 'step up' from previous bio labs, using advanced satellite technologies to speed up communication between field teams, control centres and remote experts. The enhanced system uses broadband links for data, voice and video – so that lab results can be available in real time. Satellite-enabled Earth observation data is also used to create high-resolution maps for safety and security, while GNSS offers tracking of teams and equipment as well as the geolocation of field samples. B-LiFE brings diagnostic capabilities even closer to the crisis area, providing fast emergency response while ensuring the safety of deployed staff and surrounding populations.
B-LiFE first earned its stripes during the Ebola epidemics in 2015 in Guinea. Blood samples from infected patients were analysed in the B-LiFE laboratory and results were sent via satellite link to secure B-LiFE databases. Doctors in Belgium could monitor the status of the epidemic remotely as well as the effects of new drugs developed to treat Ebola, helping them to tailor treatment to individual patients.
"Areas covered by B-LiFE were cleared 50% faster of Ebola than areas covered by conventional labs – thanks to the use of space technology ", says Arnaud Runge.
The system was put through its paces once more in a high-profile international operation called 'Bio-garden' in Belgium in June 2018, where a bio-terrorist attack during a major sporting event was simulated.
The idea for Bio-garden came following the actual terrorist attacks in Brussels in 2016 where large numbers of people needed urgent medical attention but mobile networks collapsed as panicked citizens unwittingly blocked the communication lines vital for emergency services.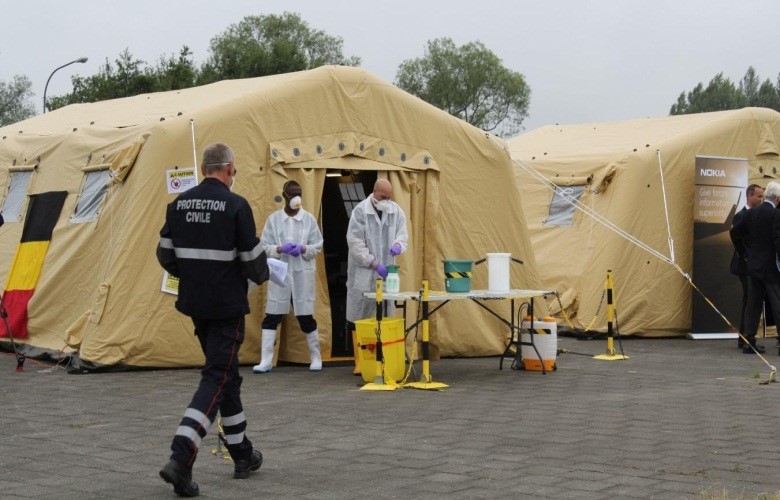 During the Bio-garden exercise B-LiFE not only dealt with the medical aspect of the crisis, delivering optimal critical care, but also provided a robust back-up, fully autonomous telecommunication infrastructure, operating outside of a potentially saturated network. Space assets provided full interoperability, with seamless exchange of data at a very high speed.
Arnaud says: "What's impressive about the B-LiFE service is the flexibility of its mechanism – it can be 'idle' when there is no crisis (which greatly limits costs), but then rapidly deployed with a full battery of new services that would not be possible without the satellite capabilities."
Roland Gueubel, Project Manager from University of Louvain says: "B-LiFE takes technologies that exist – and fills a gap. The result is an integrated and novel service that did not exist until now.
"We're continuing to expand the reach of B-LiFE and are looking at very high bandwidth using the O3b constellation. It's the first time a constellation has been tested at such a high latitude and able to give cover for an emergency situation. We're also looking at Artificial Intelligence tools as well as creating near real-time epidemiological maps. B-LiFE will be the first to offer this service and the World Health Organisation is already very interested in this capability."
Watch the B-LiFE Video
Last updated at 07 April 2020 - 09:49