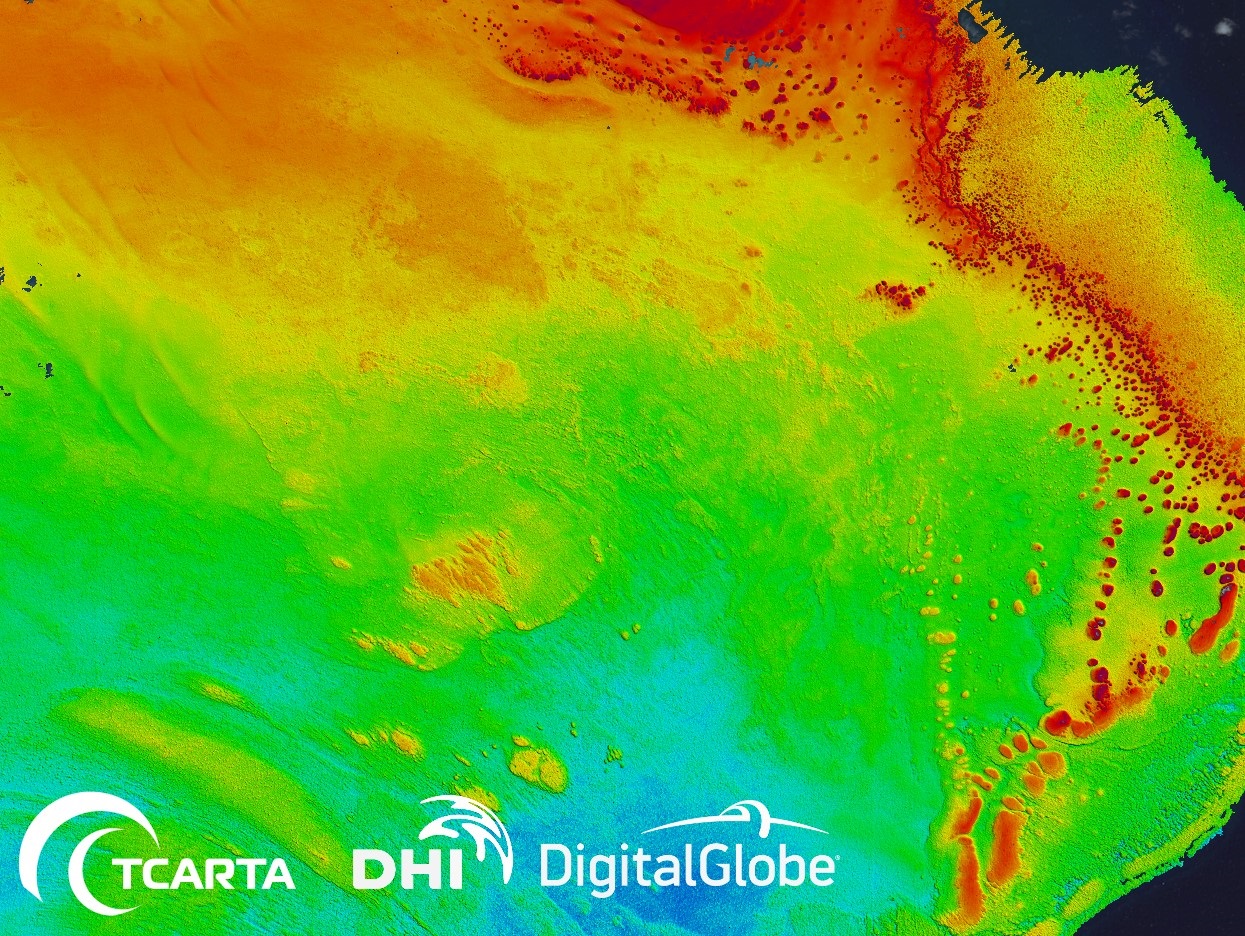 It has always been an expensive and time consuming mission for industries around the world to obtain quality water depth data.
With the Bathymetry demonstration project now complete, TCarta (a global provider of marine geospatial products) have launched their Bathymetrics Data Portal - the first of its kind, allowing users to search, purchase and automatically download highly accurate water depth information directly to their computers.
Satellite technology is quickly catching up with Sonar and LIDAR to measure water depths across the world and the information gathered from a sophisticated commercial constellation of optical satellites has been collated and used to populate this Portal.
The Bathymetrics Data Portal has been created with data from TCarta, DHI (experts in water environments) and DigitalGlobe (the world's leading provider of high-resolution satellite imagery).
There is a high demand for Bathymetric products within many industries across the world including port construction, environmental monitoring and energy infrastructure development.
Using satellite imagery to measure water depth has proven to not only be a more efficient way to gather this information, it's also faster and more accessible. Customers can now buy ready-made, instantly available high resolution 2m Bathymetry at a fraction of the cost of traditional methods.
AECOM, a global engineering firm, has been an early adopter of satellite derived bathymetry technology, making very good use of this data in order for their work to be more economical and less time consuming.
Kenny Monteath, Regional Director at AECOM said: "We have worked closely with the TCarta Team as an Involved User throughout their ESA Demonstration Project. Our early involvement in the requirements and testing phases included AECOM receiving bathymetry data and successfully applying this into a port construction and design project. AECOM are now using the Bathymetrics data portal on a regular basis to understand bathymetry availability and make the most of fast and easy access to high quality data."
Richard Flemmings, Operations Director TCarta said: "The ESA program has made it possible for us to grow our business by lowering the price point of satellite derived bathymetry, while at the same time opening up the technology to new markets who are now able to access the data instantly. Having the backing of ESA has added significant positive impact when promoting to customers."
With new areas of the world constantly being uploaded to the portal, users will always have access to the best available bathymetric information.
Last updated at 19 February 2018 - 14:25