High winds, extreme tides, temperature changes, unusual traffic loading and ageing materials can put bridges under enormous pressure, occasionally to the point where they become dangerous.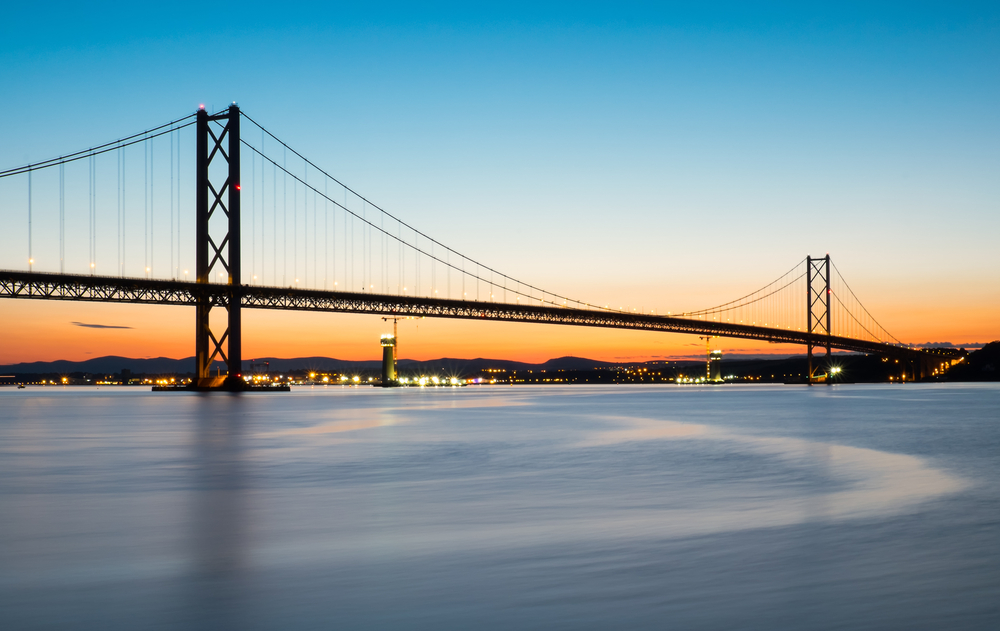 Last year's bridge collapse in Genoa, which killed 43 people, is a tragic example. ESA is now supporting a unique and innovative service initiated by a team from the University of Nottingham, to monitor the health status of bridges.
The University's Geospatial Institute and its industrial partners such as UbiPOS UK Ltd., have developed a 'world-first' integrated sensor called GeoSHM-Lite for monitoring the structural 'deformation' of long-span bridges. GeoSHM is the result of research led by Dr Xiaolin Meng, which originated from his PhD work at the University 20 years ago.
The GeoSHM system combines GNSS (Global Navigation Satellite Systems) for on-site monitoring with Earth Observation technologies for inspecting land movements, to offer an integrated solution for bridge maintenance.
Dr Meng's team developed a prototype with ESA, which was installed on the Forth Road Bridge in Scotland in 2014. A major strategic link between the north and south of Scotland, the bridge's maintenance is essential to transport in the region. When in 2015 a truss end link fractured on one of the north-east tower girders, the entire bridge was closed. However, critical observations from GeoSHM complemented other data to provide sufficient confidence to re-open the bridge.
"Experts at the Nottingham Geospatial Institute worked with Amey to assess the behaviour of the bridge under load tests and high wind loading by attaching remote GPS sensors to the bridge. In association with other health monitoring sensors, we were able to monitor the bridge's condition and safety behaviour in real time. Data from structural health monitoring supports asset management by providing smart solutions which help decision making, reduce closures, cost and public inconvenience," said Mr Bill Valentine, Technical Director at Forth Bridges Unit of Amey Consulting.
The success of the system led to a potential investment of £8,500,000 from China and as a result, GeoSHM is now being used on three Yangtze River bridges in China.
"We liaised with bridge operators and other key infrastructure owners to understand their upmost needs and the gaps in the market," says Dr Meng. "We worked with ESA to build our expertise in relevant fields and used our existing strengths to fill these gaps."
GeoSHM provides real-time measurements of bridges during normal and abnormal loading conditions and gives a complete picture of the structure in its changing landscape, identifying threats caused by environmental conditions, land motion, engineering works, landslip, mining and industrial activity.
Some structural monitoring systems were already using GNSS, but these had limitations when applied to long, flexible structures like bridges. Issues such as the very high cost of receivers, positioning accuracy and signal blockage impeded reliability. GeoSHM has solved these and taken patent pending technology to the next level with several novel features.
"The system can give more accurate estimates of the movement of the bridge long-term – for factors like thermal expansion (changes as a result of temperature increases) - as well as giving deformation (strain) estimates of a wide area of land surrounding the bridge. This is of critical importance to infrastructure operators and owners," says Roberta Mugellesi Dow, ESA's technical officer.
GeoSHM targets a large bridge monitoring market that is worth approximately USD 2 Trillion globally. There are more than 264 long-span bridges in the world, over half of which are in China: and GeoSHM is being supported by a subsidiary of China Railway Group, Asia's largest construction company. The creation of a supply chain for GeoSHM has also created 50 jobs globally as of 2018, with bases in London, Nottingham and China.
Dr Meng says: "We are very lucky to have had such support from ESA, they helped to make my dream come true and turn my PhD into reality! ESA has helped me make the transition from academic peer to being able to implement the idea – put it into practice. I cannot claim I'm a business man, but ESA provided the valuable input to deliver the project – they have been so supportive."
Last updated at 05 April 2019 - 14:26