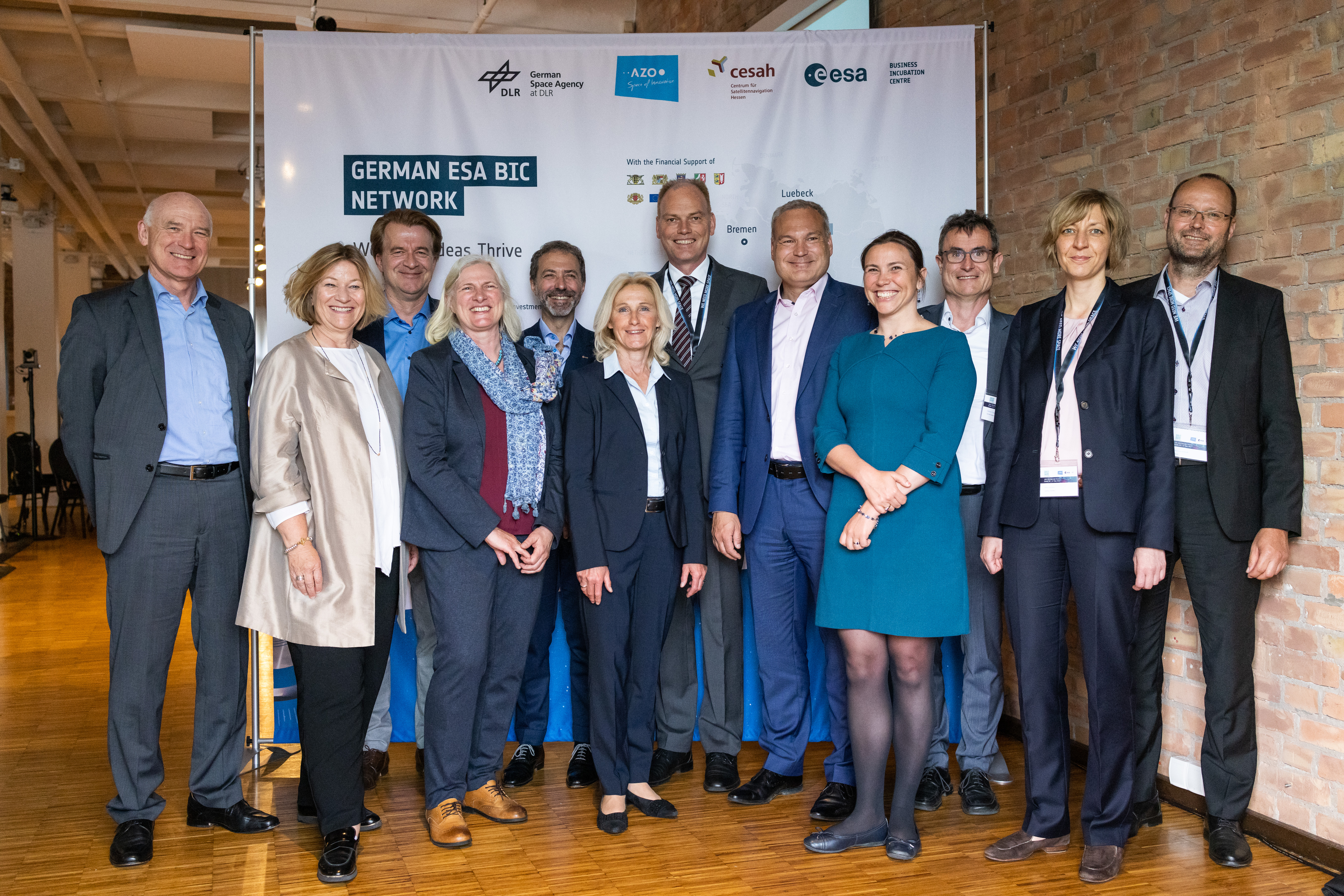 Together with DLR (German Aerospace Centre) and ESA BIC Bavaria, ESA Space Solutions organised the 19th Edition of the ESA Investor Forum which took place in Berlin from 16-17 May 2022. Cutting edge technology met Europe's investment ecosystem and institutional thought leaders gave key notes and panel discussions on essential space-related topics.

The ESA Investor Forum is the high-profile event for space-related investment opportunities and connects start-ups and scale-ups from the ESA network with European investors. The international meeting takes place on a regular basis to boost large-scale investments in space technologies.
Berlin, the capital of Germany, is one of the most vibrant start-up hubs in Europe, attracting German and international talent. Over 60% of venture capital invested in Germany goes to Berlin-based start-ups.
In preparation of the ESA Council Meeting at Ministerial Level (CM22), the ESA Investor Forum showcased the work done in promoting innovation in Germany and Europe by the ESA Business Incubation Centre (BIC) programme. Start-ups in the fields of connectivity, mobility, new space and industrial automation presented how space technology will revolutionize our society and our way to make business.
The event took place over two days. The first day comprised presentation and panel discussions on how to better support space-related innovation. The ESA Investor Forum brought perspectives from entrepreneurs, institutions, private venture capital and public capital markets.
Josef Aschbacher, ESA's Director General, stated "The ESA Investor Forum in one of the key platforms delivering on the market ambitions of ESA's Agenda 2025, enabling new space companies to fuel their growth through private finance leaping beyond the support provide by ESA and Member States through projects and institutional budgets."
Germany's space-related successes like DCubed, OroraTech, Lilium and Reflex Aerospace provided their perspectives. Following a long-lasting tradition of hardware developments in Germany, these companies are references for any space entrepreneur that would like to accept the challenge and become part of one of the future's largest industries.
"Hardware is HARD", Patrick Nathen, co-founder and VP Product at Lilium stated at the event. The hardware route is significantly more difficult than the software one followed by many innovative entrepreneurs nowadays, however it is the way to deliver truly transformative societal innovations.
Private investors stated that, although the road ahead will be bumpy, pace is, undoubtedly, one of the largest industries of the future, and significant capital deployment will be necessary.
"We need incentives to make easier mobilising more capital intro space innovation", said Joram Voelklein, investment partner at Alpine Space Ventures. And despite the goal of many private investors to ensure an IPO, "becoming publicly listed is another chapter in the story of a company, and it can be counterproductive if you are not ready for it", said Niels Tomm, representative of the Board at Deutsche Börse.
The second day concentrated on start-up and scale-up pitching and interaction between entrepreneurs and investors. 22 start-ups and scale-ups pitched their solutions to an audience of investors in two different sessions competing for the awards of best pitch in the start-up and scale-up categories. The winners were:
KTW Technology as best Scale-up (looking for series A investment or later)
Klaus Space as best start-up (looking for seed financing)
DLR presented on stage their vision towards the incubation programme. Dr Walther Pelzer, Member of the Board of Directors of DLR announced their commitment to double the budget allocated to the ESA BIC Programme.
Elodie Viau, Director of Telecommunications and Integrated Applications said "It is ESA's ambition, in collaboration with Member States and stakeholders to provide the basis, frame and motor for Europe's space ventures to be amongst the best in the world. Together we are accelerating the use of Space in Europe. Space telecommunications have been at the forefront of commercial space for many years, and we can say there has never been a better moment to invest in connectivity and space."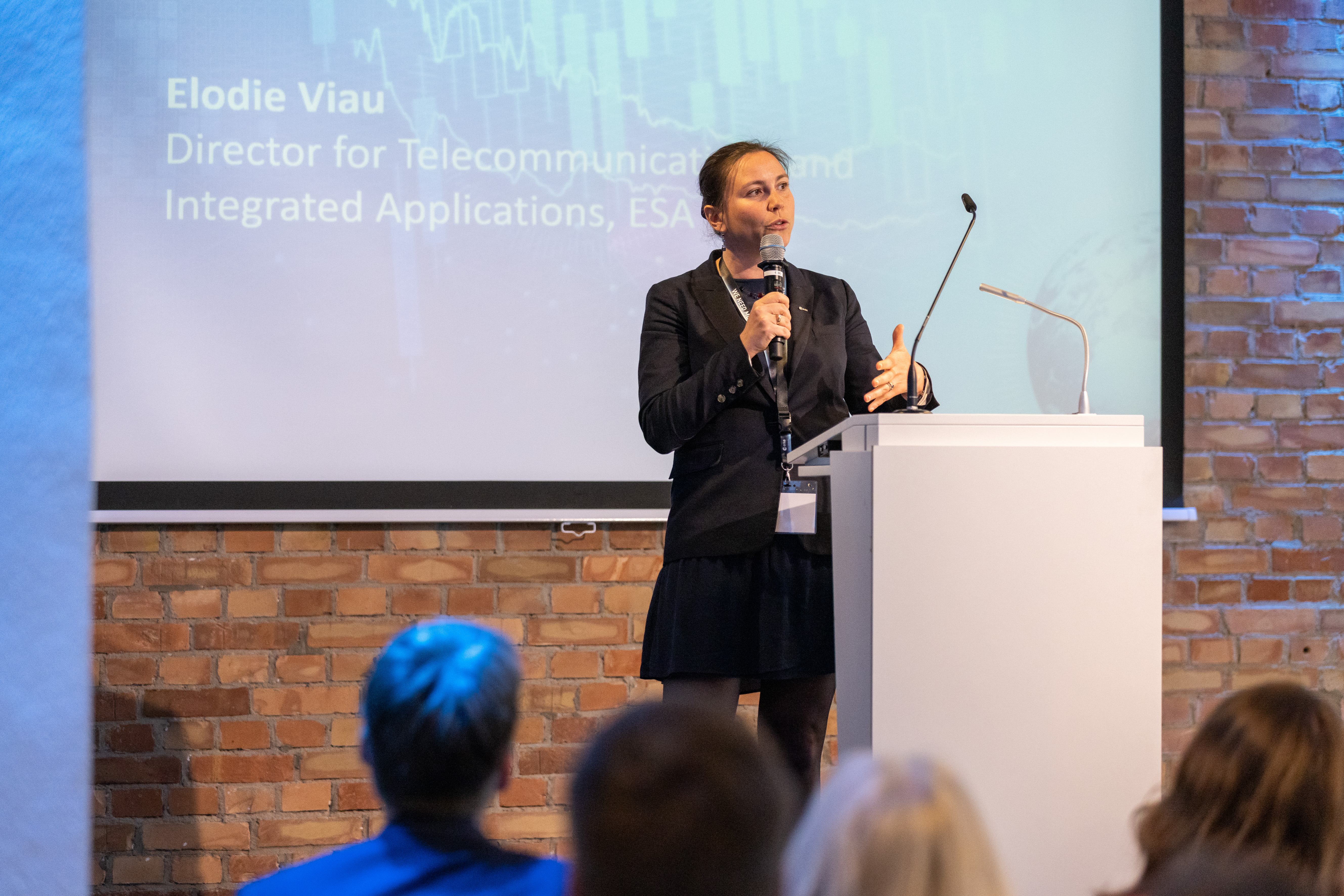 Last updated at 20 June 2022 - 10:55