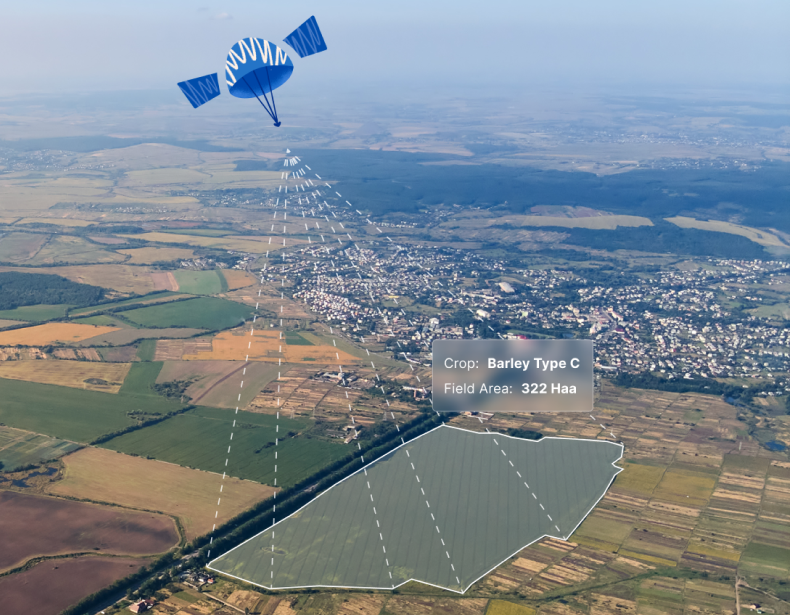 Norwegian agritech company DigiFarm has been honoured with a prestigious ESA Rising Stars award for its groundbreaking solution CropCloud. The Rising Stars awards recognise the most promising European space start-ups in ESA's ecosystem, based on the strength of the business offering and its socioeconomic impact. Developed under ESA's Business Applications and Space Solutions (BASS) programme, CropCloud leverages Artificial Intelligence (AI) and space-based data to provide highly accurate crop-field analysis. The solution is transforming agricultural operations through the automatic detection of up-to-date field boundaries with significantly higher precision than traditional methods, leading to more sustainable agricultural field management.
DigiFarm's solution addresses the need for accurate field boundaries and planted areas, which bring associated benefits to the entire value chain, from pre-production to retailers. The market data currently available, mainly Cadastral, is largely inaccurate and outdated, and requires time-consuming manual updates. While the industry continues to rely on these conventional approaches, approximately 40% of the world's agricultural fields are over-fertilised and farmers are losing out due to incorrect crop input application. As boundaries and planted areas change every season, existing data becomes ever more unreliable, while almost a third of all fields remain non-digitised.
CropCloud technology leverages AI alongside high-resolution Sentinel-2 satellite data, at 1 metre per pixel resolution, to automatically detect more than 20 million hectares of field boundaries per day, increasing accuracy by up to 15% and reducing the cost and time incurred by traditional manual digitisation by over 99%. Variable rate technology (VRT) enables farmers to reduce their input costs by up to 15% and increase yield potential by up to 10% through the optimisation of fertiliser and fungicide use. It also allows the accurate detection of in-field objects during the growing season, such as non-planted area, wet spots, haystacks, agricultural machinery, animals, electrical lines, telephone poles and windmills.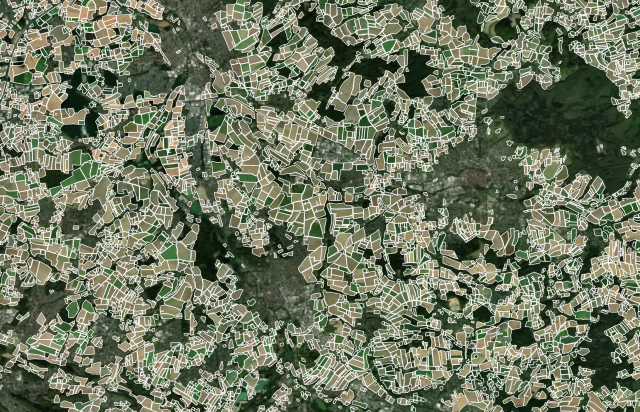 DigiFarm's solution enables the crop insurance, financial lending and MRV (Measurement, Reporting and Verification) sectors to assess the performance and potential risk of their portfolio, and to monitor and verify sustainable agricultural practices such as crop rotation, cover crops and post-harvest tilling, remotely and automatically. CropCloud's data processing pipeline efficiently gathers information and delivers it through powerful APIs to clients, who can run their own analytics from the baseline data supplied.
DigiFarm piloted the solution extensively across Europe, including with KWS, a leading global seed company based in Germany, and Agricolus, an Italian agritech company. The platform was also trialled with the National Paying Agency in Lithuania, CNH Industrial in Belgium and WWF in Myanmar. During the lifespan of the project, CropCloud generated growing interest and demand, leading to an expansion of the pilot, with new users including Bayer Crop Science (India, Europe and Mexico), Limagrain (France), Farmers Edge (Brazil), National Paying Agency (Austria) and Yara International, among others.
Nils Helset, CEO & Co-founder of DigiFarm, says "We are very grateful for the support from ESA and NOSA (Norwegian Space Agency) in helping us develop, commercialise and scale our solution. Thank you for believing in us and supporting our vision for this solution that can contribute to a greener, more sustainable future."
Guillaume Prigent, ESA's Technical Officer for the CropCloud Demonstration Project, says "We have been very impressed with the commitment and expertise of the DigiFarm team and are delighted to see their work with BASS rewarded with the Rising Stars award. It is a fitting tribute to the impact CropCloud is having on the sector and the impressive returns the solution has already achieved."
Having already secured €1.5M in contracts with both pilot users and new clients in more than 20 countries, DigiFarm has now delivered 3.5 million boundaries across more than 350 million hectares, reaching more than 350,000 farmers and growers in numerous countries across the globe. The success of the project has seen 57 new jobs and 46 key partnerships created worldwide and more than €6M in financing secured. CropCloud brings both vital gains and stability to the sector, while improving the prospects of businesses and contributing to socio-economic and sustainability goals.
Last updated at 15 November 2023 - 10:36