UK drone specialist Skyports has successfully completed the second phase of a medical delivery project on the west coast of Scotland, funded through a joint ESA and UK Space Agency COVID-19-related initiative. With support from ESA Space Solutions, Skyport's drone service slashed delivery times for COVID samples and medical supplies, significantly speeding up UK National Health Service (NHS) testing and response.
From February to the end of May 2021, Skyports' unmanned drone fleet ferried coronavirus test kits and samples, medicines and equipment between three hospitals and a medical practice in the Argyll and Bute area of Scotland. Their aim was to test the feasibility of using the service to replace some road-based deliveries. Skyports uses a range of space services and data to plan and operate the drones.
The joint ESA and UK Space Agency funding call, 'Space helping UK on COVID-19 and other pandemics', was issued in April 2020, soon after the pandemic started. Skyports' drone service was one of three projects chosen to tackle UK-specific challenges.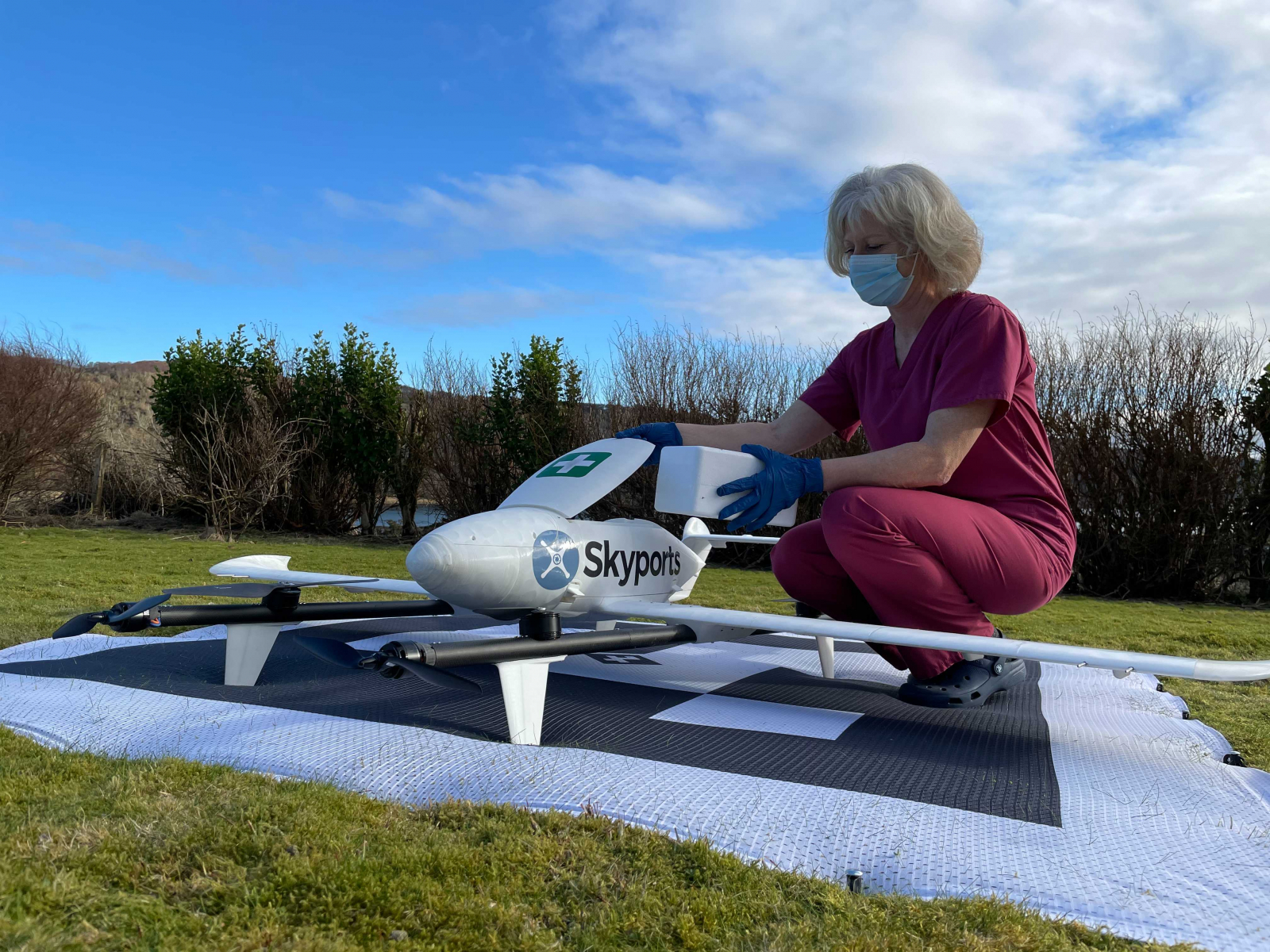 Airborne systems avoid geographical challenges
The sparsely populated Argyle and Bute region of Scotland includes several islands and has thousands of kilometres of coastline. Its geography means that road-based medical delivery services take an average of 21 hours. During the trials, Skyports' drones cut this to just 1 hour, enabling diagnoses to be provided far faster by a hospital on the mainland and speeding up delivery of urgent medical supplies.
The project was carried out with Argyle and Bute Health and Social Care Partnership (HSCP), which manages the area's healthcare. NHS staff at the four trial sites requested pickups through an online system developed by project partner Deloitte.
Drones flew on pre-programmed flight paths based on data from a global space-based navigation system, with Skyports' operators on the ground monitoring progress and taking control, if required, using telecommunications satellites. Earth observation data contributed to drone mission planning.
Stephen Whiston, head of strategic planning, performance and technology at Argyle and Bute HSCP, said: "The trial has proven that although there are still some challenges to overcome, there are some significant benefits. These include reducing the burden on our staff and getting results quicker to aid in diagnostic and treatment decisions. Anything that can be done to enable us to treat patients locally, instead of discharging them to hospitals further away, or to improve treatment pathways is great. Other health boards in Scotland are very interested in what's been achieved and what this technology can bring us."
ESA Space Solutions has been supporting Skyports' trials in a variety of ways. "As well as financial support, we have provided Skyports with a range of technical and business expertise, including how to structure and present their trial results," explains Arnaud Runge, ESA medical engineer and technical officer for the Skyports project. "In addition, as a professional pilot, I could offer assistance with aspects relating to airspace management, which is important when sharing airspace with, for example, emergency response services."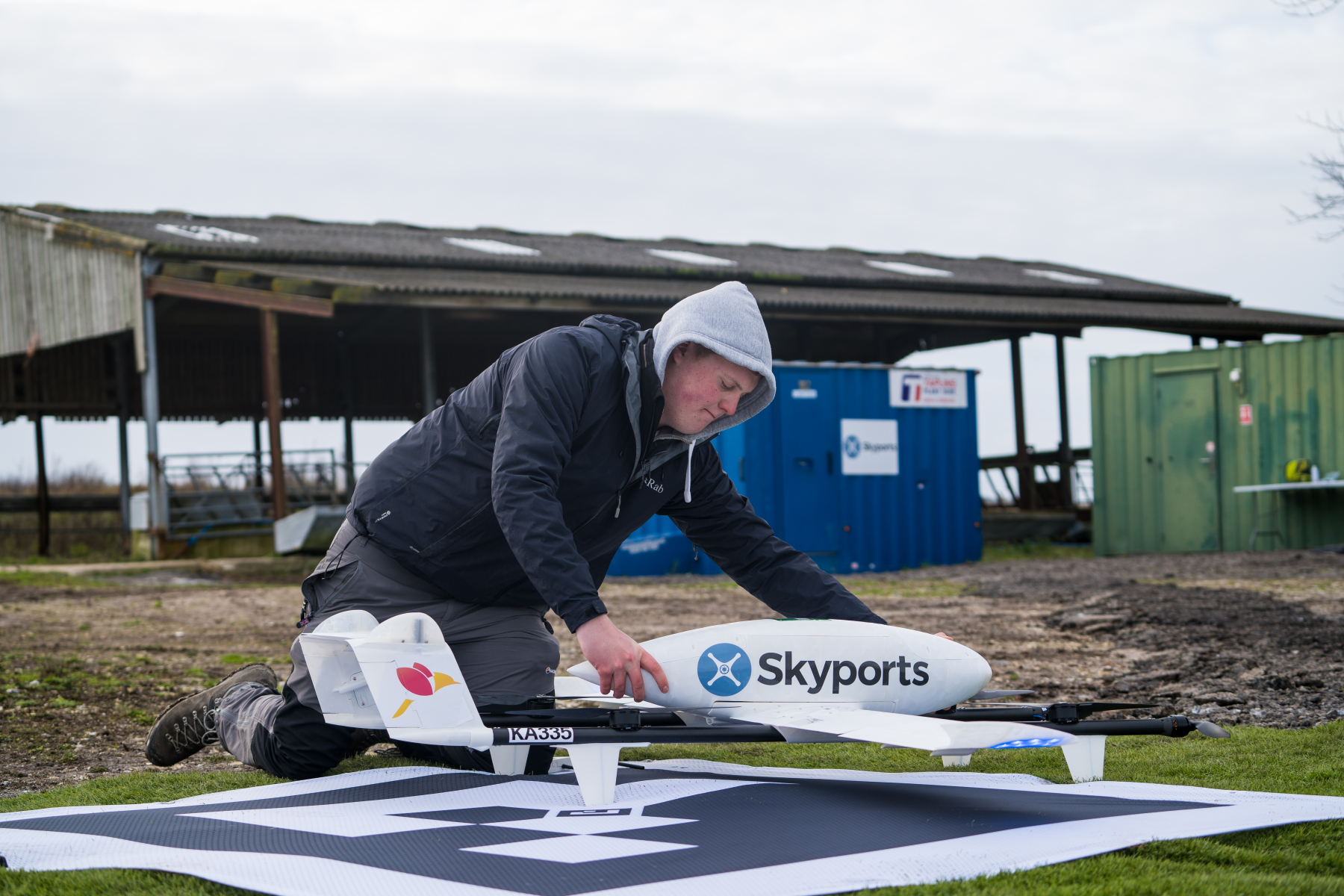 Further trials are planned with a view to providing a permanent service as early as 2022.
Alex Brown, head of operations at Skyports, said: "It was great to work with ESA Space Solutions on this project. It was very much a partnership-based relationship, working together flexibly through the various regulatory and technology challenges associated with a cutting-edge operation such as this. ESA's deep technical expertise and their relationships across government stakeholders were instrumental in getting the operation running for the NHS. We look forward to working with them again soon."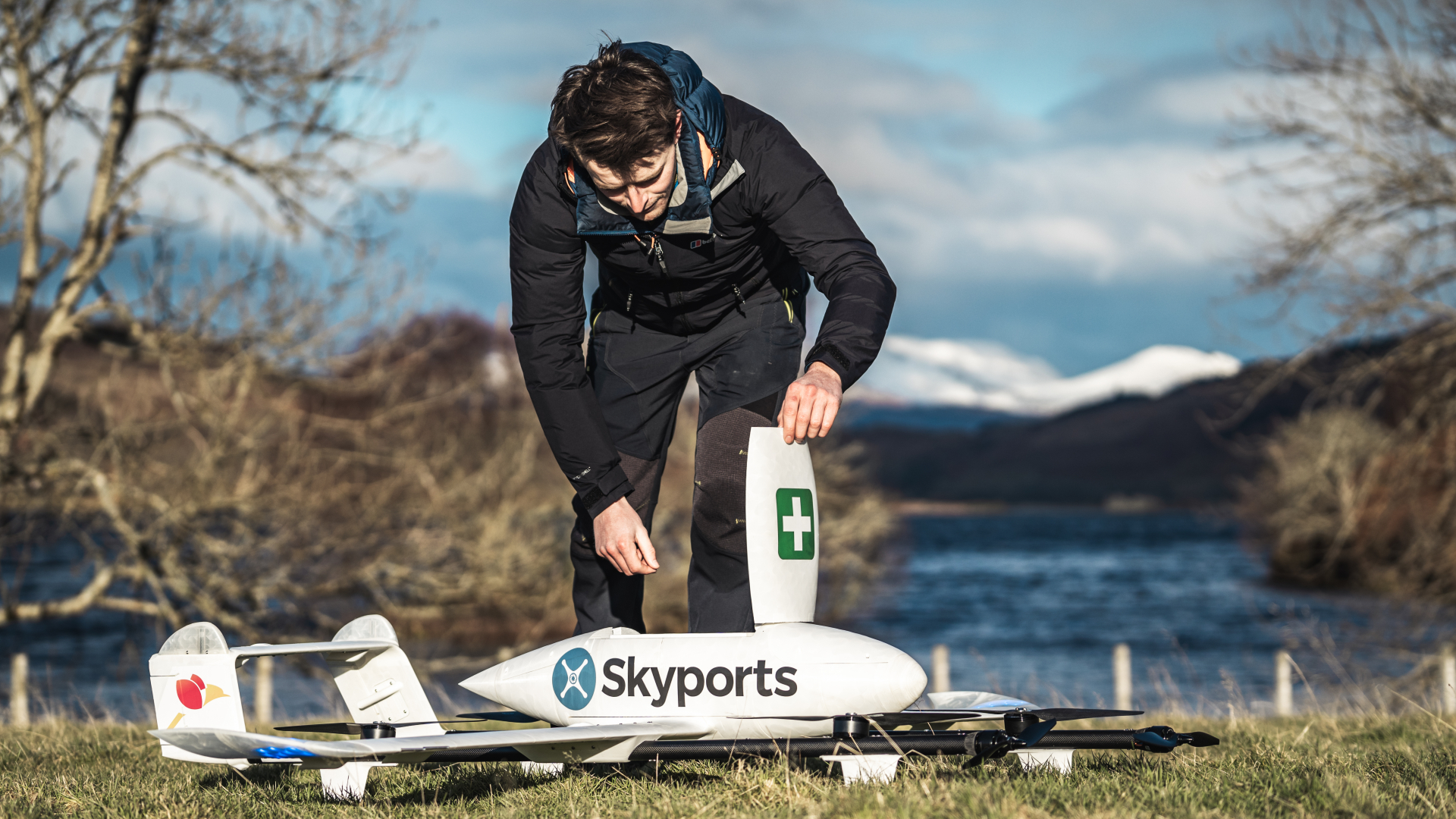 Last updated at 22 February 2022 - 17:09