The European Space Agency (ESA) and the UN Global Compact CEO Water Mandate have signed a Memorandum of Intent (MoI) to promote the development of space-enabled applications to support purposeful innovation addressing water challenges. The new partnership was signed on 10 Nov by Jason Morrison, President of the Pacific Institute and Head of the UN Global Compact CEO Water Mandate, and Elodie Viau, Director of Telecommunications and Integrated Applications at ESA, at the United Nations Climate Change Conference (COP26) in Glasgow.
The worst impacts of the climate crisis will be felt through water. Although water covers over 70% of our planet, only a very small fraction is fresh water with 97% being saline and ocean based. This fresh water is being threatened by significant forces, like overdevelopment, pollution, and climate change. Presently, two billion people around the world are living in water-stressed areas, and the same will be true of more than half the world's population by 2050 if no action is taken. Based on projected demand, the world will face a 40 per cent shortfall in freshwater supply within 10 years. With urgent action, the world's water crises can be alleviated. But it will take leadership from industry and partnership from expert communities, governments, NGOs, and others.
The corporate water stewardship strategy of the UN Global Compact CEO Water Mandate mobilises business leaders of more than 200 member companies on water, sanitation, and the Sustainable Development Goals. To do so, the CEO Water Mandate works with a wide range of government, UN agencies, and civil society partners to strengthen its research and guidance and to help ensure its work is implemented meaningfully on the ground, to address water-related challenges. One of its initiatives, the Water Resilience Coalition (WRC), unites CEOs committed to accelerating collective action in water-stressed basins with ambitious goals that could benefit water security for more than 3 billion people.
"At the core of the Water Resilience Coalition is the understanding that no stakeholder can face the water crisis alone. Entering into a formal partnership with ESA will bring innovative space-enabled applications addressing water challenges and contributing to advance Sustainable Development Goals. This partnership will increase the speed at which we move to revitalise 100 of the most water-stressed basins in the world and achieve WASH (water, sanitation and hygiene) access for at least 100 million people," says Jason Morrison, President of the Pacific Institute and Head of the CEO Water Mandate.
As set out in its recently released vision for European space activities, ESA is stepping up its efforts to use space to combat the climate crisis through Agenda 2025. "Space offers a vast untapped potential to ramp up the fight for a green future and tackle global climate change" says ESA Director General Josef Aschbacher. "It is now time to translate great ideas into concrete actions and leverage their economic potential."
ESA has launched three accelerators to unite European space actors to collectively put their strengths and excellence to work to solve crises on Earth caused by natural or human-made disasters: "Rapid, resilient crisis response", "Space for a green future" and "Protection of space assets", which will make the difference when dealing with climate change and geopolitical instabilities.
Through its Business Applications programme, ESA's Telecommunications and Integrated Applications (TIA) Directorate is supporting businesses from every area of the economy in driving green innovation. With the aim of strengthening the joint efforts on space-based applications, digitalisation and technology enablers, the MoI with CEO Water Mandate focuses on supporting purposeful innovation addressing water issues, while supporting Water Resilience Coalition member companies in their commitment to achieve Net Positive Water Impact in water-stressed basins.

''COP26 is an essential platform in addressing environmental challenges like these. I'm pleased to announce this cooperation with Water Mandate which realises the potential of space to drive commercial solutions for a green economy. This is a great example on how ESA is using space technologies and applications for Net Positive Water Impact,'' says Elodie Viau, Director of Telecommunications and Integrated Applications at ESA.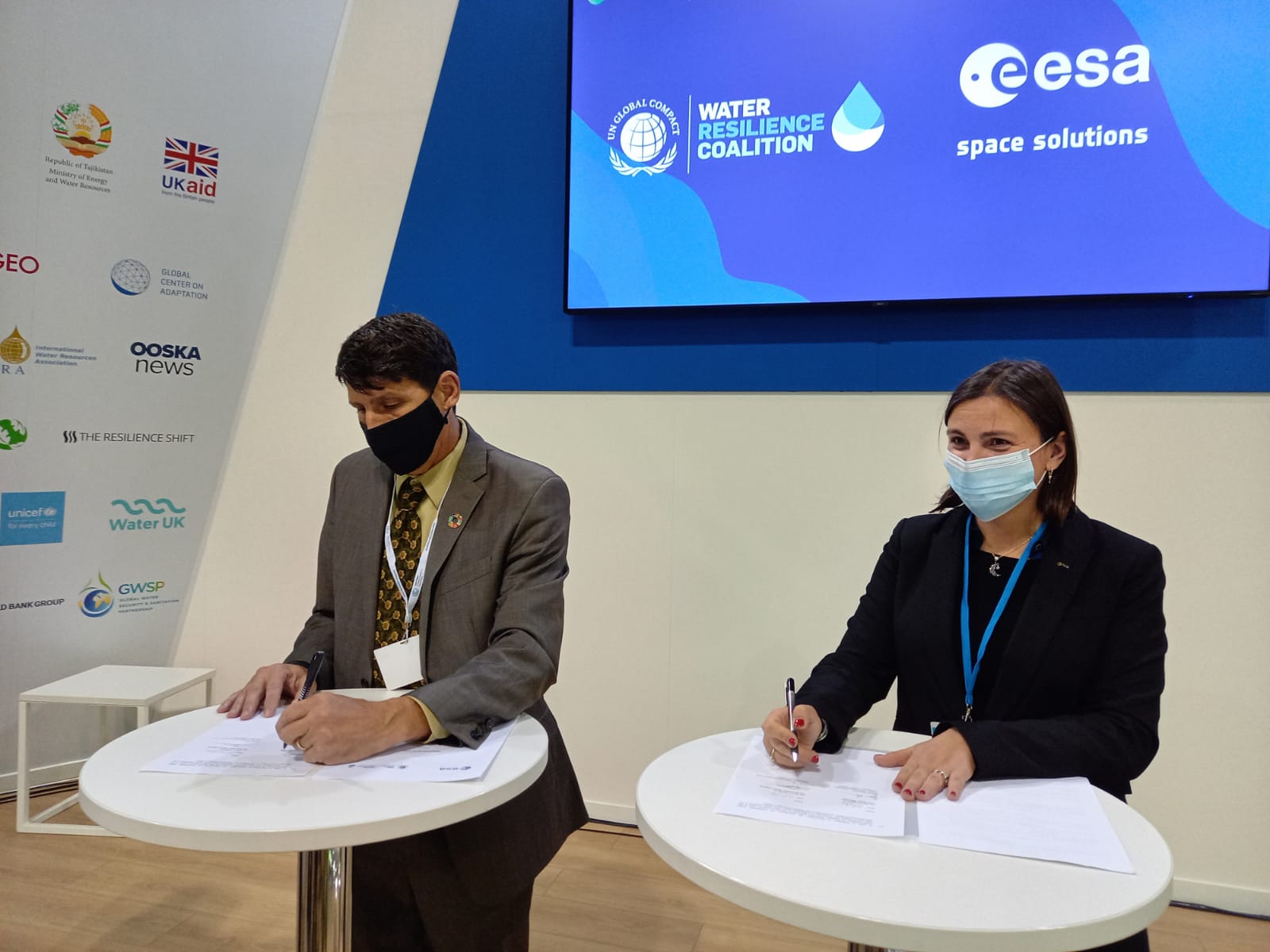 Last updated at 30 November 2021 - 08:42