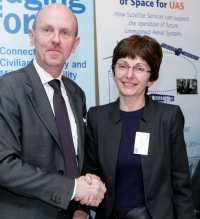 ESA and the European Defence Agency (EDA) are furthering their combined efforts into the study of satellite services for Unmanned Aircraft Systems (UAS), through the signing of contracts with two consortia to carry out parallel feasibility studies.
The contracts were signed at the European Defence Agency's 2010 annual conference which took place in Brussels on 9th of February 2010. EDA's Chief Executive, Alexander Weis, signed one contract with EADS Astrium (France) and in parallel ESA's Director of Telecommunications and Integrated Applications, Ms Magali Vaissiere, signed a second contract with INDRA Espacio (Spain).
From an ESA point of view, the studies are expected to prove that satellite services can significantly contribute to paving the way for a broad range of civil and commercial UAS applications. Main drivers for these applications are improved safety, reduced costs, and sustainability, said Ms Vaissiere.
Pursuing the ESA study falls in line with ESA's new Integrated Applications Promotion (IAP) programme. IAP was instigated to promote the development of sustainable operational services for a wide range of users through the combination of different systems demonstrating the added value of space.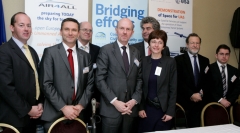 The subject of the two feasibility studies is a very good demonstration that space-based services can provide added value to new user communities outside the space domain, explained Ms Vaissiere.
The two studies, conducted in parallel for a duration of six months, will set out to determine:
The feasibility and the overall planning for a UAS mission, demonstrating that UAS can be integrated into non-segregated airspace using satellite communications and satellite navigation for Command and Control, Sense and Avoid, and Air Traffic Control.
The added value of satellite communications for high data rate payload links.
The viability of such a solution for future services based on UAS supported by space systems.
The investments necessary in the future and the next steps required in technical and regulatory terms to effectively establish such services.
The roadmap for institutional (e.g. civil protection, crises management) and commercial (e.g. pipe line monitoring) services development.
The advantages to using satellite services for the operations of Unmanned Aerial Vehicles include:
Always-on communication capabilities to all flight levels over a wide geographical range,
Command, Control and Communications Beyond-Line-of-Sight (BLOS) allowing the UAV pilot to be based at a mission independent central location,
A payload data return capability providing near real-time access to mission data Beyond-Line-of-Sight.
EDA Chief Executive Alexander Weis highlighted the cooperative spirit between the two organisations. Referring to the overall topic of EDA's Annual Conference Bridging Efforts, he further stressed the need for concrete synergies and result-oriented projects. In this context EDA's initiative on a European Framework Cooperation aims at systematically reaping the benefits of working together with partners such as the European Commission and ESA, including the strategic research area of UAS for air traffic insertion by 2015.
This contract signature marks the first milestone on the common EDA-ESA journey and paves the road for future joint activities extending possibly also to other areas like maritime security and reaching at some point of time a global dimension, concluded Ms Vaissiere.
Last updated at 06 March 2014 - 10:13