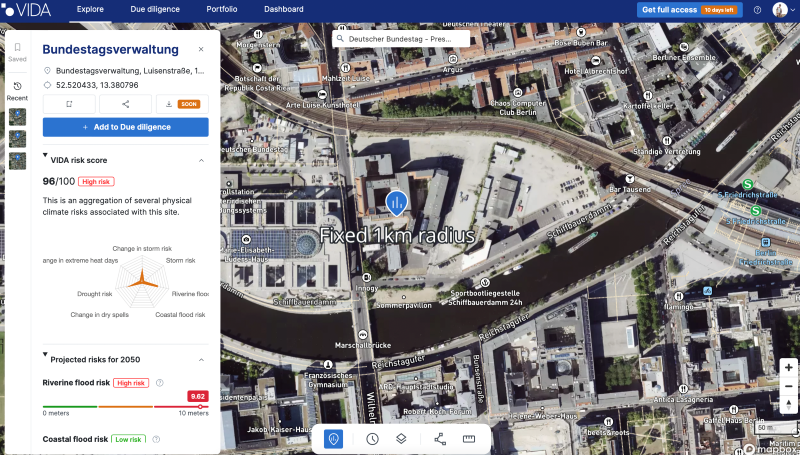 A successful ESA-backed Demonstration Project by German company VIDA has attracted €3 million of investment from Cusp Capital. VIDA's solution, originally developed under ESA's Business Applications and Space Solutions (BASS) programme, uses satellite-enabled software to accelerate sustainable infrastructure investment and impact management. The funding will enable VIDA to scale its operations, expand its product offering and build its presence in key markets worldwide.
VIDA's platform provides critical climate risk information, enabling investors to understand how their infrastructure is impacted by the environment, and in turn to assess impact. Across Asia and Africa, for example, the company's software is currently used by governments, international funders and alternative energy players to map out clean electrification infrastructure. Stakeholders can assess the status of any location, social and environmental risk factors, as well as potential demand.
The software fuses multiple data layers, including geospatial data, into a map-based format that enables easy monitoring and reporting of critical environmental markers. It replaces traditional data sources, which are typically stored in a variety of formats and are often both difficult to access and unfit for purpose.
Tobias Engelmeier, co-founder and CEO of VIDA, said "We are delighted to partner with Cusp Capital in our mission to bring climate-informed decision-making to infrastructure investment and management worldwide. This funding empowers us to further accelerate our growth, reach new markets and build out our unique climate risk and impact assessment tools."
"Cusp Capital is thrilled to be part of VIDA's growth story," said Dr Carolin Althoff, Investor and Head of ESG (Environmental, Social and Governance) at Cusp Capital. "We work with entrepreneurs who understand that ESG is a business opportunity in building the next generation of tools and services, leading to a positive impact on our planet and society. Seeing exactly that in the VIDA team, we look forward to partnering with them as they rethink operations for infrastructure investors."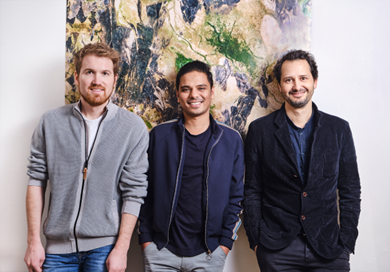 Commenting on the news of the investment, Beatrice Barresi, ESA Technical Officer, said "It has been a privilege to work with VIDA and watch them grow to be market leaders in their field. This latest investment will enable them to expand these vital services to reach more communities around the world."
Founded in 2018 with support from ESA, VIDA is already well-placed in more than 20 countries across Africa, Europe and Asia, and is on track to generate €3 million in 2023 alone. With major companies, investment firms and government bodies using its software, the company aims to become the global standard for climate-aware infrastructure planning. It supports investors to build distributed, flexible infrastructure that reduces the risks of climate change, such as dams to counter floods, power (cooling) to handle heatwaves, or stronger buildings to resist storms. VIDA is also focused on mitigating against climate change through the replacement of fossil-based infrastructure with green infrastructure in developed countries and to meet new needs in emerging markets.

Last updated at 27 October 2023 - 12:11