The results of the Space Business Idea Challenge were presented on Friday 29 April during the sixth annual ARTES Applications Workshop held this year in Brussels, Belgium.
The Challenge was organised for this year's event in order to generate new space-based application ideas and attract new companies and entrepreneurs to the ARTES Integrated Applications Promotion (IAP) programme. In March, whent the Competition was announced, companies, entrepreneurs and students from ESA member states were invited to submit a concise, two-page business plan. The six most promising business ideas were invited to the Workshop where the teams had the opportunity to pitch their ideas during a dedicated session on the final day. The submissions were voted on by the audience as well evalulated by the jury, which was comprised of Francesco Feliciani (ESA), Laurent Six (ESA), David Praet (Belspo), and Cedric Donck (Vlerick Business School).
During the session, Craig Brown of Innovate UK tweeted: "Some great ideas pitched! Would have been good to have more focus on customers & revenues but lots of potential."
The votes of the audience and the votes of the jury were collected and taken into account on a 50/50 basis. Three cash prizes (€2000, €1000, €500) were awarded to the three best ideas. The three winning teams will be supported by ESA in setting up an ARTES Application activity, should they be interested.
"The five-minute presentations given by the finalists brought a stimulating atmosphere of excitement and fun to the workshop", ESA's Francesco Feliciani, Head of Commercial Applications Projects Section at IAP. "Beside the creativity, it was really good to see how the different teams advocated the commercial potential of their ideas. The organisation committee together with the support by the sponsors did a fantastic job. We will certainly try to replicate the experience at the next ARTES Applications Workshop of 2017."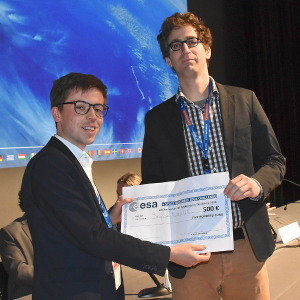 Third-place winner
Third place went to Drift & Noise Polar Services (DE).
Their application idea: near-real time ice mapping allowing: economic and safe nautical routing through the ice, tactical and strategic on-board decisions, safe distance to the ice, approaching of spectacular ice spots for tourist vessels, stop and go decisions for drilling activities.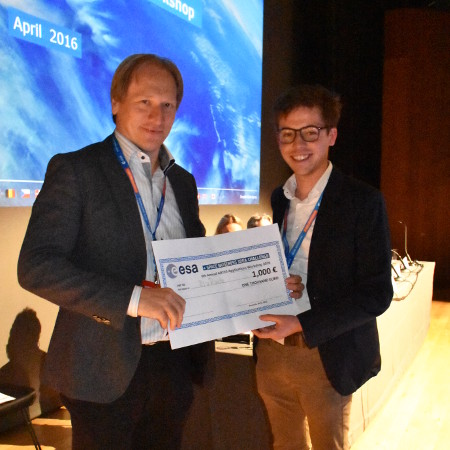 Second-place winner
Second place went to the team of RouteYou, BizBike, and Ovinto (BE).
Their application idea: a platform tracking for cyclists to optimise the implementation of the "bike2work" fiscal initiatives, reduce the chance of bike theft and optimise insurance.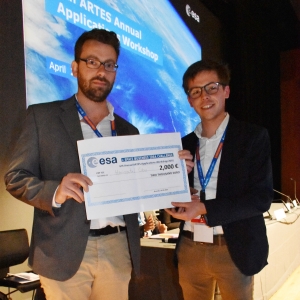 First-place winner
First place went to Horizontal Cities (PT).
Their application idea: energy efficient routing for cyclists by optimizing and predicting energy consumption by taking road slopes into account.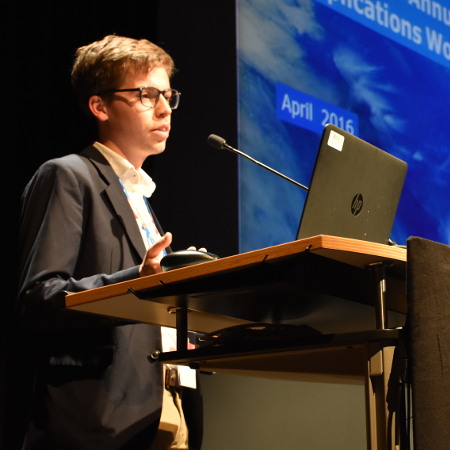 Young Graduate Trainee Christophe Christiaen, who is currently spending a year at ESA's ECSAT facility, helped organise and promote the Competition, and introduced the winners in the final session at the workshop in Brussels.
Last updated at 19 May 2016 - 13:30