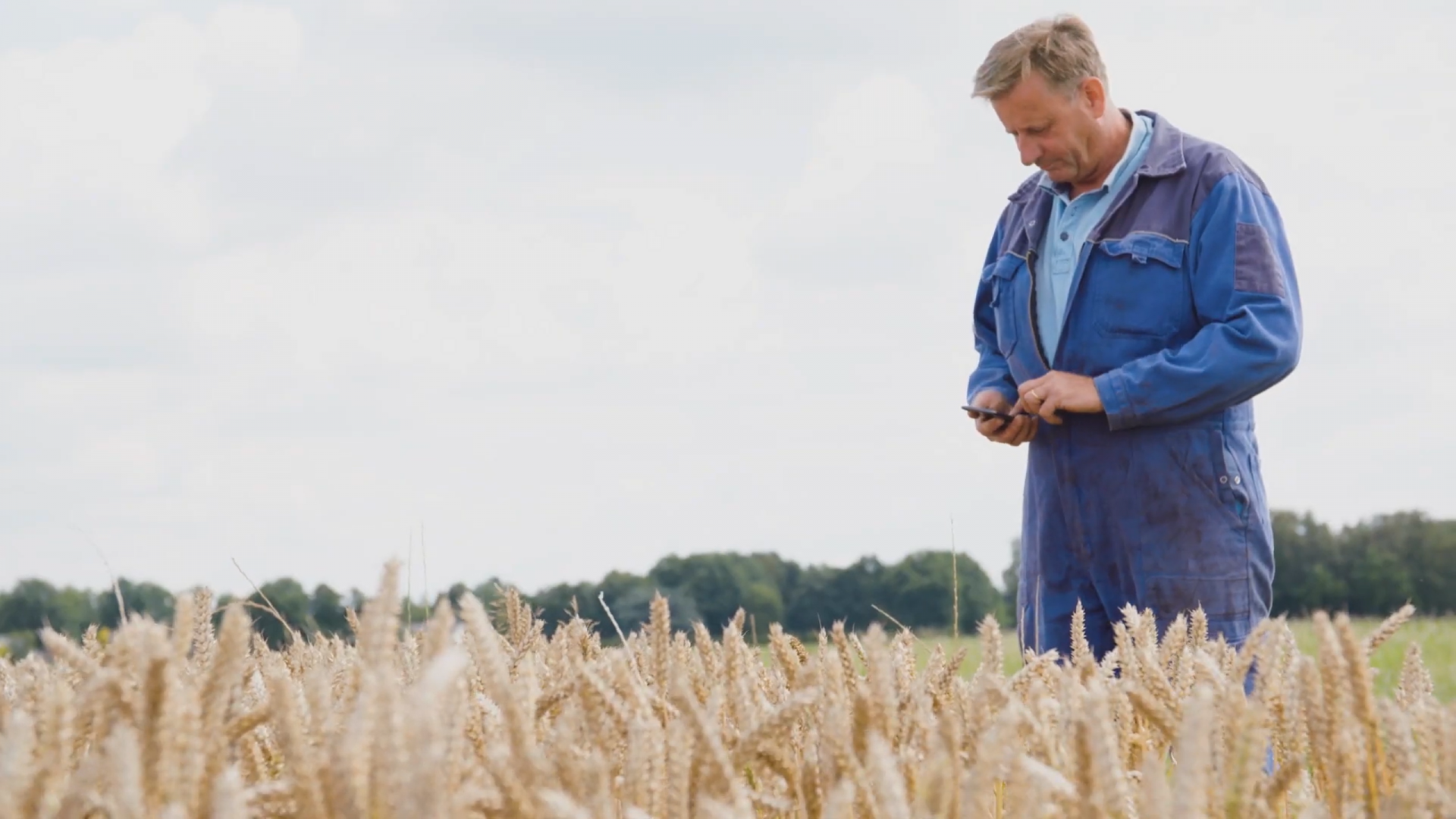 Affordable smart farming using satellite data is now available to more farmers than ever through the FieldScout app from ESA-funded start-up BioScope. The smartphone app provides location-specific maps showing key crop-related data, such as biomass and leaf nitrogen content with additional features designed to allow farmers to monitor growth and optimise resources.
Precision farming using satellite and drone imagery has been used for several years to improve agriculture. Capturing aerial data is an efficient way to gather valuable information on aspects such as plant health and soil conditions but making the results accessible to farmers has been the main challenge. Now, Dutch start-up BioScope has developed a way to provide this information directly to farmers in the field, where they can identify and study any crops of concern.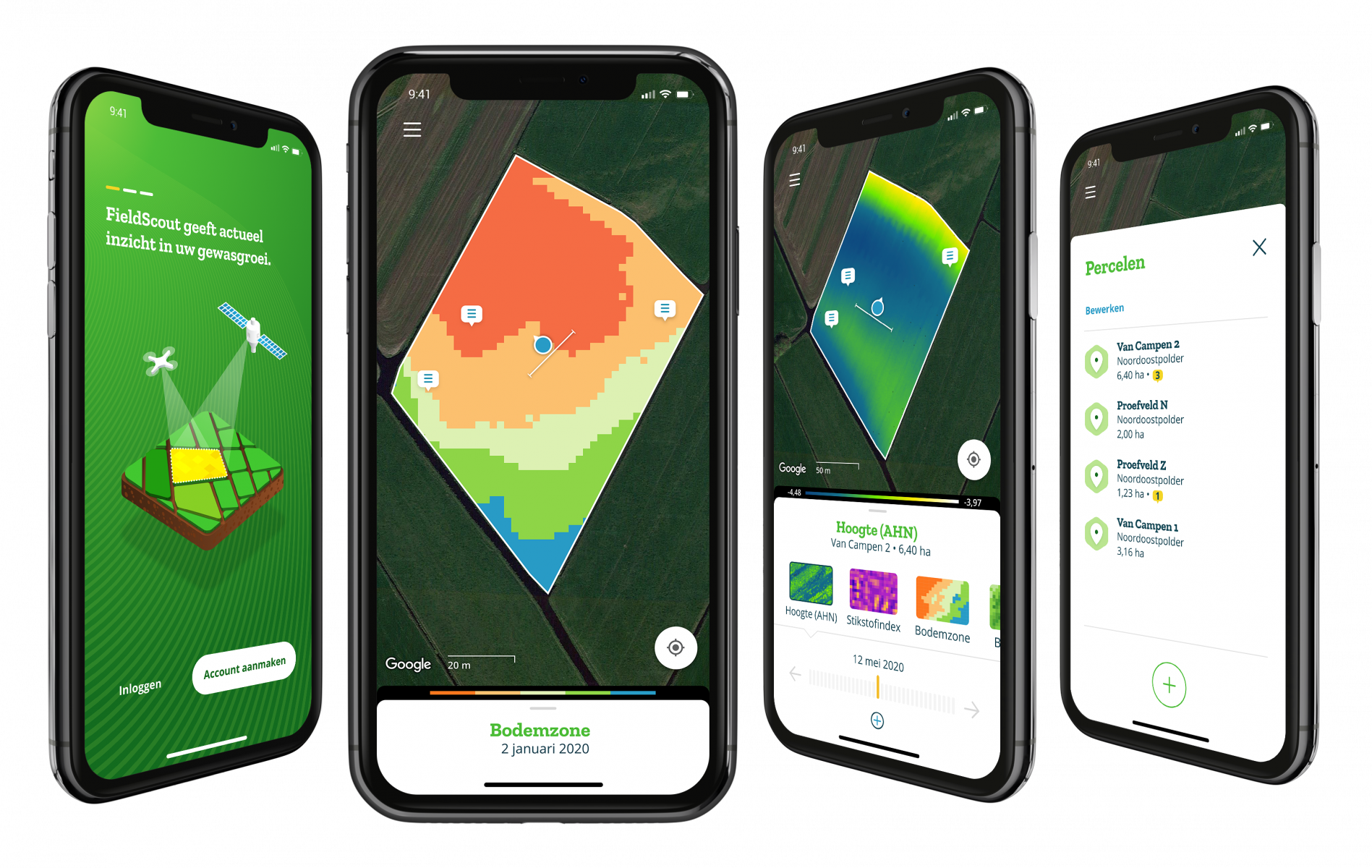 "As farmers tour their fields and crops, BioScope's FieldScout app helps them to locate areas of concern," explains the company's co-founder and director Tamme van der Wal. The app provides maps of soil zones, biomass, and nitrogen levels in the leaves of crops, which can help farmers determine if remedial action is needed, such as watering or fertilising. Growth charts and maps showing deviations from average growth provide further support, and the app also lets farmers record their own location-specific observations using notes and photos during field walks.
BioScope has long been researching how to use satellite data to benefit agriculture and FieldScout is the outcome. "Farmers who want to do more with data but in the past have hesitated to make big investments can see that FieldScout is accessible and affordable," says van der Wal. "It allows farm managers and advisors to prioritise attention to fields where action is needed first".
BioScope began life as a Feasibility Study in 2011 as part of ESA Business Applications before becoming a fully-fledged company in 2017. "We interviewed farmers and learned how they might be able to make use of satellite data in their daily work," recalls van der Wal. It became clear that to encourage them to embrace any new technology the supply of maps and images needed to be instant, up-to-date, and reliable.
Cloud cover and other weather conditions meant that satellites alone could not be relied upon "so we decided to use them in conjunction with drones" van der Wal explains while admitting drone regulations threatened to make the technology expensive – in particular, the requirement for a pilot always to have sight of the drone. "But since then the Sentinel satellites became operational, and we now have daily imagery capability, which makes the need for drones as gap-fillers less urgent," he adds. The service fosters a wide use of satellite data with a key role played by the Copernicus Sentinel-2 mission. It provides multispectral high-resolution imagery to monitor soil conditions, drought, and other seasonal changes and can help predict when a crop is ready to harvest – exactly the kind of information a farmer at ground level requires.
The app took home the Netherlands' Galileo Prize in 2020 among others awards for innovation in Earth observation and the year before the Dutch Farmers Association (LTO) recognised BioScope as a partner organisation in 2019. "LTO saw the potential of what we were doing," van der Wal explains. "They have committed to investing in our company and share our vision to develop solutions for all farmers. They also appreciate our independence from other industries supplying agriculture." LTO marketing manager Arnout Goeman says "FieldScout works for experienced farmers and new farmers – the interface is easy to use, and you can take notes or tag photos for later reference or sharing."
FieldScout is available worldwide, but customers are currently concentrated in the Netherlands and Belgium where it serves almost 3000 farmers and farm advisors. And down the line Bioscope is hoping to expand the scope of the app. "We are innovating continuously and are building solutions for soil management, carbon farming and more efficient water use which our customer base has requested. Our vision is to improve farming and increase sustainability by constantly providing better information," says van der Wal. All, of course, via a smartphone.
Last updated at 19 November 2021 - 09:53