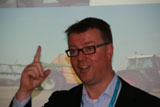 More than 75 participants from SMes all over Europe attended the IAP Ambassador Platform for Small and Medium-sized Enterprises (APsme) launch event in Brussels on 6 March.
The event informed participants on this new initiative to facilitate the access of SMEs to satellite-related activities:
For SMEs as service providers to get operational information on how IAP activities can support them in developing new, integrated products or services.
For SMEs as end-users, to explore the potential benefits of using satellite services to answer their business needs.
The conference was co-organised by Agoria (Belgium.s largest employer.s organisation and trade association), UEAPME (the European Association of Craft, Small and Medium-sized enterprises), the European Space Agency, and Eurisy which has hosted the APsme since September 2012.
In addition to informative talks by representatives of the four co-organisers on the needs and context of SMEs, the IAP support mechanisms, and the role of APsme, several SMEs presented their hands-on experience of either benefitting from IAP in developing new services, or in using operational satellite applications for their needs. These case-study examples covered several sectors, such as renewable energies, agro-environment, forestry, water, finance and industrial risk management.
The event concluded with bilateral meetings between the IAP Team and participants interested to profit from the initiative.
Conference participants recognised the interest for small businesses to fully reap the benefits of the European investments made in space infrastructure, by initiating and using integrated services. The SMEs that were present also pointed out the benefits in terms of business and competitiveness in taking up IAP opportunities as service providers.
All the presentations of the day are available on the APsme web-portal: http://iap.esa.int/c/sme/
Last updated at 06 March 2014 - 10:17