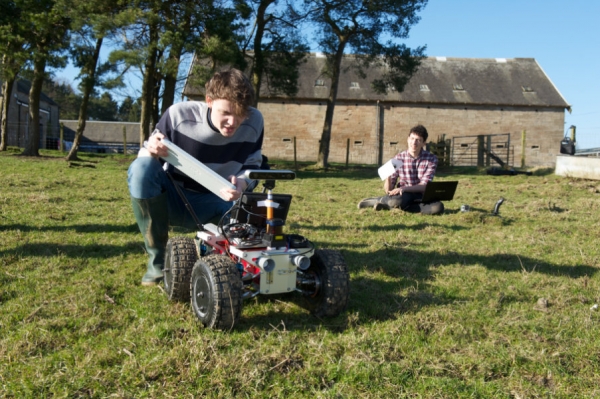 Can your robot help design the future of agriculture? Can it provide smart solutions for weed control and fruit and vegetable harvesting? If it can, then join the Robotics Challenge 2019 and receive support from ESA`s Business Applications & Space Solutions, perhaps even launching your company from an ESA Business incubation Centre. The deadline to apply is 23 April.
Since technology for autonomous machines on farms has become more mature, the Robotics Challenge is putting a focus on robotics in agriculture, with the goal of helping innovative companies to gain visible, long-term success and to grow worldwide through sales and marketing agreements.
ESA`s Business Applications & Space Solutions programme has joined the Challenge, offering financial and technical business support to start-ups and established companies that are developing robotics solutions by re-purposing space technologies and/or satellite data services.
Does your solution have the potential we're looking for?
If yes, then hurry up and apply before 23 April 2019 and become part of the innovation effort to shape 21st Century agriculture in a sustainable manner.
Great opportunity for robot start-ups
As part of Agro Innovation Lab`s activities to push innovation in agriculture, the Robotics Challenge is a great opportunity for entrepreneurs, start-ups and companies working in the robotics field.
Targeting companies with a working prototype robot for the agricultural sector, the goal of the Challenge is to define and implement a technical validation as well as a go-to-market strategy or market expansion concept, based on the company's core competencies and customer needs.
Agro Innovation Lab offers tailor-made support and precisely those resources that the winner, as a high potential robotics company, is most likely to need.
The test phase will end with a top-class jury selecting two winners, one in weed control and one in fruit and vegetable harvesting.
The winners have prospects for sales cooperation with BayWa and RWA, two of the largest players in the global agricultural sector; and also with the Austrian companies behind the innovation platform Agro Innovation Lab.
Get your ideas boosted by ESA's Business Applications & Space Solutions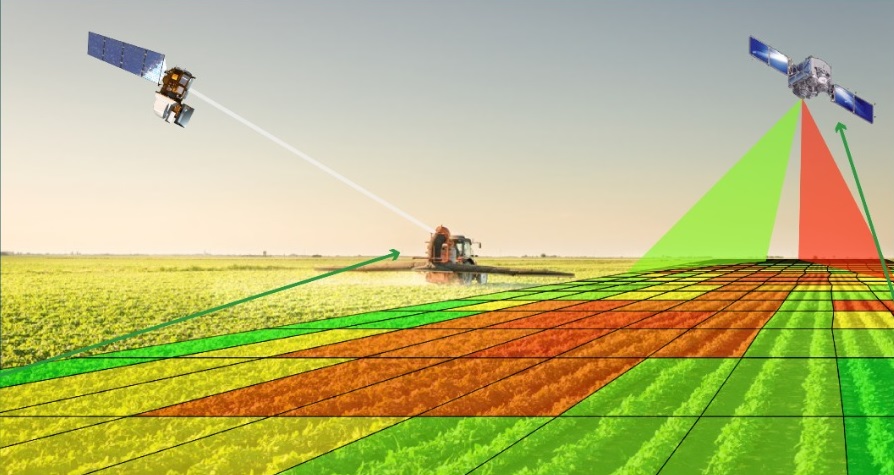 The winners and potential runners-up will also have the opportunity to tap into the support offered by ESA's Business Applications & Space Solutions programme.
Start-ups with less than 5 years of business operation can apply to the ESA Business Incubation Centre (BIC) in Austria, or to one of the other ESA BICs, to enter a two-year business incubation development booster programme, which is provided at over 60 locations throughout Europe.
In addition to seed funds, the booster programme provides extensive business and technical support to entrepreneurs. The aim is to help realise their ideas, based on the re-purposing of space technologies, systems and patents and/or on developing innovative terrestrial systems and services that utilise satellite services, such as those for Earth observation and location.
All applicants have access to support from ESA Business Applications initiatives. Motivation, business experience and industry domain expertise are key: but most , we want to hear business ideas that are commercially viable, technically possible and involve either space technology or data.
Zero-equity funding from €60k to €3M+ per activity is potentially available, along with technical and commercial guidance from a personalised ESA consultant and access to ESA Business Applications' international network of partners.
The Robotics Challenge application dealine is 23 April 2019.
Learn more about the Agro Innovation Lab Robotics Challenge 2019 with all the business and technical advantages. If you have a smart robot, and you have some innovative ideas on how to automate agriculture, fill in right away the Application Form to join the Challenge.
About ESA's Business Applications and Space Solutions
ESA's Business Applications and Space Solutions programme helps European industry in non-space sectors to use space to enhance their products or services in a wide range of domains.
This includes the use of any combination of satellite data, space programme tools and technologies, as well as ESA patents and techniques used for telecommunications, Earth observation, human spaceflight or navigation.
Overall ESA spends €400 million a year on strengthening the competitiveness of European and Canadian companies in the global markets for both satellite communications and downstream applications.
Largest ecosystem in the world for space-related entrepreneurship
As part of ESA's Business Applications and Space Solutions programme, the network of 20 ESA Business Incubation Centres (ESA BICs) is the largest ecosystem in the world for space-related entrepreneurship and has fostered over 750 start-ups throughout Europe.
Spread over more than 60 cities in 16 countries, the centres and their national partners provide technical expertise and business-development support to their hosted start-ups. There are currently more than 300 companies in the two-year business incubation development booster programme, with approximately 180 new companies joining each year.
Last updated at 24 June 2019 - 10:05