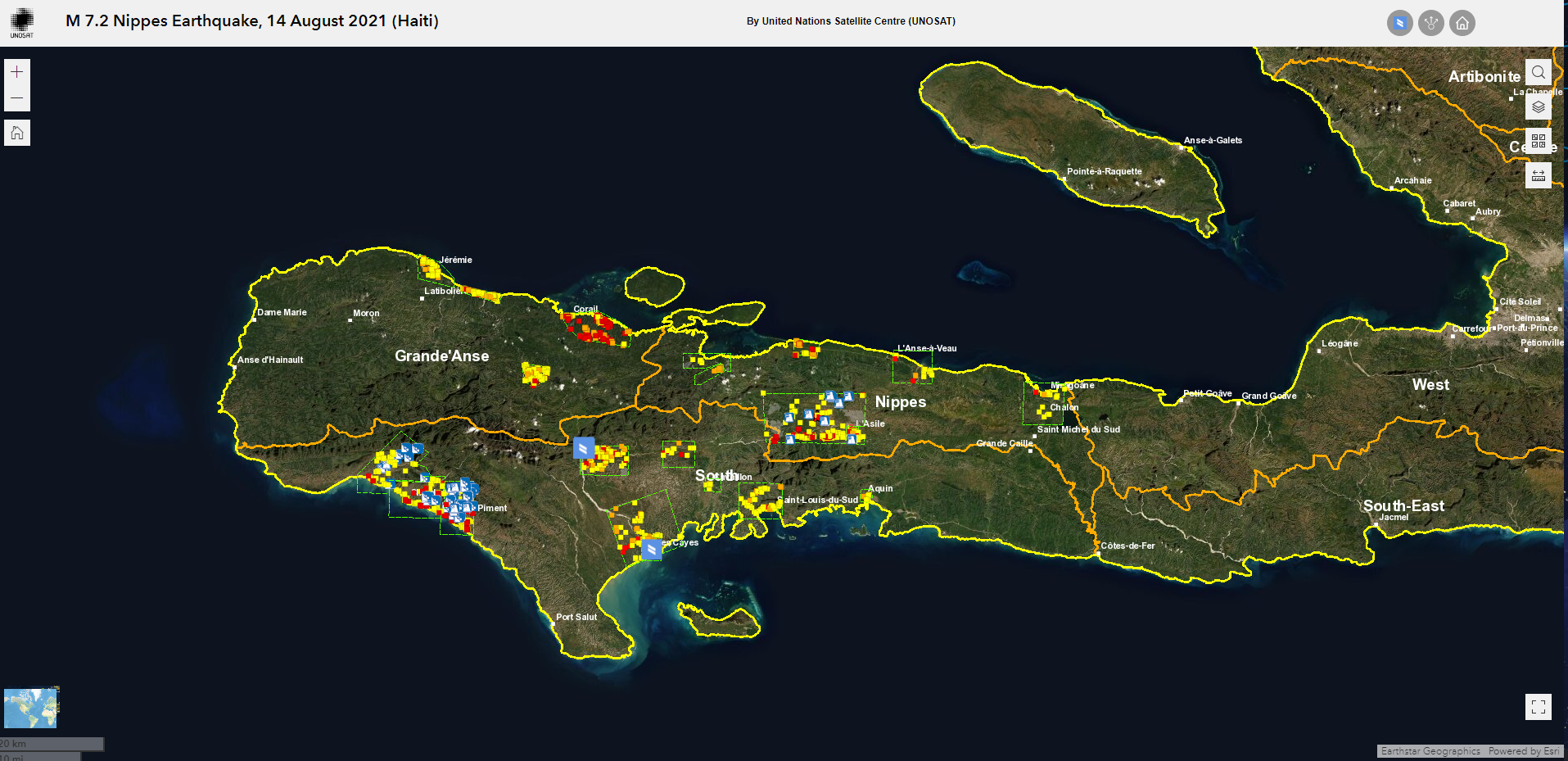 When natural disasters strike, time is of the essence. Decisions need to be based on accurate and up-to-date information. Developed through Norwegian company AnsuR's ASIGN concept, B-SURE is backed by ESA Space Solutions and the United Nations. It integrates a host of information from satellites, drones and crowdsourcing to enable a rapid response on the ground in the places where it is most needed.
The United Nations Satellite Centre (UNOSAT) launched its Humanitarian Rapid Mapping service in 2003, using satellite imagery to monitor natural disasters such as earthquakes, forest fires and floods. The intention was to use satellite images to direct first responders and medical teams to where they were required. These early satellite images were provided as PDFs which, while useful, could not be easily updated.
Meanwhile in Norway, a small tech company, AnsuR, had launched ASIGN, an application which could operate via satellite and mobile phone technology using very low bandwith, ideal for when networks fail in the aftermath of a disaster. UNOSAT realised that ASIGN, if run on smartphones, could help them amend their satellite images in real time, so teams on the ground had a constantly updating, georeferenced resource. Live, online maps were a huge boon to disaster relief and, as a consequence, AnsuR won ESA's App challenge, part of the Copernicus Masters competition for global innovation, in 2012.
Subsequently, working with UNOSAT and ESA Space Solutions, ASIGN was developed further. A pilot demonstration in South-East Asia – an area exposed to more natural disasters than any other part of the world – led to the launch of B-SURE or "Benefiting from Space for Urban Disaster and Resilience Excellence".
B-SURE's main objective is to further minimise disaster response time. Bandwidth usage has been reduced even further, by up to 99 per cent, saving time while data is transferred. It is particularly suited for disaster and emergency management because if no local mobile network is available, it can use satellite channels instead. First responders can communicate efficiently whatever the situation.
"AnsuR has been dedicated to apply our innovation in mission-critical communication to humanitarian operations, and in particular with the UN and UNOSAT, almost since we were founded. With B-SURE we have managed to develop several new technical capabilities that provide new services that in term help UN operations become more effective. Working with UN provides us with a chance to test and validate our solutions in tough situations. In turn, this also gives us credibility when working with other user groups. Solving these kind of substantial challenges with the UN is also highly motivating for our team to work with," said Dr Harald Skinnemoen, Founder of AnsuR.
Information managers interact with users in the field using online web browsers on secure servers, with information sent directly to the responders' smartphones. The managers can study data from Earth observation satellites, locally based drones and video taken at the scene, and select high-resolution images where they are required, enhancing field operatives' knowledge on the spot. Satcom information can be used to direct them to where they are most urgently required.
The Unmanned Aerial Vehicle (UAV) version of the software allows remote viewers to directly access camera footage from drones flying over the disaster scene, while video conferencing between managers and teams on-site is also an option. Individual members of the public affected by the situation can also contribute by uploading photographs or video they have taken. ASIGN prioritises the network capacity of content it considers most relevant and filters incoming data.
The COVID pandemic halted development of the programme briefly but B-SURE has since been used to direct the response to the 2021 floods in Germany, and UN peacekeeping forces have issued a tender for procuring the system. The system is installed with the UN at the CERN campus, where the World Wide Web was invented. Using the world's first web-domain (cern.ch) The UN OCHA (INSARAG) has adopted the system to direct response teams during emergencies. The Oslo Police have also installed the system on own servers for security use cases.
"UNOSAT has supported AnsuR in the B-SURE project because the technology developed supports several of our sustainable development goals, such as Goal 9 for innovation and building resilient infrastructure, Goal 11 for building more resilient cities able to cope with disasters, Goal 13 in handling natural disasters that are effects of climate change and Goal 17 in creating partnerships for achieving the goals," said Einar Bjørgo, Director at UNOSAT. "UNOSAT and AnsuR has a long relationship spanning more than a decade. The highly successful results of the B-SURE project, proven on multiple occasions in the field, allow the UN to provide new and more innovative satellite-based solutions that ultimately help UNOSAT provide better services to the UN and to the world in general."
Last updated at 10 November 2022 - 15:51