This story is part of our new story series: Meet the Ambassador. In this new series, we're going to introduce you to the great teams across our Network that are using space to develop business applied in daily life. Curious about their highlights and advice? Read on.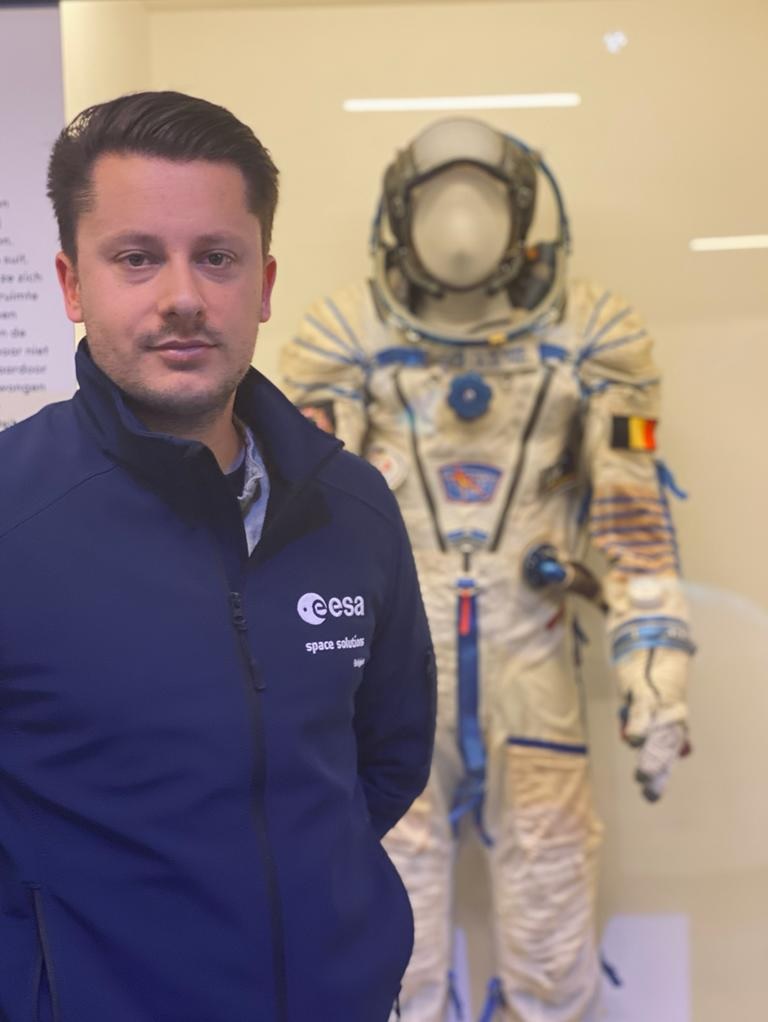 1. Who is the ESA Ambassador Platform For Belgium?
Nicolas Helssen represents the Ambassador Platform for Belgium. He rotates his work stations between the Belgian Science Policy Office (Brussels), the ESA Space Solutions Centre Belgium (Kruibeke), and his home office (Antwerp). The activities of the Belgian ambassador have been running since 2013, during which over 40 Belgian companies have been contracted and over €10 million of financial support has been granted.
2. Tell us about the people in your team and what strength/added value do you bring through.
I am Nicolas Helssen and combine an economic and commercial background with over 10 years of practical work experience in the space domain. In addition to the ambassador role, I am also the ESA BIC (Business Incubation Centre) Belgium Incubation Manager. Furthermore, I implement and oversee a few European programmes in the realm of space such as the Copernicus Incubation programme, the European Union Agency for the Space Programme (EUSPA) Point IoT programme, and other space-related mentoring or acceleration programmes.
3. What has inspired you to work in the space industry?
Space has always been the domain of exploration, cutting-edge technology, and visionary thinking. Not only does space offer an exciting environment to develop applications respecting the triple bottom line (profit, people, planet), it is also one of the only areas that allows us to achieve a triple ROI (Return on Investment, Innovation and Inspiration).
4. Do you look for/have companies working to solve big world problems?
We look for companies that are able to solve big world problems one small problem at a time. If a Belgian company can propose a solution, powered by space, that is commercially feasible while still supporting a better environment and enhancing the safety of people, we will invite them with open arms.
5. Please present between 1 and maximum 4 examples with the name of the start-up, website and a short sentence of what are they doing.
ESNAH is a prime example of an innovative Belgian start-up that started with the idea of creating an electronic flight bag for aviators, and then realised that with all of the space data at their disposal they could leverage their expertise to develop many other solutions. They are now using space data and connectivity to offer advanced business intelligence to actors in the airport, maritime and pharmaceutical industry.
Ovinto initially aimed to develop a monitoring service for hazardous goods in unpowered rail assets, powered by a satellite enabled IoT device. After a few years in the market and working with ESA, their service now encompasses a complete cloud-based platform which collects any type of relevant data from rail containers (temperature, pressure, position, damage) as well monitors operations performance in real-time, and automates a variety features for their customers, powered by Galileo positioning and satellite communication.
6. Would you like to share an interesting/inspiring story from one of your alumni?
Seafar, which supports the operation of autonomous maritime vessels, has launched the first world-wide Shore Control Centre in 2022. This means that it is offering AI-powered, satellite enabled, unmanned navigation of automated vessels on fixed trajectories in the port environment and inland waterways. The sensor fusion of space data, LiDAR (light detection and ranging), radar, cameras, and application of AI/ML (artificial intelligence/machine learning) algorithms is allowing for optimisation on a scale never before seen.
7. What is your advice for aspiring entrepreneurs?
Don't be afraid to approach your local ambassador with your space ideas. Even if your business idea might not fit within a specific ESA programme at this time, there are many early stage mentoring, pre-incubation or hackathon programmes that may help push you in the right direction.
8. Using one word, how would you describe the ESA Space Solutions community?
"Neighbourly" – Your local contact point should be your informal, friendly neighbourhood ambassador. Always open to have a chat or a drink!
9. How would you solve problems if you were from Mars?
If I were from Mars, I would not solve problems. I would BE the problem. (Ak ak ak!)
10. What is your website link where the readers can find more about you?
You can find out more about the ESA Ambassador Platform for Belgium at ESA Space Solutions Belgium.
ABOUT ESA SPACE SOLUTIONS
ESA Space Solutions is the go-to place for great business ideas involving space in all areas of society and economy. Our mission is to support entrepreneurs in Europe in the development of business using satellite applications and space technology to improve everyday life.
Last updated at 14 July 2022 - 08:47