This story is part of our story series: Meet the Ambassador. In this series, we introduce you to the great teams across our Network that are using space to develop business applied in daily life. Curious about their highlights and advice? Read on.
1. Who is the ESA Ambassador Platform for Portugal?
In Portugal, the ESA Ambassador Platform is under the umbrella of ESA Space Solutions Portugal, coordinated by IPN - Instituto Pedro Nunes, a private non-profit organisation which promotes innovation and the transfer of technology. Created in 1991, as part of an initiative of University of Coimbra, it establishes the connection between the scientific and technological environment and the production sector. In 2015, we founded ESA Space Solutions Portugal as a "one-stop-shop" for space opportunities and repurposing space technology; by exploiting space know-how, facilitating and inspiring its use in new applications and sharing this knowledge we bring 'space down to Earth'! We are supported by the Portuguese Space Agency – Portugal Space, ANACOM - the National Authority of Communications and ESA, the European Space Agency.
2. Tell us about the people in your team and what strength/added value do you bring through.
We are a team of innovation managers, devoted to foster space tech-based entrepreneurship and businesses, in Portugal. We are a team of eight, with a set of complementary skills and experiences, such as: management, business, entrepreneurship, incubation, funding, astrophysics, project management, accounting, chemistry, and mechanics. Four of us are working directly for ESA Space Solutions Portugal:
Jorge Pimenta is our coordinator and IPN's Innovation director
Ana Vaz is the ESA BIC Portugal manager
Carla Duarte is the Business Application Ambassador Platform manager
Pedro Lacerda, a Planetary Scientist with a PhD in Astronomy and Astrophysics, is the ESA Technology Broker manager, and also our space-tech "guy"
The other four colleagues manage projects, organise events and deliver services that are space or space related, especially, promoting innovation and entrepreneurship in the space sector, having complimentary backgrounds, as economists, accountant, mechanical engineering, and chemistry.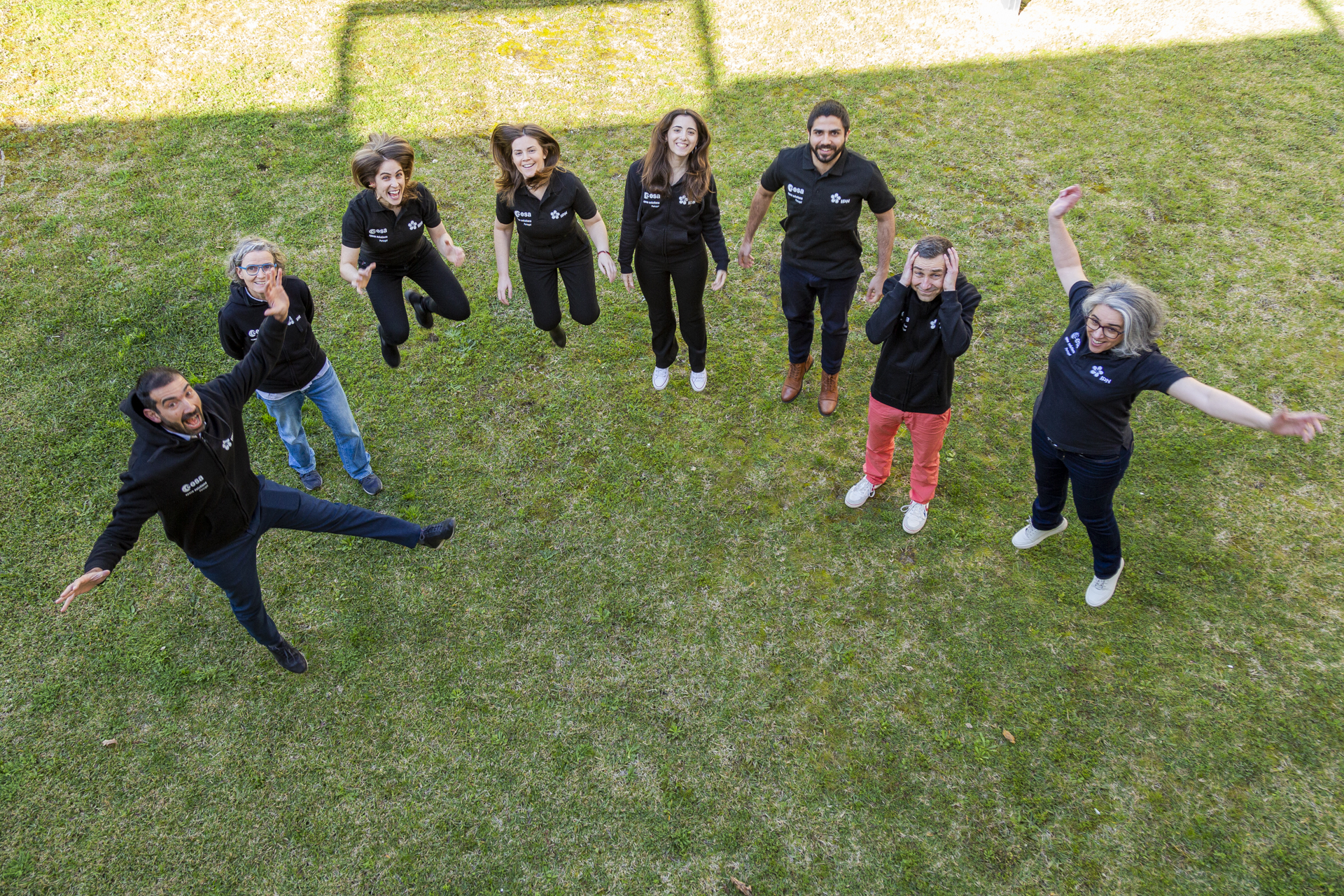 3. What has inspired you to work in the space industry?
IPN has always been devoted to Innovation and, since 1996, we have incubated startups that work with space-related technologies. Our internal R&D labs have experience in co-development with companies such as Critical Software or Activespace Technologies.
As a space enthusiast, Pedro says he was thrilled to join the team and inspire future entrepreneurs to create novel solutions that can tackle our planet's major challenges: sustainability and climate change. "I strongly believe that science and creativity are the keys to our common future."
Ana explains that what excites her more is "to pick-up entrepreneurs just with an idea and a technology, support them along the process of turning into a startup and see them grow."
For Carla, "working in the space industry was not in her plans; however, 5 years ago she applied to a position to manage a H2020 space-biz project and space entrepreneurship became her main job, and a growing passion."
Jorge worked with tech-startups for many years, so when he embraced the position of coordination of ESA Space Solutions Portugal it was the "the icing on the cake", as space provides "top-notch" technologies for disruptive commercial applications
4. Do you look for/have companies working to solve big world problems?
Many of our start-ups contribute to solving big world problems and address the sustainable development goals generating positive impact in areas such as: agriculture and forest, smart cities, transports and mobility, energy, water and maritime, sports, amongst others.
Some of those problems are precisely the ones we find most fascinating and important. To be worthy of the word innovative, we must aim high and far, and come up with disruptive ideas to, first, reverse the harm we have done to our planet, and second, continue to develop as a species and as a society in a truly sustainable way. So, yes! Those are the companies we want to look for: the ones for which profit is a means to a goal and not the goal.
5. Please present between 1 and maximum 4 examples with the name of the start-up, website and a short sentence of what are they doing.
Hidromod uses spatial information to monitor and forecast water reserves — AquaChange
Connect Robotics created a system for delivering parcels by drone in urban environments or remote destinations
Spotlite uses satellite data to monitor the security of critical infrastructure, such as transport networks (roads, railways, metro, airports, ports), buildings and dams, among others
Present Technologies is developing the SWAIR platform, integrating space weather and GNSS data, to complement air navigation monitoring
6. Would you like to share an interesting/inspiring story from one of your alumni?
Spotlite was founded by two archaeologists that initially focused on Virtual Archaeology and 3D Reconstructions. Although they continue their passion for History and Cultural Heritage, by understanding and harnessing the power of Earth observation data and satellite imagery, they were able to develop novel monitoring solutions that expanded their capacities and that allowed them to currently provide analytics for structural health assessment of critical infrastructures, like railroads or highways.
7. What is your advice for aspiring entrepreneurs?
Don´t miss an opportunity to try! There are many opportunities out there: in Portugal, in ESA, and in the European Union! We can support you to navigate the calls, the tenders, the public and private funding opportunities, we can give feedback to your ideas, and insights about your business and technical solutions. Ask for our support and challenge us!
8. Using one word, how would you describe the ESA Space Solutions community?
Cooperation. Science is a common effort and space exploration has been a huge collective effort. ESA Space Solutions is a strong community because it is the result of true cooperation.
9. How would you solve problems if you were from Mars?
Pedro says that "Mars has no problems as things stand. But as soon as humans set foot on Mars with the intention to stay, many problems need to be solved. Those that see space travel as a possible escape from a planet Earth damaged beyond repair are deluded. Despite climate change and all the other problems that we are creating here, the Earth is still by far the best place for humans. Mars has way more problems."
10. What is your website link where the readers can find more about you?
Find out more about us here: https://space.ipn.pt
ABOUT ESA SPACE SOLUTIONS
ESA Space Solutions is the go-to place for great business ideas involving space in all areas of society and economy. Our mission is to support entrepreneurs in Europe in the development of business using satellite applications and space technology to improve everyday life.
Last updated at 19 July 2022 - 09:49