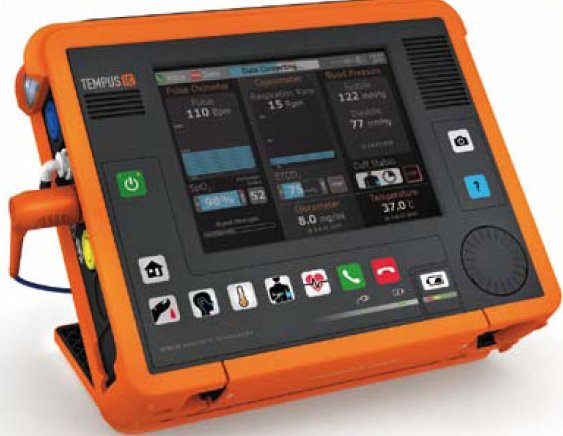 Etihad Airways will install new state-of-the-art technology on its long and ultra long haul aircraft which can monitor the condition of passengers who display signs of sickness that might require immediate medical attention.
The "Tempus IC" system, developed in partnership with ESA, allows cabin crew to gather vital information about a passenger's health quickly and efficiently. The data covers a wide range of the passenger's vital signs including blood pressure and an electrocardiogram. It also allows the crew to take photo imagery.
That information is then transmitted to a medical team of global experts specialised in assistance in in-flight medical contingencies. Following their advice the crew will take a decision about what to do next for the passenger and the flight.
Captain Richard Hill, Etihad Airways. chief operations officer, said: .Passenger welfare and safety is of the utmost importance to Etihad Airways and the introduction of the Tempus IC system will ensure that when medical emergencies do occur they are evaluated quickly.
"This helps ensure that the passenger can receive the appropriate treatment when the aircraft lands, whether this is as a diversion or at its final destination."
Etihad will introduce the Tempus IC technology, designed and manufactured by UK-based RDT, on its A340 and Boeing 777 aircraft and then subsequently across the remaining long and ultra long haul fleet.
Grahame Fever, Commercial Aviation Sales Director RDT, said: "We are delighted that Etihad has chosen RDT .s Tempus on-board telemedicine technology."
"We know from our existing Tempus customers and the in-flight trials with Etihad cabin crew that Tempus technology, with its unique ease-of-use help screens and features, makes a significant difference to quality and speed of on-board medical care."
Following the successful launch of the "Tempus IC" system, ESA's IAP programme is partnering once again with RDT on a new project, together with International SOS, to develop, integrate, test, and validate a tele-assistance service called Amazon, that makes use of multiple space assets (Satcom, Satnav), for professional clinical users in remote locations using a highly compact device for vital-sign monitoring and remote diagnosis.
About Etihad Airways
Etihad Airways is the national airline of the United Arab Emirates based in the UAE.s capital, Abu Dhabi.
About RDT
RDT was founded in 1997 and is based near Basingstoke in the UK, the company specialises in the development of leading-edge diagnostic device technology for use by non-experts in remote locations.
Last updated at 07 March 2014 - 10:45