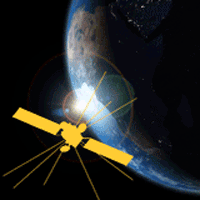 A one-shop-stop solution for affordable access to satellite services is one step closer to the marketplace, thanks to a little ingenuity from industry and ESA.s SATCOM-APPS Newcomers Initiative programme.
This solution, developed by YELLOWSAT (FR), combines low-cost tracking terminals, real-time Monitor&Control features and capacity from satellites operating on extended lifetime in inclined orbits.
Capacity from such satellites is typically sold at a fraction of the cost, but tracking these satellites can get expensive due to the added complexities - such as a closed loop control system - required for tracking stations. Through the ESA SMall Autonomous Re-pointing and Tracking station (SMART) project, YELLOWSAT was able to further develop its system to track satellites placed in inclined orbits using an open-loop solution.
The SMART solution eliminates the need for complex antenna closed-loop controller/beacon receiver equipment. Combined with the use of off-the-shelf DC actuators and high-performance motor control electronics, the SMART project has demonstrated that the YELLOWSAT open-loop tracking solution is effective and reliable.
Several terminals covering both Ku-band and C-band have been validated for use on both Single Channel per Carrier (SCPC) and Time Division Multiple Access (TDMA) platforms such as DVB-RCS and iDirect on inclined orbits. The solution offers access to the orbit models of all inclined satellites, making it easy for the end-user to quickly repoint the terminal to any of the inclined (and non-inclined) satellites in the field-of-view.
Other objectives of the ESA project included the industrialisation of 1.2m Ku-band and 2.4m C-band terminals in order to further reduce the costs as well as the development of a Monitor&Control service. All of these accomplishments were finalised in April 2012. YELLOWSAT is now able to offer a comprehensive service package including tracking terminals on SCPC and TDMA platforms, satellite capacity and Monitor&Control features at competitive costs.
Since July 2011, two SCPC C-band stations are fully operational in Congo Brazzaville on the inclined orbit NSS 703 satellite linked to the hub at YELLOWSAT premises in Vitry (FR). Two other C-Band stations are planned to be installed in Congo Brazzaville this year.
.The SMART project has obtained important results in a short time-frame and with limited resources. This further highlights the effectiveness of the ESA ARTES 3-4 Newcomers Initiative to support SMEs in developing innovative applications and bring them to the market,. says Davide Tomassini, ESA technical officer for the SMART project.
A second increase in capital for about 2.7MEUR has been acquired by YELLOWSAT thanks to a partnership with Magellan Industries. This will allow the company to further explore its options in the competitive satcom marketplace.
.The contribution of ESA expertise for the management of the SMART project in the critical areas of terminal development and industrialisation, validation of TDMA compatibility and development of a centralised Monitor&Control platform was key to YELLOWSAT, especially in the early stages,. explains Daniel Tits, technical director of YELLOWSAT. .It demonstrates that ESA can be very useful in helping SME.s to develop sustainable services for the highly demanding space industry..
More information about YELLOWSAT and ESA.s Newcomers Initiative can be found by clicking on the links in the column to the right.
Last updated at 06 March 2014 - 13:47