Space data is now being used to ensure fine wine gets to your palate with a smoother trajectory. Find out how new service Saturnalia – with its quality data reports, 3D maps and virtual visits – is boosting this significant business sector.
The global wine industry generates $29 billion in annual revenue* and yet bad weather, blight, or other unforeseen hitches can mean a drastic drop in production – creating concerns for winegrowers, investors – and, of course, wine-lovers in general!
Technology supported by ESA Space Solutions is now being used by Ticinum Aerospace to create a satellite-based 'digital twin' of vineyards that can be used to take care of the real ones. The system can assess the health and quality of the grapes – and has even gone as far as making remote 'dégustations' possible during the recent health crisis, when the gates of the chateaux were forced to close.
Using data gathered from satellites and weather stations, Saturnalia provides investors and growers with exclusive data capable of improving their businesses. The service boasts a 3D map of 260 fine-wine vineyards – effectively creating a virtual vineyard. Satellite image analysis is used to protect vineyards and to monitor them.
Until now, a lack of complete data and reliable predictions on wine quality has meant that investors face many uncertainties when putting money into the fine wine market.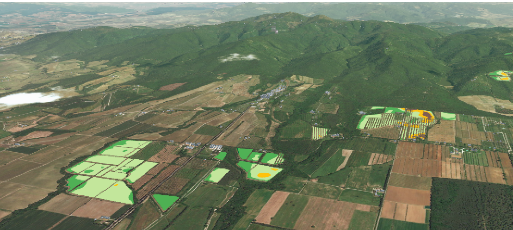 Saturnalia as a service can provide trends for future wine prices as well as an assessment of wine quality. The platform encourages transparency for clients, with clear and explicit data on the wine being sold. Saturnalia's publications contain monthly trends regarding wine prices and assessments of the quality of the recent vintages, helping them decide which appellation to invest in.
"Saturnalia has an algorithm capable of computing an early score for wine quality, which largely matches the evaluations of experts who actually taste the wine," says Beatrice Barresi, Technical Officer, ESA.
"The system automatically incorporates data coming from satellites and from ground-based sensors, combines them and computes the performance score shortly after the harvest. The refresh frequency of space-borne data plays a crucial role in helping determine precise 'phenological' (seasonal life cycles) phase transitions, which allows the model to operate correctly on other inputs.
"The system is built using HLS data, a transformed product processed by NASA based on Sentinel-2 and Landsat-8 data. Importantly also 'chain data' such as land surface temperature and soil moisture are included in the processing, made available via the Copernicus Land Service."
Armed with this data, wine-growers can optimise production, leveraging satellite and weather station data to constantly monitor the health of their vineyards and to detect parasites or other diseases. Even better, Saturnalia caters not just for wine producers – but for all who are passionate about the subject, unlocking detailed insights:
"This is a unique website platform on which everyone, from wine connoisseurs to amateurs, can share, discuss and receive in-depth analyses about wine and vineyards," says Daniele De Vecchi, Ticinium Aerospace.
Virtual vineyards
Saturnalia offers a unique opportunity to visit vineyards remotely. From your own home you can find out where the wine in your glass comes from – and have a birds-eye view of the vineyards where the grapes grew.
"As Saturnalia exploits satellite imagery and uses remote sensing techniques, the project can address potential users and vineyards scattered all over the world," says De Vecchi.
He also talks about how ESA support was key in launching the service:
"ESA's demonstration project was exactly the piece we were missing in Saturnalia's path to commercial success. We felt our idea seemed too science-intensive and curiosity-driven to be appealing for a private investor. ESA's endorsement opened doors, and the co-funding and tutoring led us to building a marketable, commercial service, with the first customers starting to sign up."
Future plans are for Saturnalia to cover global wine production, which also means coverage of global grape production. "From the ground alone, it would be practically impossible to monitor vast vineyards scattered across the globe," says De Vecchi. "This vital satellite perspective is fundamental in tracking the evolution of vineyards in time."
Santé everyone. Let's drink to that!
ABOUT ESA SPACE SOLUTIONS
ESA Space Solutions is the go-to-place for great business ideas involving space in all areas of society and economy. Our mission is to support entrepreneurs in Europe in the development of business using satellite applications and space technology to improve everyday life. Our programme is designed to provide multiple entry points such as ESA Business Incubation Centres (ESA BICs), ESA Technology Broker Network, and ESA Business Applications programme. Funding typically ranges from 50KEuro to 2MEuro and supports everything from space technology transfer, early-stage incubation programs, Feasibility Studies to large-scale Demonstration Projects.
*According to Zachary Elfman https://www.toptal.com/finance/market-sizing/wine-industry
Last updated at 25 March 2021 - 07:54