The UK Space Agency and ESA Business Applications teams organised the Summer School with support from the Satellite Applications Catapult.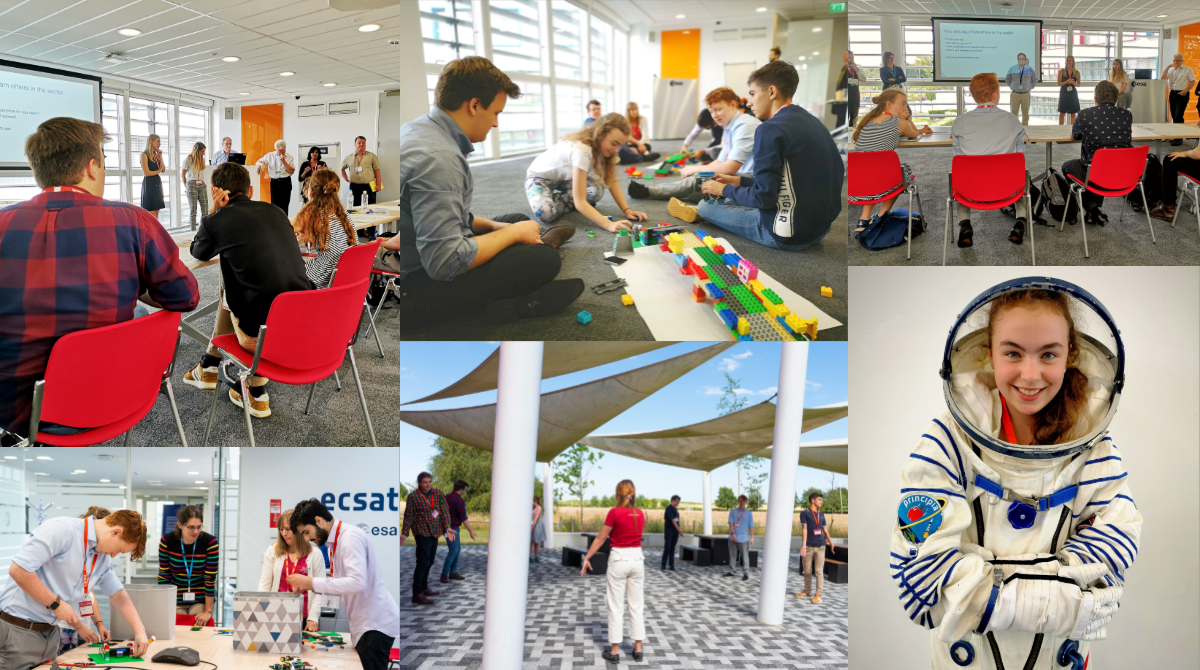 In August 2019 a 3-day summer school was set up for aspiring entrepreneurs with the ESA ECSAT conference centre turned into a space lab and accelerated learning zone aimed at getting more young people on a Space trajectory.
Space is one of the fastest growing sectors in the UK – it's estimated an eye-popping 30,000 new career opportunities could be created by 2030.
The Summer School was a follow-on pilot from the SatelLife competition, run by the UK Space Agency. (Now in its third year, the competition encourages young people to think about how satellites affect our everyday lives and learn more about the careers available in the sector.)
Participating in the competition has led to job offers, extra funding and even support to build prototypes.
Winners from the previous three years, aged between 11 and 22, were invited to take part in the SatelLife Summer School programme.
This could be you!
During the 3-day event, held at ECSAT, winners learned about the spectrum of career opportunities in the space sector. They were given insider info on funding opportunities in the sector and on how to build a business. Lectures on intellectual property and CV workshops were neatly interspliced with elevator pitches and some yoga to keep the space-life balance and the energy flowing. Code club sessions (Raspberry Pi anyone?) and confidence in public speaking were also on the fast-paced agenda, which of course could not have concluded without bit of role-play.
Space recruits/summer school students now fully versed in the art of pitching, took these newfound skills across campus for a bit of networking as they visited some of the facilities on the Harwell Space Campus, such as Oxford Space Systems.
"Over the last few days we have been working with a fantastic bunch of young people who have great ideas. UKSA and ESA understand the huge potential of the commercial opportunities of satellite applications – we hope we've equipped Summer School students with the skills to be the innovators and entrepreneurs of the future." Emily Gravestock, Head of Applications Strategy, UK Space Agency.

"To succeed as an entrepreneur you need more than just an idea. You need the energy and the personal skills to carry it through. These young people have it all, so we can't wait to see them in the headlines in the years to come" Nick Appleyard, Head of Business Applications at European Space Agency
The UK Space Agency and ESA would like to thank the following for their support: Chris Hobbs, Emma Haskett, Gemma Wilson and Ilias Pattas from the Satellite Applications Catapult, Adam Brocklehurst from K2IP, Belinda Elliot from Bluestream Recruitment, Rohima Crook from CodeClub, Stuart Morrison from Mistermetric, James Brayshaw of Planet and Armando Rojas Gómez from Oxford Space Systems.
Last updated at 14 October 2019 - 14:26