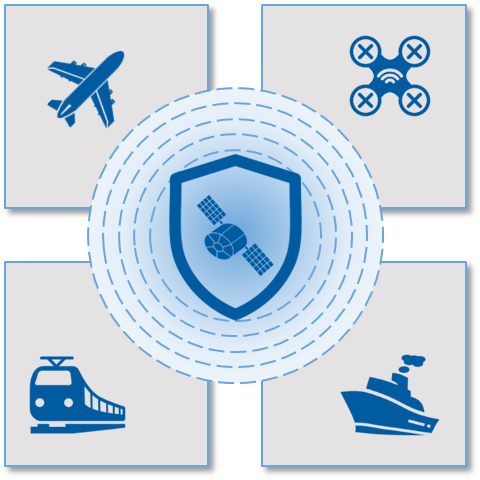 Objectives of the service
The objective of the study is to identify a panel of services using highly innovative and secure satellite communication systems and to define the key actions to be implemented and gaps to be filled to support the development of new satcom based services, as well as the aviation, maritime and railway transport sectors . This study focuses in particular on satellite based applications for the Transport Industry, more precisely for Aviation, Maritime and Railway sectors.
Over the recent years these three sectors have been disrupted by multiple macro trends. Major ones include:
New platform development:

the evolution of the user/customer needs is leading to the development of new platforms, like as an example within the aviation sector, the flying objects occupying new layers of airspace (Upper sky & Low/Very Low Level sky).

Remote operations:

technological developments will permit the execution of operations from remote, enabling new services and enhancing some existing ones .

Data analytics:

together with big data acquisition, processing and storage, is, for its intrinsic nature, cross among other trends, meaning that it functions as enabler of several other ones and their relative applications.

Real-time monitoring:

it is strictly correlated with the need to carry out operations, both in the maritime, aviation and railway sectors, in a safe manner.

Automatization:

it is related to the development of technologies enabling to redesign transportation services without human physical intervention

Environmental sustainability:

it is a growing concern across the globe and it will even get more impetus with the new generations
These trends pose the challenge for the SatCom industry to reinvent its model in order to be ready to capture the opportunities coming from the emergence of new critical applications.
In this context, the purpose of this study is to identify and assess, in collaboration with users and stakeholders, new applications deemed critical for institutions, society and economy which may benefit the most from enhanced SatCom solutions.
Users and their needs
The study plans to involve a large panel of stakeholders including:
Airlines companies: the exploitation of the SatCom networks will allow them to enhance the safety of the flights, through safe communication improvements and automation of flight operations.
ANSPs: the adoption of new means of transportation through the SatCom-based applications will allow ANSPs to achieve a better harmonization of the air traffic management resulting in a more safe and efficient system.
UAV operators: help the emerging UAV based services to be effectively deployed and bring to reality the long term of revolutionary vision. SatCom will permit operations in remote area and BRLOS environment as well as the integration in the non-segregated airspace.
Shipping and commercial companies, and fisheries: the exploitation of the SatCom networks will allow them to have a better monitoring of their fleet activities, to digitalize vessels operations offering new services and covering even the most remote areas and to enhance the maritime safety improving surveillance systems.
Rail Undertakings: the exploitation of SatCom services could help to replace the current Global System for Mobile Communication – Railway (GMS-R), used as a complement to terrestrial networks, by favouring the deployment of the new FRMCS.
Satellite service providers and others value chain actors: new SatCom-based applications will have different technical requirements. Satellite service providers, and other value chain rs, will play a pivotal role for a better definition of the future and heterogeneous technical needs to cover, and for the development of new and enhanced safety-related applications.
Service/ system concept
The following set of innovative applications has been preliminary identified as the most relevant for further investigation as part of this study:
Aviation
UAS Traffic Management (UTM) & Urban Air Mobility (UAM): they represent a relevant opportunity from a business and operational perspective, since they would serve for several applications, ranging from logistics (delivery of packages) to mobility services (robo-taxi). The application relies on safe and secure communications since the UAS missions and their management need a high safety profile, especially when flying objects transport people, or operate in a densely populated environment.
Remote Tower for ATS: means for the aviation industry a significant step forward in terms of cost efficiency, both by optimizing the operations and the number of personnel involved. In addition, remote towers deployment would reduce traffic controllers relocation in remote areas. Clearly, ATS services need a reliable communication link since potential failures in managing traffic flows could generate tremendous consequences.
High-Altitude Traffic Management: in next future new platforms, such as balloons and aircrafts capable to fly at sub-orbital altitudes (>20km), will occupy the airspace layer above the one already occupied by commercial aircrafts. That will generate the need to manage the traffic both during take-off and landing, and even at high altitudes. A reliable and secure communication system is required to achieve the traffic management of the new platforms and the integration among the different layers avoiding potential failures.
Single pilot and pilot-less commercial aircraft: the future for commercial aviation is represented by the possibility to perform single-piloted and autonomous flights, which would introduce several benefits, such as a reduction of the operating costs borne by airlines, better support to pilots in strategic decision-making and mission management. A performing and secure communication link is fundamental to control and manage the aircraft operations from ground. Any failure in the communication link could compromise the safety of people onboard, so the reliability and availability of the communication system is essential to preserve the continuity of operations.
Maritime
Remotely piloted & autonomous vessels (MASS): The recent technological innovations (information technologies, digitalization and machine learning) have opened the possibility for a practical implementation of MASS (Maritime Autonomous Surface Ships). Among the several benefits introduced by the automatization and digitalization of vessels, worth of being mentioned are an optimization of routes, leading to cost reductions, as well as increase in sustainability, and improvements in logistics. These upside could be reached by relying on a safe and secure communication link, assuring the safe control and monitoring of vessel operations from ground.
Support operations: mainly represented by the predictive maintenance, it would improve operations efficiency by avoiding failures and reducing down-time in port, through the transmission of data gathered by the sensors and the systems onboard. That would generate higher benefits in terms of operational efficiency and cost and time savings, together with a better management of spare parts inventory.
Railway
Review of the railways use cases and applications with focus on ERTMS and assessment of the suitability of SatCom capabilities to support communications and integration with terrestrial bearers in order to provide complete coverage of rail network.
Space Added Value
Satcom assets plays a pivotal role in transportation services. In particular, the benefits that satellite communication networks can bring to the Aviation, Maritime and Rail sectors can be distinguished in business and technical benefits. Here are some examples (not exhaustive):
a) Business:
Innovative mobility service solutions
Flexibility to support new emerging applications in the future
Low set-up costs when compared to the infrastructure investment required by ground networks
b) Technical:
Global and ubiquitous coverage allowing to reach remote areas (e.g. polar, oceanic and remote areas)
Independence from terrestrial events
High level of security of the information exchanged (e.g. defence against jamming)
High reliability of the communication link to guarantee transportation services continuity
Low delay jitter to assure better performance on voice services
High and easy scalability to favour widespread adoption
The systems studied mainly focus on LEO constellations, or a combination of LEO and MEO. Satellite communications would enhance existing transport applications, or enable new ones, but they have to face few challenges magnified by the industry intrinsic characteristics. The Quality of Service (QoS) for transport applications has to be achieved for moving vehicles and the contemporary match of high availability, data rate and low latency could be even harder to reach. The next generation of SatCom systems should also address the economic side issues by reducing the overall service cost.
Current Status
The feasibility study has been completed. The following activities have been performed throughout the study:
Engaged with 15 stakeholders, in more than 20 working sessions, across the Aviation, Maritime and Rail industries
Identification of safety critical applications in each vertical and in depth analysis of the selected ones
Description of the selected applications and end-to-end architecture highlighting the link and terminal user requirements together with relevant business risks
Identification of the applications SatCom service requirements and their comparison with the current and future satellite systems technical specifications
Execution of a cost-benefit analysis for the safety critical applications in scope within the Aviation and Maritime industries
Outline of the main development roadblocks and provision of a roadmap and recommendations to overcome them
Prime Contractor(s)
Status Date
Updated: 13 April 2021
-
Created: 13 April 2021