Objectives of the service
Modern agriculture is facing tremendous challenges in its sustainability, productivity, and quality for almost ten billion people by 2050.
To address these issues, we need to gain further knowledge of genetics and environment interactions (G×E), and apply that knowledge to facilitate breeding programs for cultivating new crop genotypes suitable for various production purposes and environments.
The service aims to provide new tools for the Field Based-High Throughput Phenotyping (FB-HTP) through specialised robots. Robotics opens up the potential for mass direct in-field phenotyping of crops under true farm conditions.
Agronobots will offer three different types of robots for the execution of trials, including support services for these robots and eventually the sale of data gathered during the development and proving phase. Data will be collected and delivered via crop specific channels incorporating field trials and grower demonstrations.
The aim for Agronobots is to become the first organisation to gain OR (Official recognition) from the UK's Chemicals Regulation Directorate to use fully automated machine vision robotic systems for gathering and filing crop trials reports for pesticide and herbicide chemical product registrations.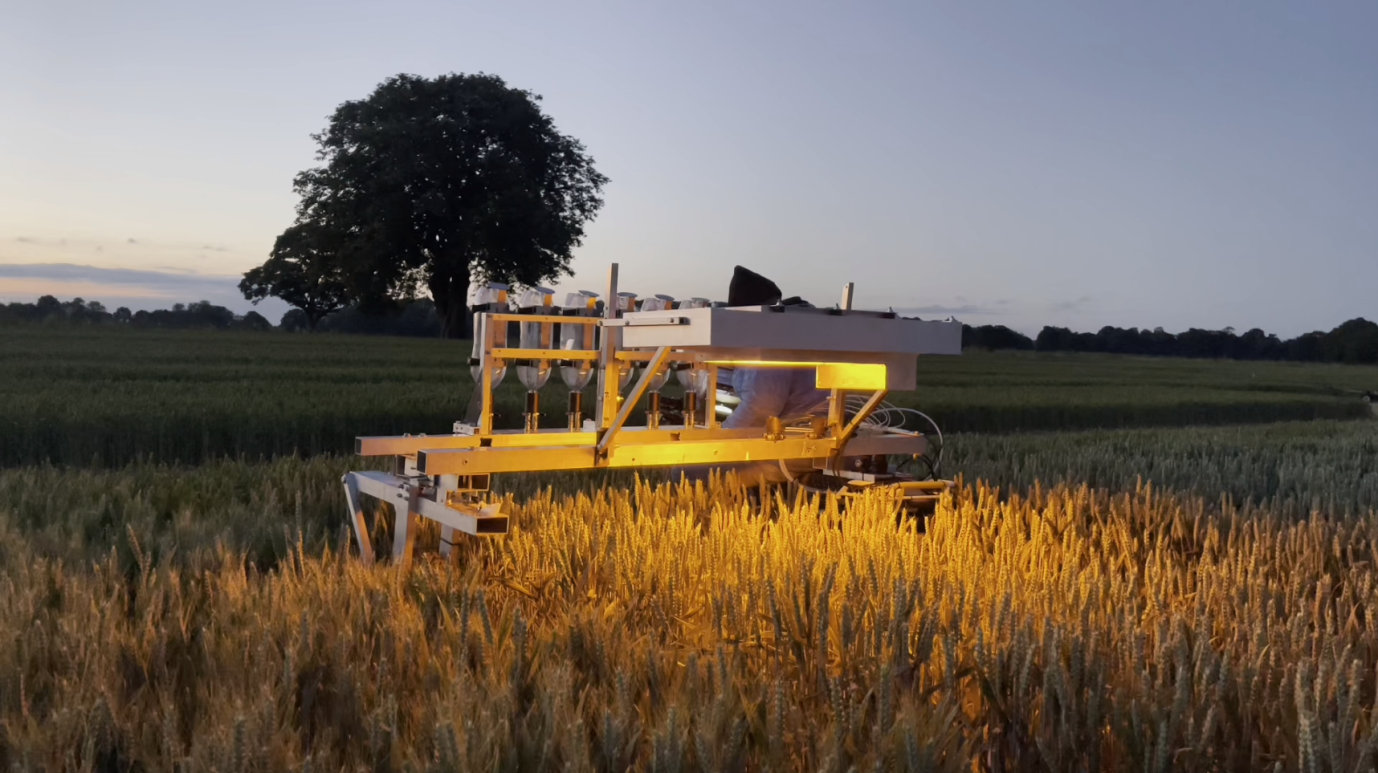 Users and their needs
The crop trial market can be categorised into the following three segments, which will all benefit from the Agronobots hardware sales and support services;
Ag Chem developers/manufacturers (Corteva, FMC, Syngenta, BASF, BCS, etc.)
Plant science organisations (AHDB, ADAS, NIAB, eurofins, Rothamstead, etc.)
Ag Chem distributors (Agrii, Frontier, Hutchinsons, Agrovista, etc.)
The use of autonomous remote sensing and application of pesticides by rover would substantially reduce operator exposure and provide tangible increase in Health & Safety benefits to operators in terms of operator exposure and re-entry exposure when using experimental compounds, providing a major benefit to potential customers. Therefore uptake would be driven by both cost reduction and demonstration of duty of care to employees.
Service/ system concept
The AGRONOBOTS service is based on the architecture described in the picture.
Different blocks includes:
Ground based local wireless network connected to a gateway that has the ability to use local PSTN infrastructure, broadband Internet, mobile phone data networks and fixed two way satellite Internet.
Local RTK network broadcast using 433MHz and LoRa radios
Drones with NDVI sensors, that are capable of completing survey missions
Unmanned Ground Vehicle with crop measuring sensors
Unmanned Ground Vehicle with automated plant protection spray bar
Weather Station, measuring wind speed and direction, sun irradiance, rain fall and spore trap
Site security cameras with the ability to relay imagery and video for remote monitoring
Cloud storage, to host data sets collected by drones, UGV's and weather stations.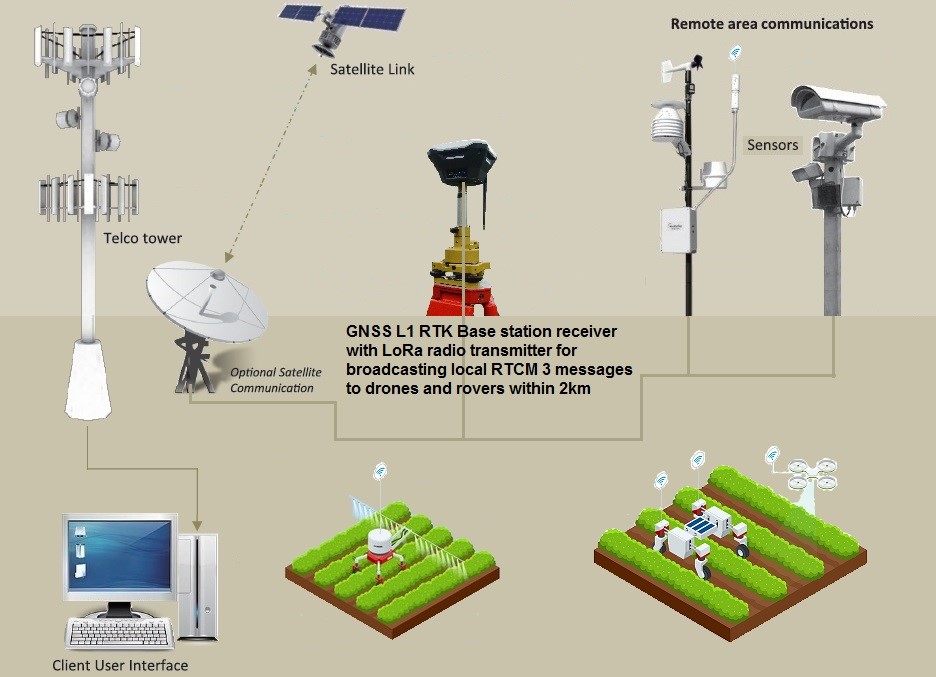 Image credit: LLEO Limited, Project: AGRONOBOTS
Space Added Value
L1 RTK/Precise Point Positioning (PPP) GNSS will be used in Agronobots drones and rovers for real-time positioning data, using existing modular low-cost receiver systems that are already being used by LLEO Limited, using two of them (one fixed and one on the robot) connected by a LoRa radio link. By using a data stream from the base station over the LoRa radio link or via a mobile phone data network to connect with the network of GNSS reference stations (such as OS Net), the rover can output its position better than 10cm accuracy. The RTK solution is augmented intelligently with PPP for use of the system in GSM denied areas. The evaluation of Fixed Two Way Satellite Data Services is under assessment, to enable Internet access to a Local Wide Area Network when local telephone network access and mobile phone data coverage is unavailable, poor or intermittent.
Current Status
The AGRONOBOTS Feasibility Study commenced on the 1st of May 2020 the Business Case Review meeting was performed on the 8th of December 2020 and Final Review Meeting was held on the 21st of September 2021.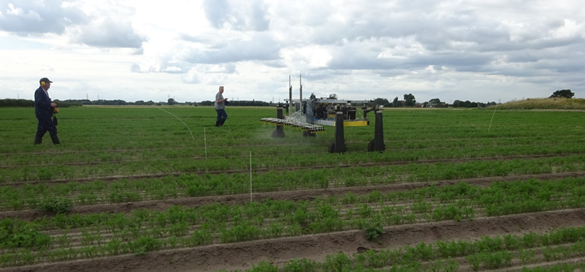 During the growing season of 2020 a Proof of Concept study was carried out using fields growing Barley, Peas, Leeks & Potatoes at Market Rasen in the Lincolnshire Wolds and a crop of Carrots at Gainsborough in the West Lindsey district of Lincolnshire.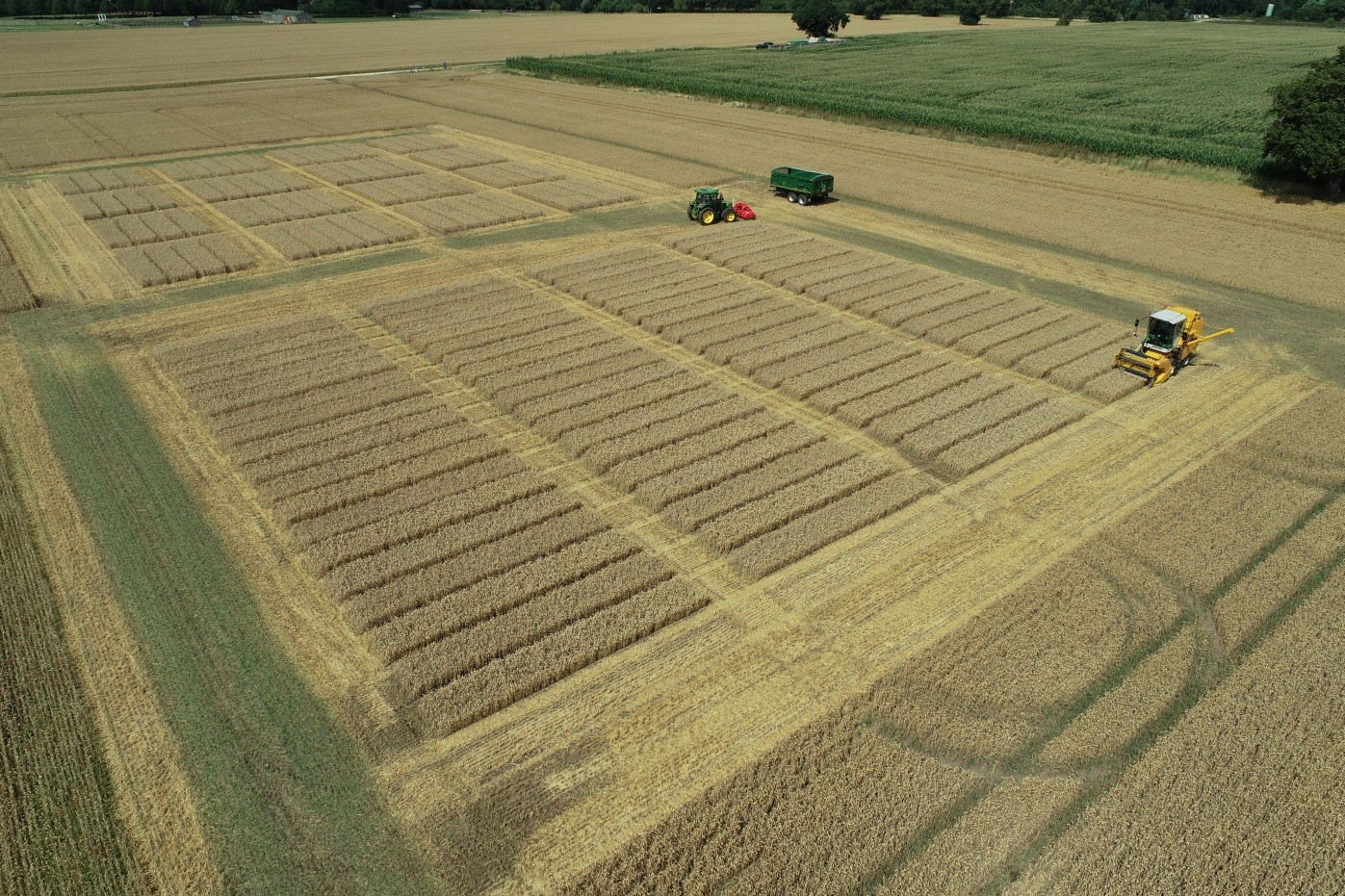 In order to achieve the PoC deliverables, which were missed in 2020 due to Covid-19 restrictions in the UK, two Winter Wheat trials were planted in Nottinghamshire in Ocober 2020 and harvested in August 2021. This enabled the AGRONOBOTS Feasibility Study project to be drawn to a successful conclusion in September 2021 having made the following achievements;
Gained experience in establishing and managing crop trials
Erecting and configuring an iMETOS 3 weather station
Designed and built an elctrically powered rover
Operated a DJI210 drone with Sentera 6X RGB & Multispectral sensor
Processed and analysed data sets gathered by drones
Procurred a LIMA-G sensor with AI data processing for use on ground vehicles
Engaged with potential end users and obtained letters of support
Design, built and certified a crop trials plot sprayer
Tested Two Way satellite Internet with local wireless network
Defined the future AGRONOBOTS business model
Prime Contractor(s)
Status Date
Updated: 31 October 2020
-
Created: 04 September 2020