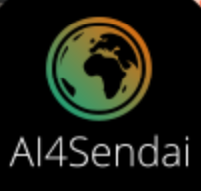 Objectives of the service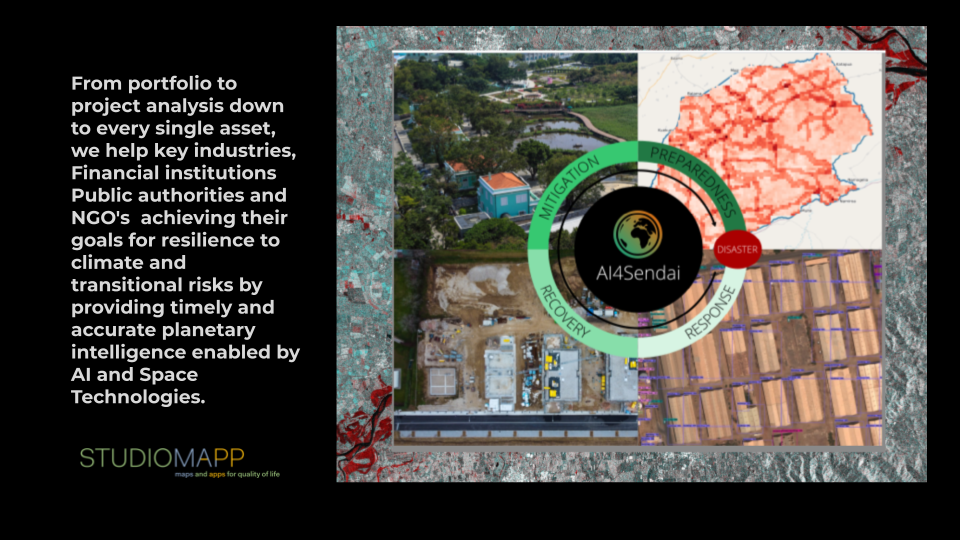 AI4SENDAI is an artificial intelligence driven end-to-end platform application supporting Eo data collection and processing to assess and quantify environmental and climate risk for different lines of business. Relying on computer vision applied to satellite data and on a user friendly interface, AI4SENDAI will support businesses, financial actors, public decision makers and non-governmental organizations to take more informed decisions about their assets exposed to climate change related risks.

The goal of the service is to help businesses take informed decisions following the prioritization of the 2015-2030 Sendai Framework for Disaster Risk Reduction :
Understanding populations and assets exposure to disaster risk
Governance support for disaster response
Investment for risk reduction and resilience
Improve response effectiveness and reconstruction (Build Back Better)
Users and their needs
The main target users are those dealing with asset management, supply chains as well as disaster management in all its cycle phases (mitigation, preparedness, response, recovery).

The platform offers an hyper local assessment for exposure, vulnerability and risk at global scale to a wide array of climate related natural disasters (floods, wildfires, drought, extreme atmospheric events, etc) allowing different types of queries based on location, risk type and Climate scenarios using international and recognized frameworks and models. The overall risk is calculated using proprietary indicators allowing also an economic estimation of the assets exposed or damages. The platform will be available either as Saas, On premise and data can be queried also via API.
Service/ system concept

The SaaS version, which is considered the standard, is composed by different layers:
Data Layer composed by data sources such as Databases, Climate models, satellite imagery in internal and/or external servers;
Application Layer where the business logic is implemented, including computer vision algorithms, geo-processing models, capabilities to simultaneously ingest and elaborate data coming from the Data Layer to produce data fusion analysis and output products;
Presentation Layer where the user can interact with the service either by adding inputs or requesting analysis and outputs;
Outputs such as reports, DB exports, vector layers or API for third parties integration.
Space Added Value
Copernicus products and services (Climate, Land, Atmosphere, Marine, Emergency) are merged with Open data and VHR imagery. Thanks to a proprietary Deep Learning Computer Vision technology, it will be possible to locate, identify and classify simultaneously 200+ objects and their features on satellite and aerial imagery with socio-economics data sources and climate models forecasts covering multiple perils.
Current Status
The Feasibility study has been completed, the team has demonstrated the technical and the commercial viability of the solution. A demonstration project is being prepared.
Prime Contractor(s)
Status Date
Updated: 30 April 2021
-
Created: 30 April 2021