Objectives of the service
AirTracks is a flexible and cost-efficient Flight Information Service (FIS) for small and medium airports and airfields. It aims to enhanced airport and aircraft safety during approach and departure. AirTracks integrates aircraft surveillance information such as ADS-B, RADAR, FLARM obtained in the vicinity of the airfield as well as meteorological information, eNOTAMS or flight plan information. The fused information is visualized on web-based display,showing the relevant ancillary information layers in a user-friendly way.
AirTracks offers:
Precise visual information of approaching and departing air traffic
an enhanced air and ground situational picture
Better planning and coordination of all aircraft traffic
Enhanced safety for airmen, airport and surrounding population
Users and their needs
Target Airtracks customers are small and medium airport and airfield operators, that operate so called uncontrolled airfields. Those airports are usually approached by General Aviation aircraft, e.g. business jets or leisure aircrafts, but have neither own surveillance technology such as primary or secondary radar, nor access to the associated information. Approach and departure procedures are exchanged only via voice communication.
Therefore, responsible aerodrome operators have a need for a more complete situational awareness picture form a reliable single source of data.
Service/ system concept
The main components of the Flight Information Service for Small and Medium Airports are as follows:
Data reception:

Aircraft tracking information based on ADS-B (regional/local terrestrial/space-based ADS-B), as the main source, but also additional tracking information such as FLARM, Radar/MLAT
Ancillary data, such as meteorological information, NOTAM from SWIM service provider

Data fusion/management:

All data sources are fused and stored at the AirTracks data center and configured individually for Small and Medium Airport client/customer

Data submission and visualisation:

Data are made available via a webservice, i.e. data remain at the AirTracks data center
Data are visualised ("recognised aeronautical situation") on screen at customer premises, including any notification/alerting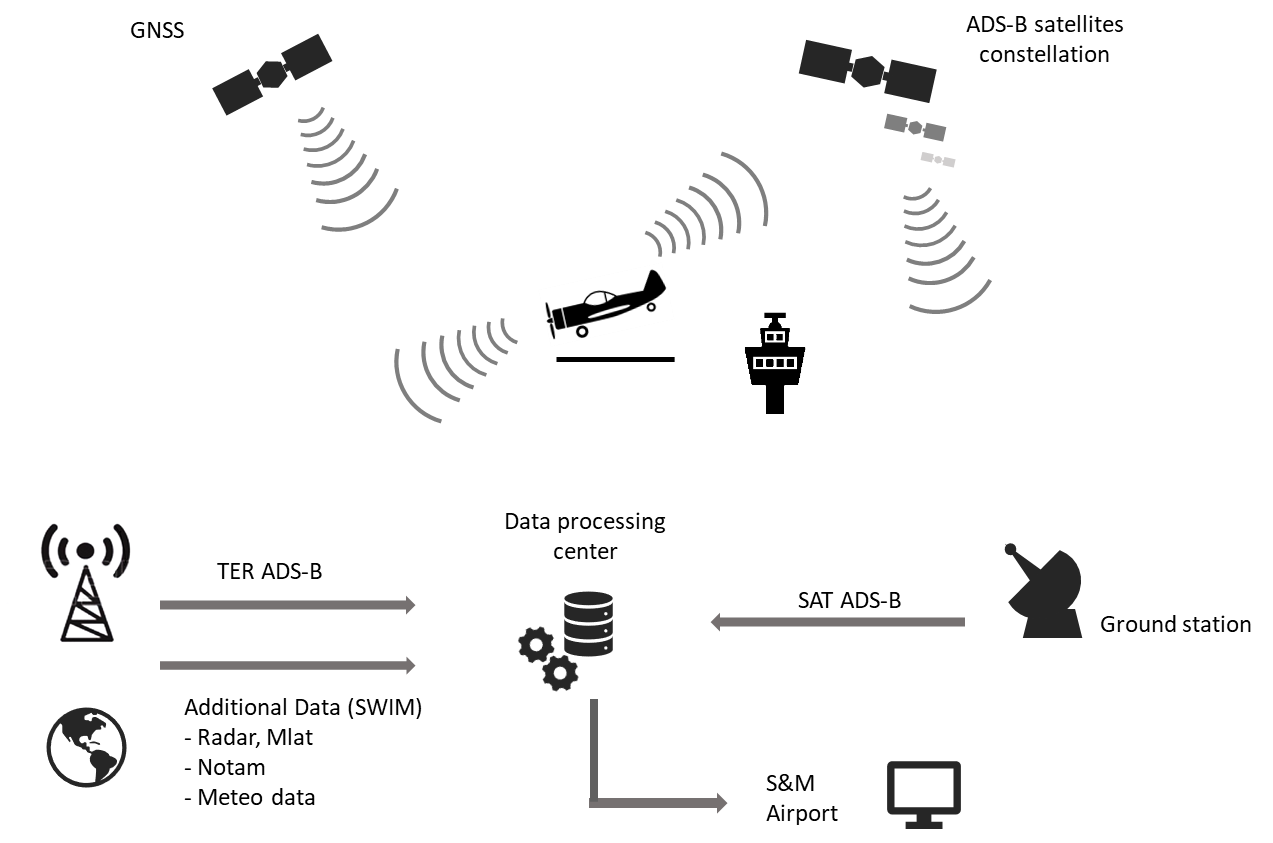 Space Added Value
The service offering for Small and Medium Airports is based around two space assets. Satellite Navigation is used to determine aircraft positions via ADS-B messages. This information is baseline to create situational awareness for responsible tower personnel. In addition, this satellite-based information allows to track aircraft positions during approach, landing and on the airfield without the need of massive infrastructural investments for airports.
Earth observation information is used to provide airport specific professional meteorological services. Optical Earth observation imagery will be provided as an additional on demand service to requesting airports. The space technology in use allows to generate a suitable FIS tailored to the need of small and medium sized airports.
Current Status
Currently the AirTracks service concept is presented and discussed to German airport operators. The critical review and feedback from AirTracks customer will help to refine the service concept and to adopt the system to cope with the specific user needs and requirements.
Prime Contractor(s)
Subcontractor(s)
Status Date
Updated: 21 October 2020
-
Created: 07 October 2020