Objectives of the service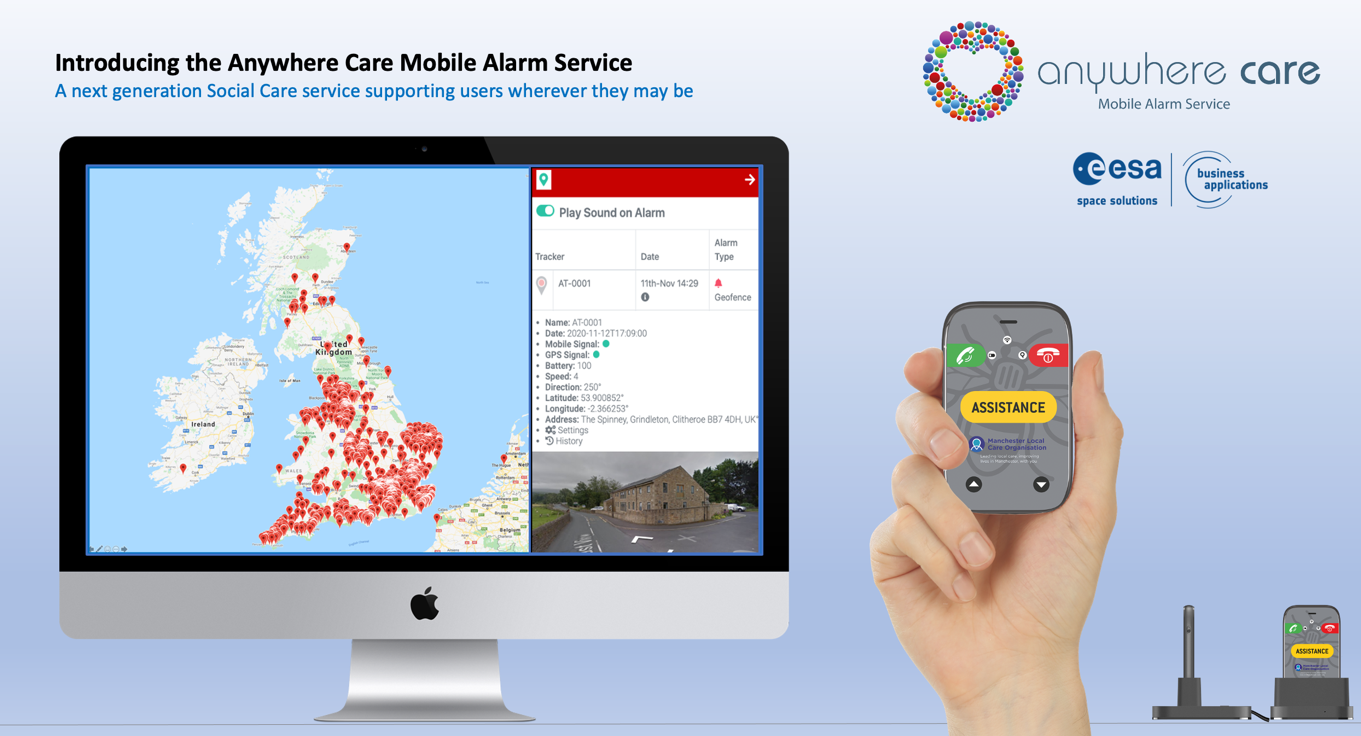 The Anywhere Care Mobile Alarm Service using GNSS assets enables vulnerable people to be continuously monitored and supported wherever they may be. Professional and Family carers receive automatic and user generated alerts together with real-time location information.
Organisations using the service can select the most appropriate team member to respond based on their real-time availability, skills and location. This will facilitate a step change in the deployment of social care teams and at the same time improve outcomes for recipients.
The project will transform the existing Anywhere Care service from reactive only to reactive and predictive and enable carers to encourage and monitor the activity, independence and social inclusion of its users, with the aim to Prevent, Reduce or Delay the need for hospital admissions or residential care.
Support the reablement process as patients are ready to leave hospital and reduce the physical and financial impacts associated with delayed transfers of care.
The key challenges for the project are to ensure that the service meets the needs of carers and users
Users and their needs
There is a need to reduce the cost of supporting individuals with multiple long-term conditions, who consume a disproportionately high percentage of NHS & Social Care costs by adopting Active Case Management processes which Prevent, Reduce or Delay the need for further care. There is a strong desire to reduce the number of people becoming part of this group through a combination of behaviour change and earlier interventions.
There is a need to extend remote care technology from simply responding to emergency events (such as falls or SOS button press) to predict and, if possible, Prevent, Reduce or Delay the likelihood of these occurring.
There is need to provide remote care technology outside of the home, as well as inside the home, and to enable flexible models of care involving support from professional carers and family support networks.
For Social Care and Lone Worker Applications providing real-time alerts to professional or family carers.
Service/ system concept
4in1 mobile alarm device featuring Assistance Button, Fall Alarm, GNSS tracking and handsfree mobile phone with optional Home Hub. Fully integrated with Anywhere Sim 4G roaming network and Anywhere Care management platform to provide technical and support capability in an easy to use, easy to deploy wearable personal device.
Assistance button connects 2-way handsfree voice and optionally sends SMS, Email and Data. Additional contact buttons provide an easy way to stay in contact with support networks and encourage social interactions.
Configurable GPS, WiFi, Bluetooth and NFC capability, together with movement sensors enables the service to generate relevant and actionable activity reports, proximity monitoring and behavioural changes over time rather than simply responding to Alarms.
Can be configured to work silently, or to provide automatic voice reassurance messages to support the user. Can be configured to provide scheduled Prompt & Protect voice messages to ask questions or provide reminders and will record spoken or button press responses generating auditable actionable reports.
Space Added Value
Real-time GNSS user location information allows vulnerable users to be located when they are unable to communicate their location by any other means. It also enables carers to monitor patterns of activity and social inclusion or isolation.
Real-time GNSS carer location information allows peripatetic carers to be selected, increasing productivity for their organisations.
Current Status
The Baseline Design Review / Critical Design Review meeting has been held.
4in1 mobile alarm device, the Anywhere Fone, is undergoing internal testing and software development. The management portal, The Anywhere Portal, is functional for legacy devices. Customer legacy devices have been migrated from legacy portals successfully.
Customer workshops have been held in preparation for the Pilot Utilisation and this work will continue through December and January.
Prime Contractor(s)
Subcontractor(s)
Status Date
Updated: 11 December 2020
-
Created: 09 December 2020