Objectives of the service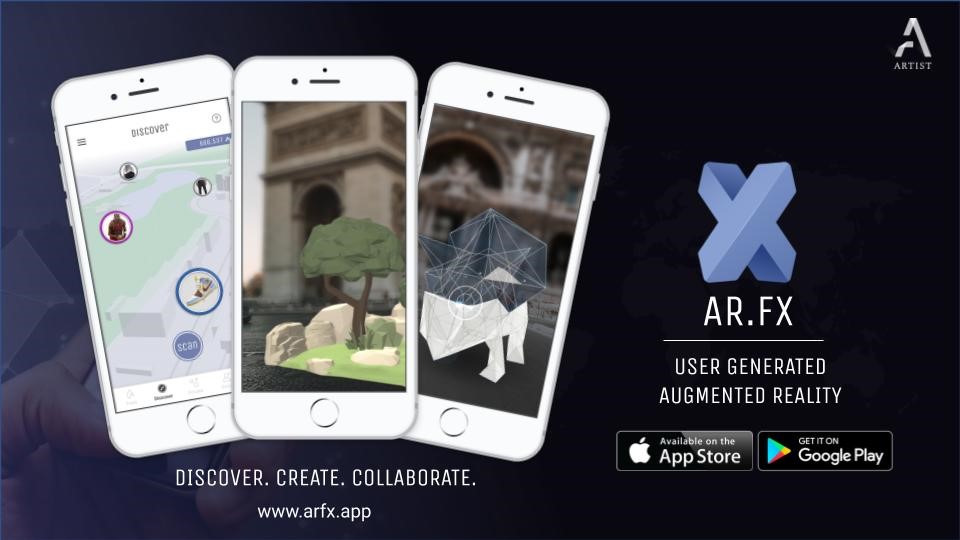 The objectives of of ARtist are to provide User Generated and location-based interactive 3D content in AR utilizing smart devices. Utilizing AR and Space Technologies, digital 3D objects, sculptures, paintings, etc. can be drawn in AR-Space, positioned and consumed in real-space at the spot of its creation by using accurate GNSS solutions.
ARtist's value proposition is to fill the gap of lack of adequate AR content and to establish a globally connected collaborative social network of creative individuals, who can work together on common projects, exchange and consume their creations, rate, share, comment and educate together.
Sustainable businesses are to be developed on the basis of our value proposition, such as novel location-based and highly targeted advertising and product placement in AR at POIs. Our platform is capable of individually tracking each single placement worldwide on user interaction.
Besides the complexity to enable users to generate own content as well as to interact with in AR, managing of placing 3D objects in AR globally, the real-time synchronization are being mastered: On top of Location-Based Augmented Reality (L-B AR), we address real-time multi-player synchronized L-B AR with low latencies.
A huge benefit of real-time synchronized multi-player L-B AR would be increasing the "attention span" of user for branding and product launches: By utilizing e.g. the Poly-Draw for advertising in AR and engaging highly targeted audience to physically interact with AR objects of desire, the users will be attracted much more to the products, since they would spend much more time by connecting the dots.
Users and their needs
With AR.fx we solve the lack of AR content. Users can generate their own 3D objects and scenes in AR. One of our business innovations is to increase the attention span of the audience for branding, product placements and advertisement in AR at POIs. For B2B we provide a platform for product placement and advertisement in AR at POIs that can increase the attention span, when users interact with.
Our primary B2C customers are the owners of AR capable smartphones, who desire to utilize AR. The target user base globally will be of ca 2 billion by 2020, who will own AR smart phones. The AR market we target is expected to grow rapidly (valued at $1.14 bn and is expected to grow by a CAGR of 40, 29% to $60.55 bn in 2023). Gaming (67%) is still dominating, but educational apps, retail and tourism are on the rise. The typical AR user that has been identified is male and between 25 and 34 years old and has an income of ca. EUR 75k. Still, 46% of users are female.
Service/ system concept
The product and services ARtist has developed and offering is the location-based Augmented Reality mobile application AR.fx (and its platform), which is capable of creating, geo-placing, viewing, sharing and interacting with (animated) 3D content in AR using smart phones. It enables users to generate their own AR content and to interact with that provided by B2B.
B2C: Interacting with 3D content in AR Space with gamification approach
B2B: Providing novel Advertisement and Product Placement in AR (highly targeted and location based)
B2B: Art as a Service (AaaS) is to provide End-to-End creation of 3D content and to distribute on our platform (B2B, Art, Culture & Heritage, Museums, Tourism, etc.).
AR.fx incorporates gamification elements such as poly-draw and blueprints and multiplayer capability along with Free-draw and Scene-Editor. On a global map users can explore and physically interact with AR content of interest, which is organized in various Sub-AR Spaces. Unlike the very successful Pokémon Go, AR.fx can incorporate unlimited type content, themes and categories, for instance Disney, Lego objects, Art & Culture, Tourism, Entertainment, etc.).
Our services targeting B2B, cultural and educational sectors are to provide a novel Advertisement and Product Placement platform in AR (highly targeted and location based), as well as Art as a Service (AaaS), which is the end-2-end creation and placement of digital artworks and 3D objects at POIs in AR. Further services are e.g. to provide tool sets for students to develop their spatial imagination (e.g. geometry in 3D space).
One of our business innovations is to increase the attention span of the audience for branding and product placements with AR.fx and to engage highly targeted audience to physically interact with AR objects of interests. This will lead to users spending more time with AR.fx than comparable apps in the market.
Due to the nature of location based interaction in AR.fx, it is capable of preventing fake-clicks of digital Ads through Bots for instance, whereby B2B is losing millions of Euros.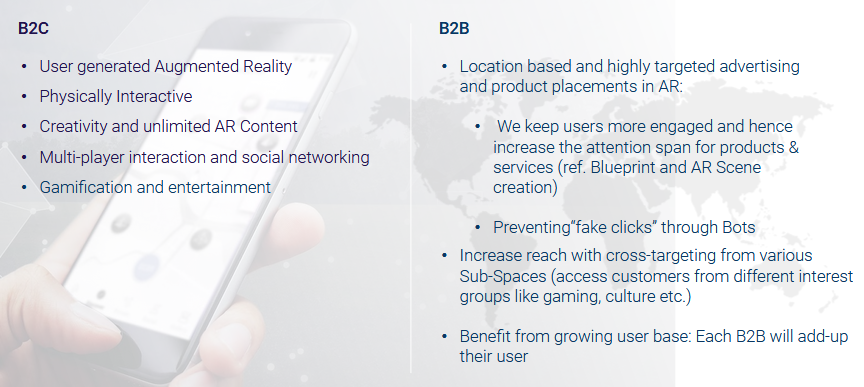 All of our AR Content is organized in Subspaces such as Gaming, Entertainment, Culture, Celebrity, Tourism etc. By selecting Subspaces of a user's interest only the AR Content will be shown that matches the preferences.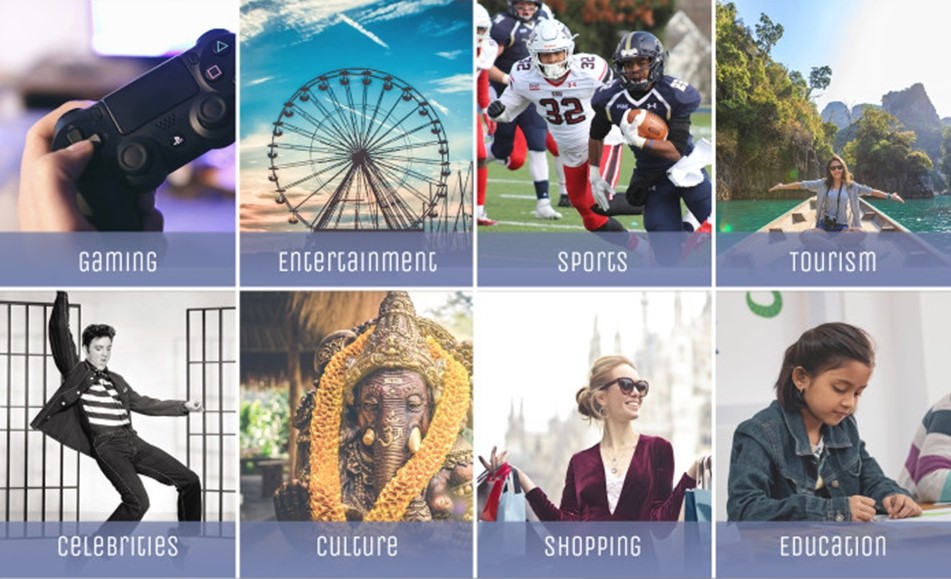 The core functionalities of AR.fx are:
Search & Find
One of the core gamification elements of AR.fx is search & find. Users can find 3D objects and blueprints in AR all over the world, organized in so called Sub-Spaces (e.g. gaming, nature, culture & heritage, tourism, entertainment, celebrities, etc.), obtain, interact and collect. They can do so individually or with friends. Blueprints found can be constructed to awesome 3D objects and added to a user's portfolio of 3D objects, which can be used to create unique AR scenes. Another way to obtain 3D objects and blueprints is redeeming AR Coins that can be found in treasure chests distributed everywhere in the world and/or In-App purchased.
Poly-Draw/ Blueprints
We convert 3D objects into line-dot models, so called blueprints, which users can find on Discover screen and/ place in their private AR Space. By connecting the dots along the lines, users can create awesome 3D objects, individually or collaboratively.
AR Scene Editor
With the in-built AR Scene Editor Users can create unique AR worlds using objects from their gallery. Even when the same objects would be used to create an AR Scene, placing the same scene at different real-world locations would provide unique and seamless experiences.
Social Network
State of the art Social Networking functionalities have been integrated in to AR.fx, such as feeds, sharing screenshots, liking, following, inviting friends, etc. along with collaborative creation (blueprint events).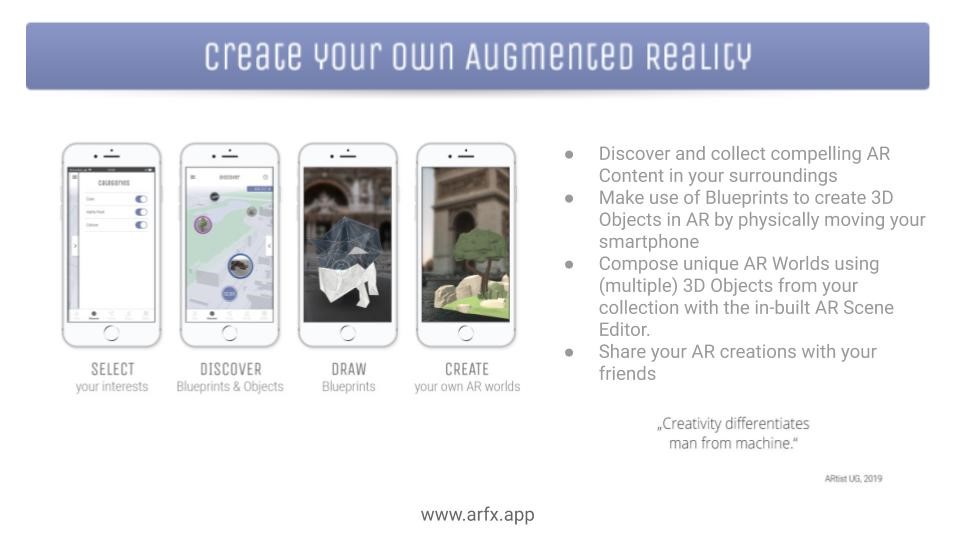 Space Added Value
An elementary part of the application AR.fx is based on utilizing accurate GNSS as the satellite based positioning of the created 3D-content is the key element of ARtist's product and services. Besides utilizing local references especially to fix directions of the objects created (for example in-door positioning), accurate localization in free-space is core requirement in order to realize the global network.
Besides geo-positioning the real-time multi-player synchronization is strongly based on GNSS and Communication network technologies. On top of Location-Based Augmented Reality (L-B AR), we manage real-time multi-player synchronized L-B AR with low latencies.
Space added values:
Highly accurate geo-positioning of the line-dot models at POIs in AR
Highly accurate location determination of multi-players
Real-time and location based synchronization of completion (connected line-dots) in AR for multi-players
User live-view tracking of AR poly-draw events at POIs
Current Status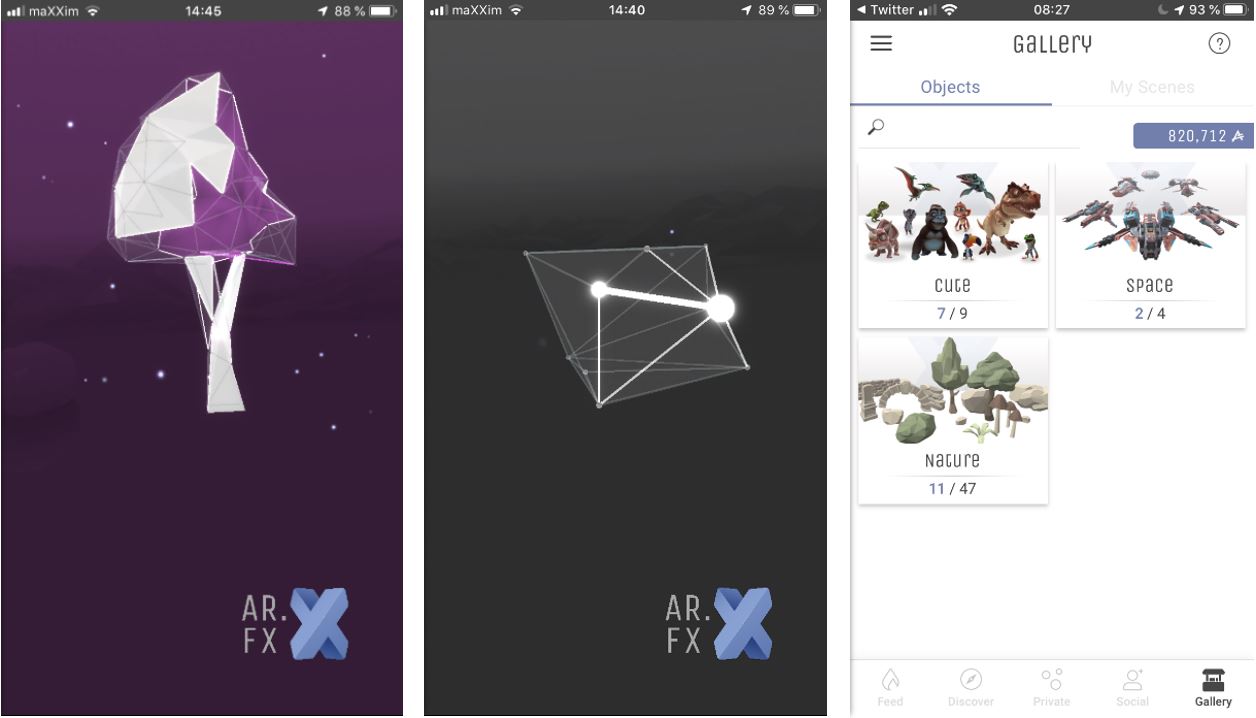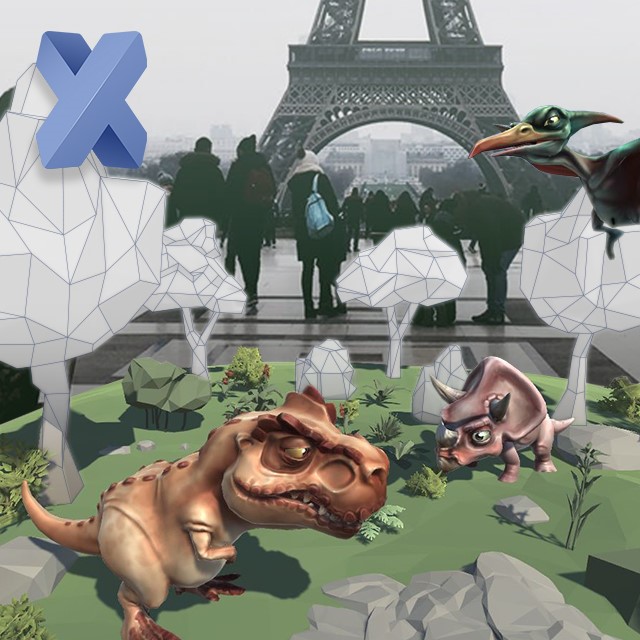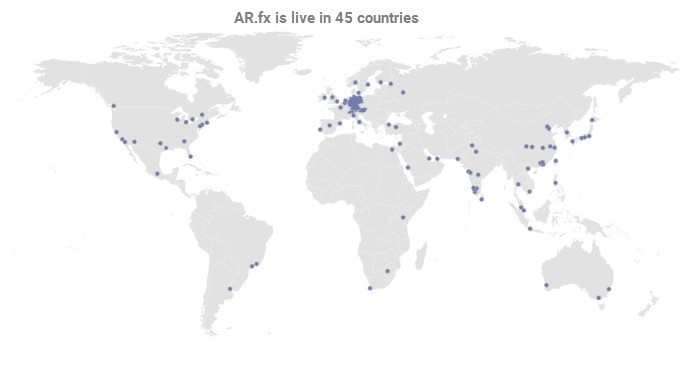 Current status
AR.fx released in 45 countries since December 2019 along with ca. 100 million AR Object placements
First B2B pilot client on-boarded
First Indie Game Studio agreed to collaborate
Secured EUR 50k grant from European Space Agency (ESA)/Federal state of Baden Wuerttemberg, Germany
ESA Kickstart grant of EUR 60k awarded
Crowdfunding campaign triggered on Indiegogo: https://www.indiegogo.com/project/coming_soon/preview/fecee4be
Social Media activities triggered: Twitch.tv, Instagram Stories, Facebook, Twitter
What we are looking for
EUR 500 k investment (for product development, marketing, content)
contact@artist-global.eu
Prime Contractor(s)
Status Date
Updated: 07 November 2019
-
Created: 07 November 2019