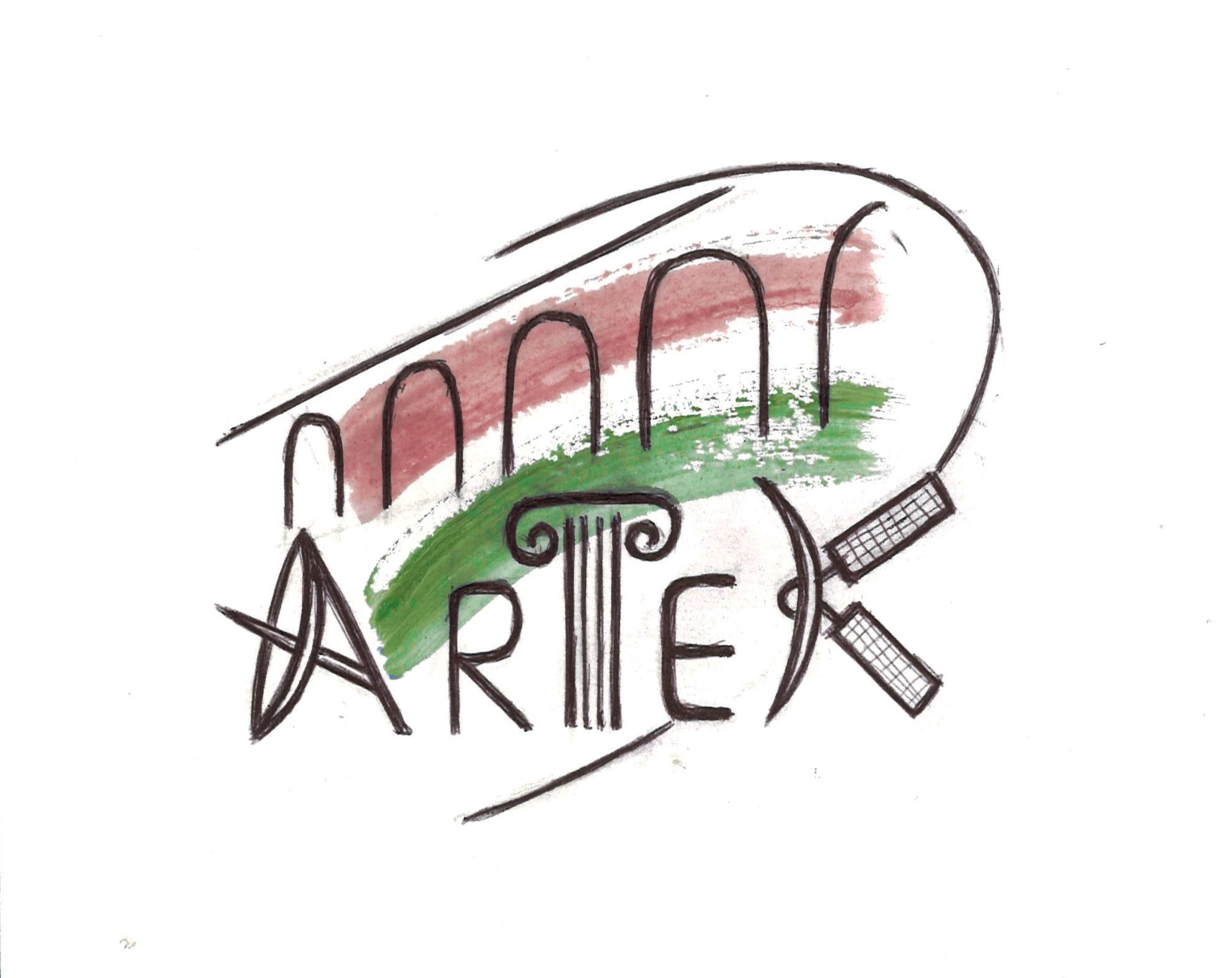 Objectives of the service
ArTeK proposes an advanced service supporting the preventive conservation of Cultural Property (CP) and bridging a gap in the market where systematic high frequency monitoring over a medium-to-large spatial coverage scale is, to date, not available.
ArTeK system enables the provision of an end-to-end service - going from the collection of geo-physical and site specific parameters for the calculation of key indicators, to the implementation of site-specific risk and decision support models, based on hierarchical / multi temporal / multi-sensory methods. Through the ArTeK services, the monitoring of the state of conservation of Cultural Heritage is more efficient. This improves the decision-making and programmatic capacity of institutions responsible for conservation, reducing in this way maintenance costs.
Moreover, ArTeK aims to support the management of the sites (through the implementation of tools to track visitors' movements and behaviours and analyse their preferences) and valorise them through advanced means of fruition, especially for those cultural sites that need special attention because under-valorised.
Users and their needs
The major users of ArTeK, have been identified in the following groups:
Organizations responsible for the Cultural Properties;
Site visitors.
Organizations responsible for Cultural Properties need systematic tools to
Perform risk assessment at local/municipal spatial scales;
Identify changes/detect anomalies within the site;
Perform threats monitoring;
Assess sites conditions;
Map sites features;
Delineate damages in case of disasters;
Collaboratively manage (geo-spatial) data and information;
Support their decisions on preventive conservation and maintenance planning;
Perform near real-time monitoring by on-site sensors when critical situations occur;
Track visitors' movements within the site and analyse their flow.
At the same time, site visitors need means to access geo-localized site information while visiting the site and enhance their visit experience.
The unique attributes of the ArTeK service can represent, thus, an important support to Cultural Properties managers to put in place:
preventive conservation, potentially leading to money saving, and
valorisation, potentially leading to money earning.
The main users of the service are managers of Italian Cultural Properties. However, the service is not restricted to a particular area but can be used all over the world as space techniques used, operate globally and threats identified for Italian CP are applicable all over the world.
Service/ system concept
ArTeK is intended as an advanced instrument, missing today, aimed at supporting institutions responsible for Cultural Property in terms of services such as:
Safeguard, through a constant multi-modal site monitoring, for those sites that need special controls because threatened by environmental factors (both natural and anthropic);
Valorisation, through advanced fruition mechanisms;
Management, through site visitors monitoring mechanisms.
ArTeK innovation is glaring thanks to the multi-dimensional, hierarchical and holistic approach in the collection and analysis of data performed by its service centre. The main functional components of the system make use of both terrestrial, unmanned aerial and space elements including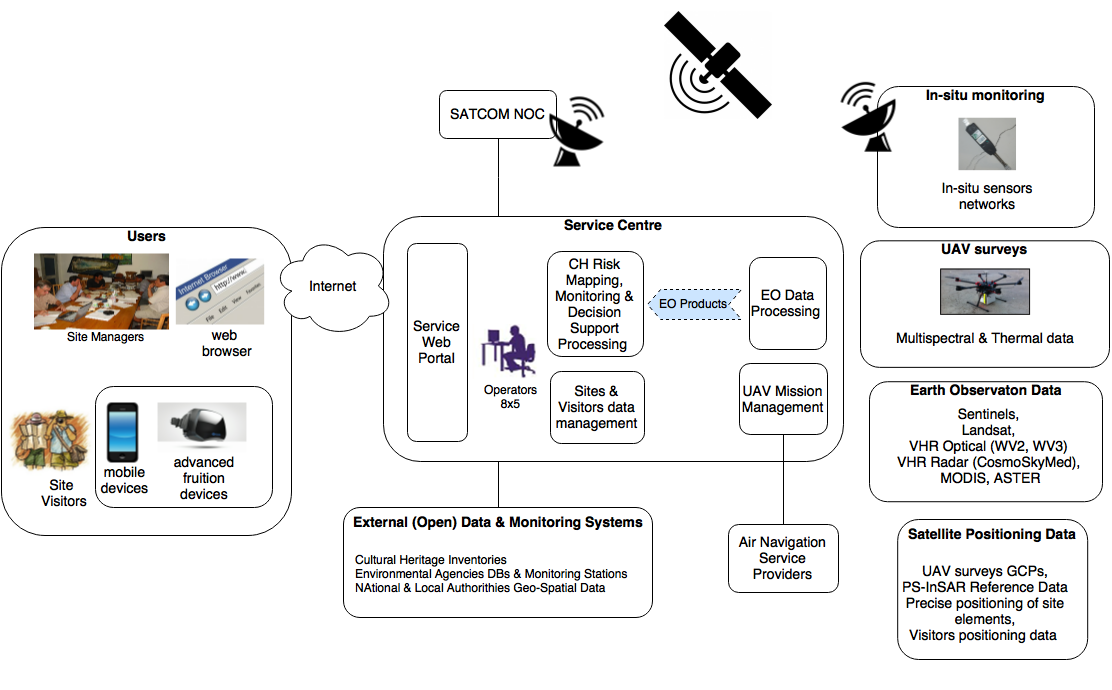 earth observation data, satellite positioning data and satellite communication services jointly exploited for the provision of an end-to-end service applicable to organizations responsible for the management of cultural properties, from safeguard support to management of visitors and fruition.
Finally, thanks to the joint use of satellites dedicated to (i) earth observation, (ii) airborne remote sensing data, (iii) on-site data, and properly combined with (iv) already existing Institutional and certified databases, site information is performed and results made available to end-users.
Space Added Value
ArTeK satellite enabling technologies encompass
Satellite Earth Observation for:
identification and evaluation of environmental hazards that could have a potential negative impact over cultural assets,
identification of changes,
assessment of the state of conservation, the mapping of sites and their artefacts (e.g. by the construction of 3D models);
Satellite Navigation for:
"ground surface deformation mapping", based on common exploitation of SAR and GNSS data. GNSS data, coming from ad-hoc or permanent
a. GNSS networks (e.g. EUREF or regional permanent GNSS network), assimilated in the SAR interferometry processing chain to improve its performance;
b. ad-hoc GNSS receivers used as additional/complementary ground surface deformation measurement points (e.g. to overcome SAR shadowing effects or enabling real-time monitoring);
"Aerial Remote Sensing" data acquisition, where satellite navigation, combined with IMU-based asset tracking, provides the information required to geo-reference airborne sensed images;
"Visitors flow monitoring" and "location-based fruition" services, based on the use of mobile devices equipped with GNSS receivers.
Satellite Communication for data transmission from sensors network, located inside remote sites, to the ArTeK Service Centre.
The ArTeK service can be operated even in remote sites thanks to Satellite Data Communication between the remote site and the Service Centre.
Current Status
The Final Review was successfully held on 7th Dec 2018. The pilot activities have been completed with very good user feedbacks, including more than 70 hours of on-site training at pilot sites. The consortium is now fine-tuning the commercial agreement among all the private and public partners participating in the ArTeK project. The first baseline of the agreement is expected to be signed in Q1 2019 with NAIS being the service provider.
Prime Contractor(s)
Status Date
Updated: 20 June 2017
-
Created: 10 March 2017