Objectives of the service
Based on a platform called ASIGN, a United Nations Information Management tool for major disasters, and used by Oslo Police for security, B-SURE has developed user-driven functional capabilities and technical solutions for providing commercial services for target markets. The B-SURE project is supported by the UN, who acted as a developing partner, reference user and possible future commercial client.
The primary objective of B-SURE is to reduce disaster management response time, cost, and risk.
The main B-SURE service is rapid collection and bandwidth efficient secure communication of operationally relevant field information. The baseline field platform is a smartphone, while information managers access data and interact with the field users via Web browsers online on secure servers. The field users cover professionals, civil population and small UAV operators.
The B-SURE service forms a unique basis for a rapidly updated visual situational awareness service with photos and video and associated data sources. The project includes flexible service and delivery models, supporting both partner and direct sales.
Users and their needs
During critical situations related to disaster and crisis management, time is generally considered the most critical factor: time to collect relevant data, communicate it, assess it, decide actions and time to conduct them. Visual data, photos and video, as well as UAV and satellite images are required for providing visual situational awareness.
One of the main constraints in many areas affected by a major disaster is the lack of broadband communications, as networks are potentially affected by the disaster. B-SURE technology let users prioritize limited bandwidth on parts of the videos/photos that contains relevant content for desired effect over those images and parts that don't. This enables faster decision times, more relevant data and less operational cost. In summary, B-SURE significantly mitigates this burning problem of the users: "Providing fast communication services via a visual-situational awareness tool based on high-definition videos/image content, fused with Earth Observation data/maps over low bandwidth and mobile satcom connectivity".
The targeted users are disaster managers in the UN domain and civil protection, as well as UAV operators, satcom users and security related users. Specific users involved in the project are UN (UNOSAT) and ASEAN (AHA Centre).
Their needs include:
| | | |
| --- | --- | --- |
| Observe | Decide | Act |
| Engagement | Analysis | Data Sharing |
| Data collection | Fusion / integration | Feedback |
| Communication | Visualization | Integration |
| UAV Observations | Remote expertise | |
Service/ system concept
B-SURE provides an innovative solution based of photos/images and video collected from the field to:
Improve visual situational awareness via better collection and communication of relevant photos and video content from the field.

Improve the timely relevance and operational effect of collected data, as the bandwidth savings also saves time to transfer data.

Empower citizens in the field (this may include pilots of UAVs) to acquire useful photo/videos from the field without congesting limited networks.

Support remote pilots of UAVs to be more effective to collect useful photos and videos, by providing remote expertise via live UAV video and ability to remotely take UAV photos via web

Integrate the useful data from Videos/Photos and Earth Observation in overlaying pictures/maps generated as well with the support of EO data

Provide access to the visual situational awareness tool via a web-based service accessible to users via smartphones and PCs connected to Internet.

Provide integrated video conferencing supporting very low bandwidth. UAV video feeds from UAVs can feed into the video conference, that supports participants joining via satcom in the field.

Support a Specialist Expert Remote Advisory Group (SERAG) for remote assessment assistance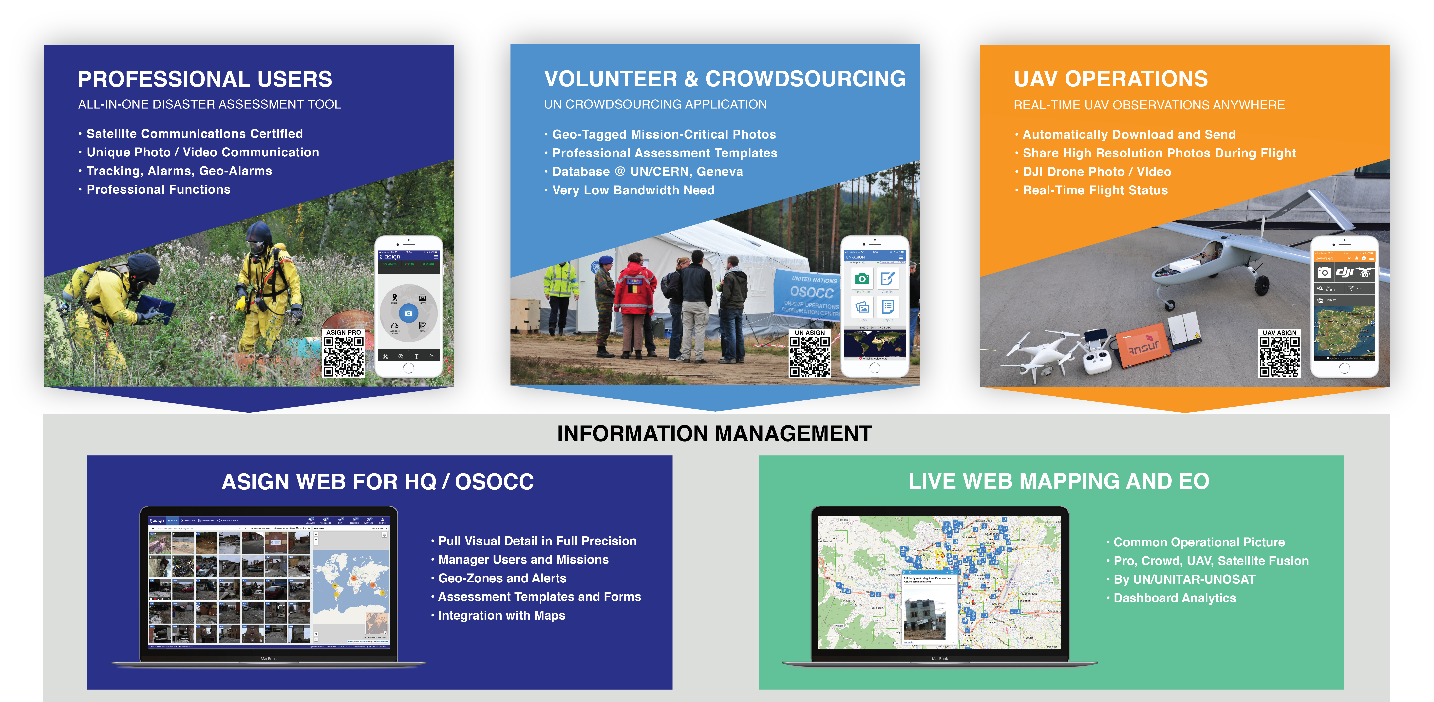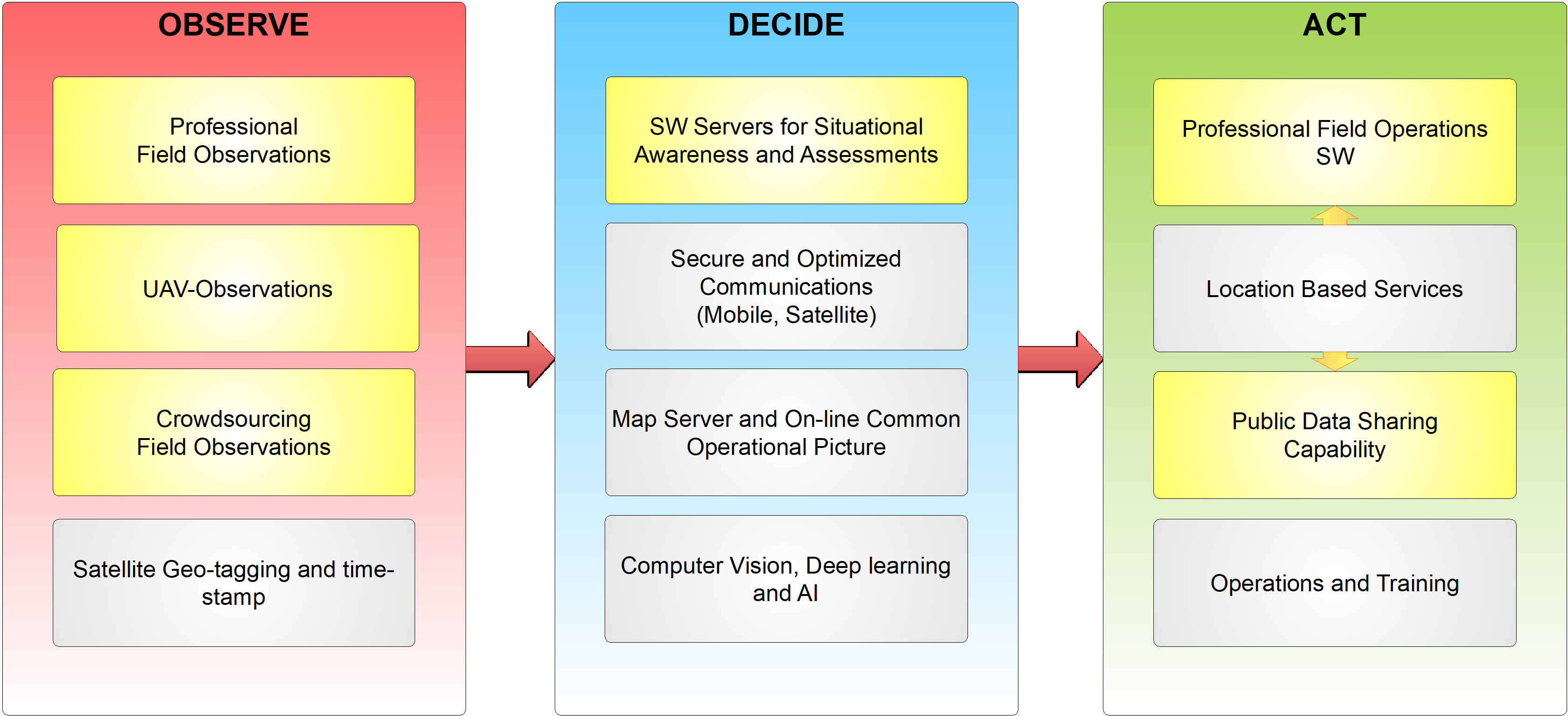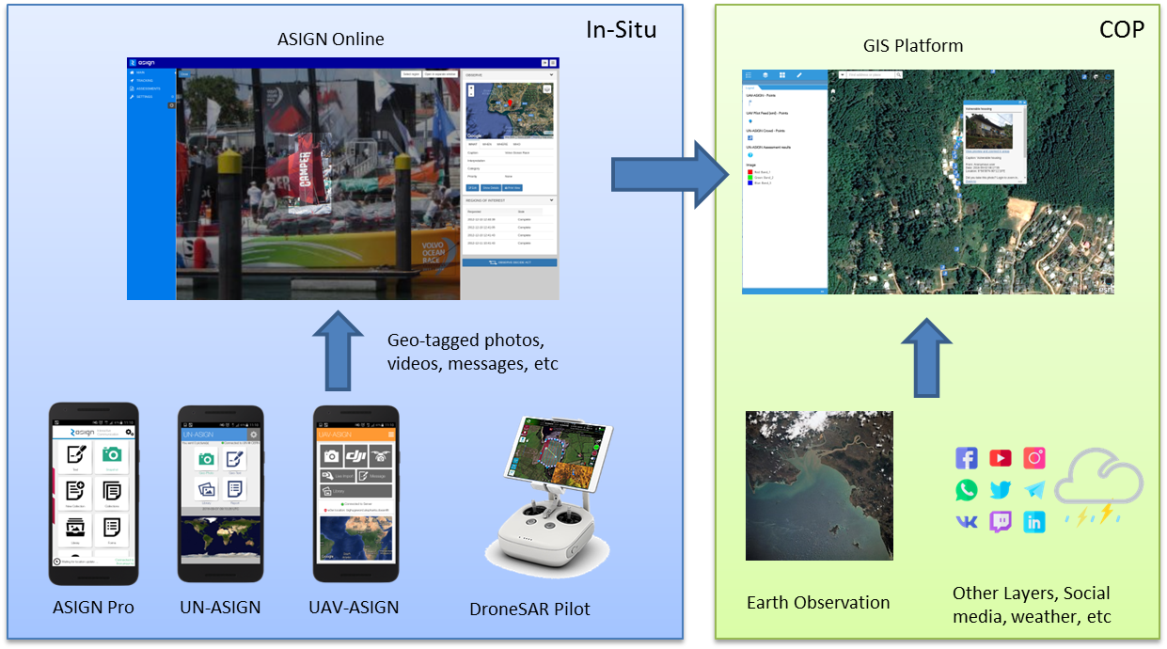 Photos and videos from UAVs, professionals, volunteers and regular citizens can be communicated through the ASIGN applications into ASIGN Online, or directly into the GIS platforms from iGeotec and UNOSAT. Additional layers can be added to the GIS map, like earth observation data, weather and other layers.
Space Added Value
The following space asset(s) are used in the pilot-demonstration:
GNSS – Satellite Navigation

Satellite Earth Observations & Copernicus data

Mobile / portable Satellite Communication (BGAN)
GNSS is essential due to the need for accurate positioning, and reliable location data. Geo-intelligence and geo-spatial images and observation are essential for knowing where things happen and for fusion with Satellite EO. Galileo will specifically be useful for altitude control of UAVs, due to better vertical precision.
Satellite EO is a basis for the UNOSAT work on rapid mapping, used broadly for crisis and disaster management for space based situational awareness. The Copernicus satellites, and in particular Sentinel-1 and Sentinel-2 are used, in combination with other commercial services such as Digital Globe and Planet.
Satellite communication is required for disaster management when other networks are down, when out of coverage, or when security demands to not use local networks that can be intercepted.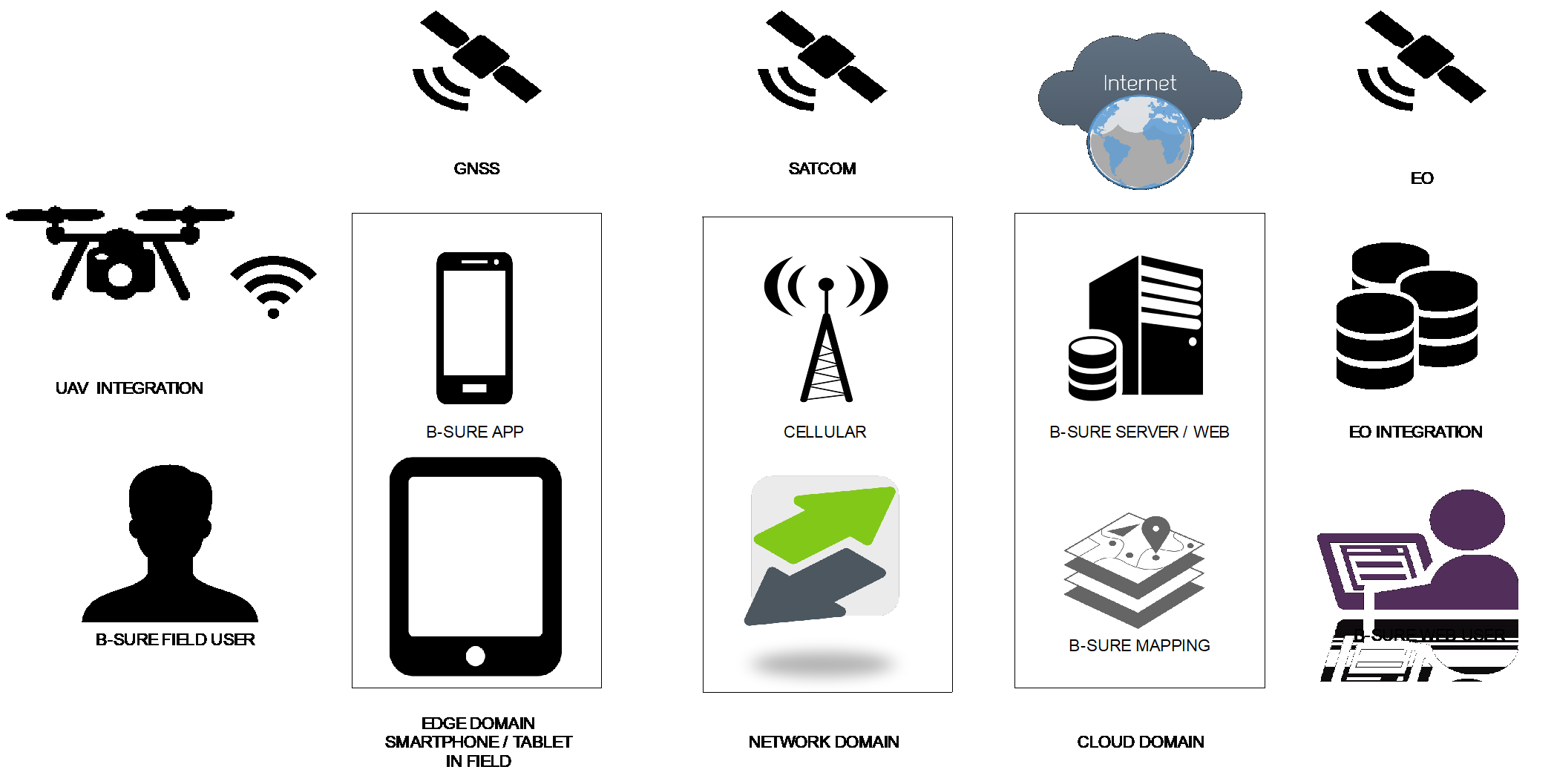 Figure 4 shows a network diagram indicating where the different users and software modules are used and networks used to communicate between them.
Current Status
The project is completed successfully.
Prime Contractor(s)
Status Date
Updated: 11 August 2022
-
Created: 16 September 2019