Objectives of the service
The BIGMIG service objective is to contribute to a better understanding of forced migration drivers and crises through intelligent use of space based big data. The service will provide Earth Observation products with factual based evidence capable of aiding in both migration prevention and management, and expand in scope to meet the needs of new users as they arise.
Users and their needs
Services are targeted at Non-Governmental Organisations (NGOs), and other international aid and development organisations.
Two use cases to support migration management and prevention have been addressed so far in the project: agriculture in Northern Mozambique and detection of damage to road networks, buildings and agriculture in the aftermath of a natural disaster in Southern Mozambique.
A sample of the needs identified by the target users include:
Use Case 1:
Analyse natural resources along migration routes, namely: crop extend and evolution.
Monitor (abnormally low) crop production as an indicator of forced migrations.
Improve agricultural production.
Retrieve natural resources scarcity indicators for the early warning of humanitarian crisis.
Develop new technological packages suitable for the Mozambican socio-demographic and geo-ecological conditions that will allow a sustainable agricultural production allowing an adequate food and income production.
Use Case 2:
The size (extension) and level (of depth) of washed away land and the disruption of soil.
Receding waters after cyclones/calculation of volumes of soils to be replaced.
The roads/bridges damaged/destroyed in the aftermath of each case.
Analysis of houses, schools and other facilities for common use damaged during the various crisis.
Damage to agriculture after catastrophic events.
Reference map of infrastructures: linear, buildings, etc.
Easy and quicker access to the geo-information products.
Service/ system concept
For the BIGMIG Demo phase, two use cases have been selected to showcase the service usefulness for supporting migration management:
Use Case 1 – Improving farming efficiency and support to the overall community's resilience to forced mitigation (anchor user:Ayuda en Acción). The products include landcover maps, cropland mask and crop type maps.
Study sites: Northern Mozambique.
Use Case 2 – Support in planning an improving efficiency of aid delivery in the aftermath of humanitarian crises by using satellite imagery (anchor user: Helpcode). The products include: reference maps, building damage layer, infrastructure damage layer and crop damage map.
Study sites: Southern Mozambique and Libya.
BIGMIG service combines remote sensing expertise with state of the art deep learning methods to generate valuable data products from raw EO data. The data products are available to visualise, manipulate and interrogate by the users on a customizable web portal.
Space Added Value
Space assets considered in the project are:
Optical satellite imagery (Sentinel-2 time-series).
Very High Resolution (VHR) optical imagery.
GNSS (e.g. GPS).
Satellite imagery is used to extract information related to landcover (including cropland extent and expansion) and most importantly crop type. The EO data is combined with ground data spanning several years to enable classification of several landcover and crop types. VHR satellite imagery is well suited to identify damaged buildings and infrastructure in Southern Mozambique and in Libya.
The satellite data is complemented in one case by extensive ground data to train machine learning algorithms in order to map crop types. Whilst, geo-intelligence data related to the location of damaged infrastructure is provided to verify the damage on the ground.
BIGMIG-DEMO contributes to the monitoring and progress of different Sustainable Development Goals like No Poverty (SDG 1) and Zero Hunger (SDG 2).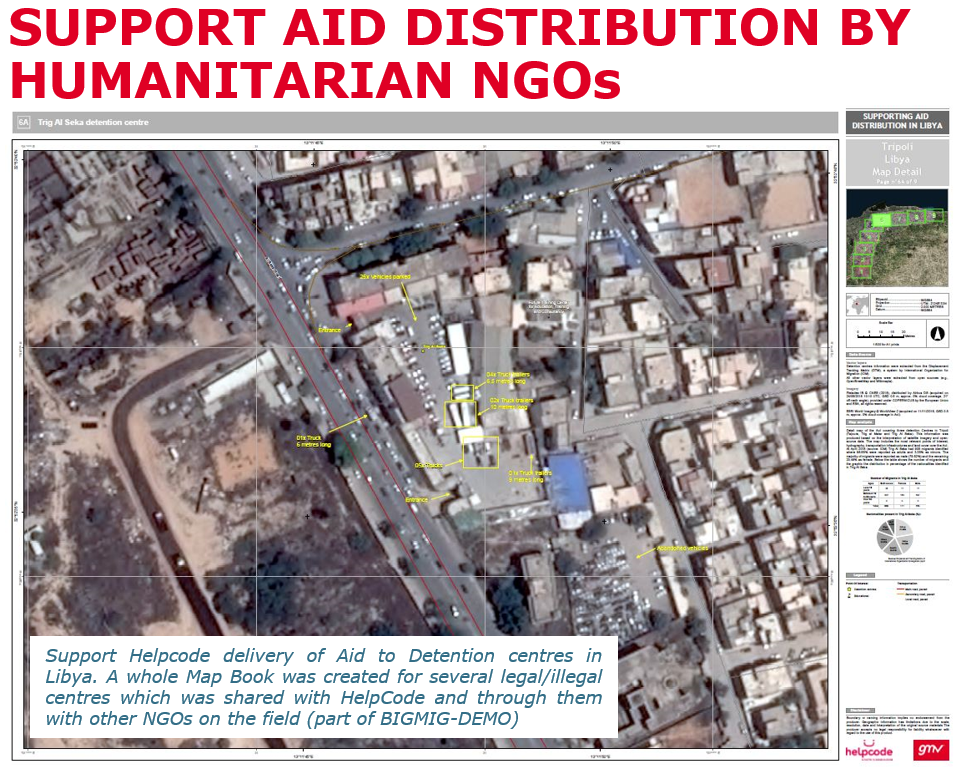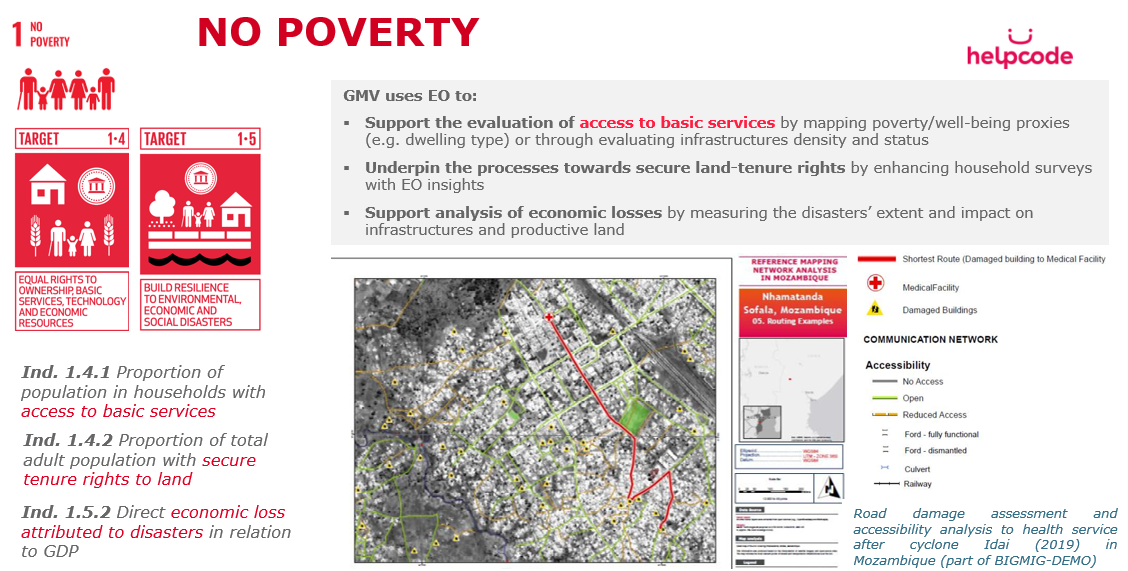 Current Status
For Use Case 1, the BIGMIG team has developed bespoke machine learning algorithms (random forest and spatio-temporal neural network architecture) to discriminate crop types with high accuracy and for large scale landcover maps.
For UseCase 2, the BIGMIG team focused on assessing damage from cyclone Idai and the re-habilitation of hospitals in Libya. The team mapped crop damage in Gorongosa, produced several reference maps, building and road network damage maps and analysed the connectivity between different points of interest in Nhamantanda.
During the pilot phase, end-users provided extensive feedback on the products and the platform which was later implemented by GMV and enabled the fulfilment of the user's satisfaction.
The pilot demonstration concluded positively in August 2020 with a final meeting with the end-users and the delivery of additional products. The pilot yielded promising results and positive feedback from the end-users.
Overall, during Use Cases 1 and 2, a total of 21 products were generated, several customers were engaged and new European and international partnerships were formed. The results were disseminated at renowned conferences and gained media attention.
Currently, on the marketing side GMV is looking at the roll-out of the service by focusing on preparing dissemination material, including a new web page and starting the active reach out of new customers among representatives from different types of organisations. Although, the focus will be on both Africa and South America, GMV will start dissemination in Mozambique, followed by other countries in which our anchor customers have presence.
On the technical side, GMV is busy launching an operational system to monitor crop types with one of the anchor customers, scaling up further the current system and the incorporation of new crop types.
The activity has been extended to a CCN with the aim of developing a new space-based service to enhance the suite of BIGMIG services. This new service is dedicated to supporting news agencies' work with measurable, testable and independent Earth Observation-derived information. By making the best of visually-impacting satellite-based products and data, the service aims to help journalists best convey relevant facts on humanitarian and environmental crises to the public.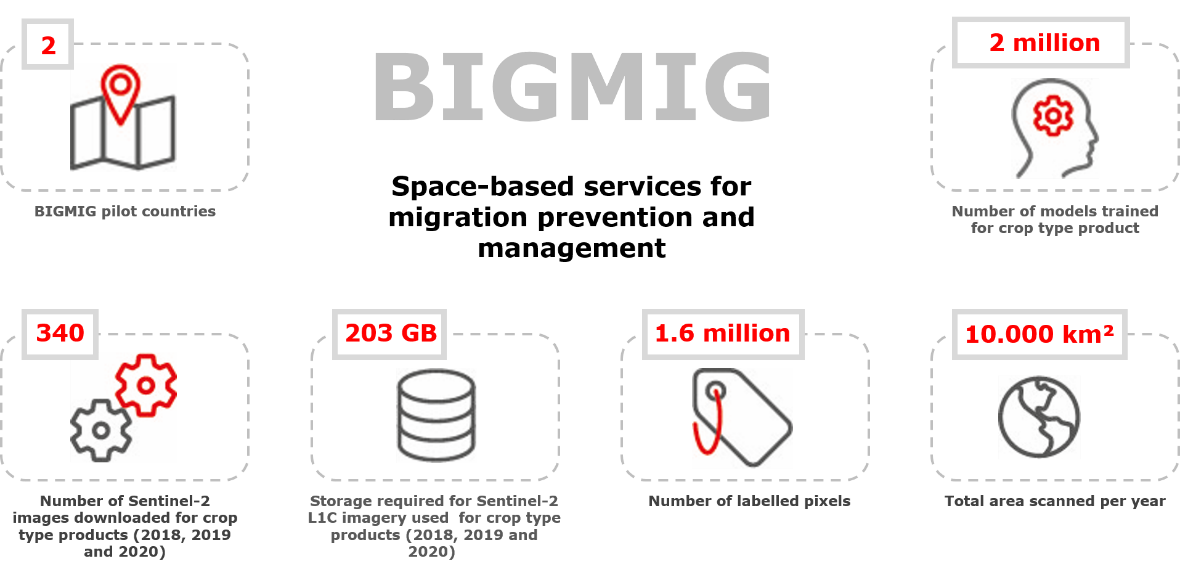 Prime Contractor(s)
Status Date
Updated: 19 January 2023
-
Created: 02 August 2019