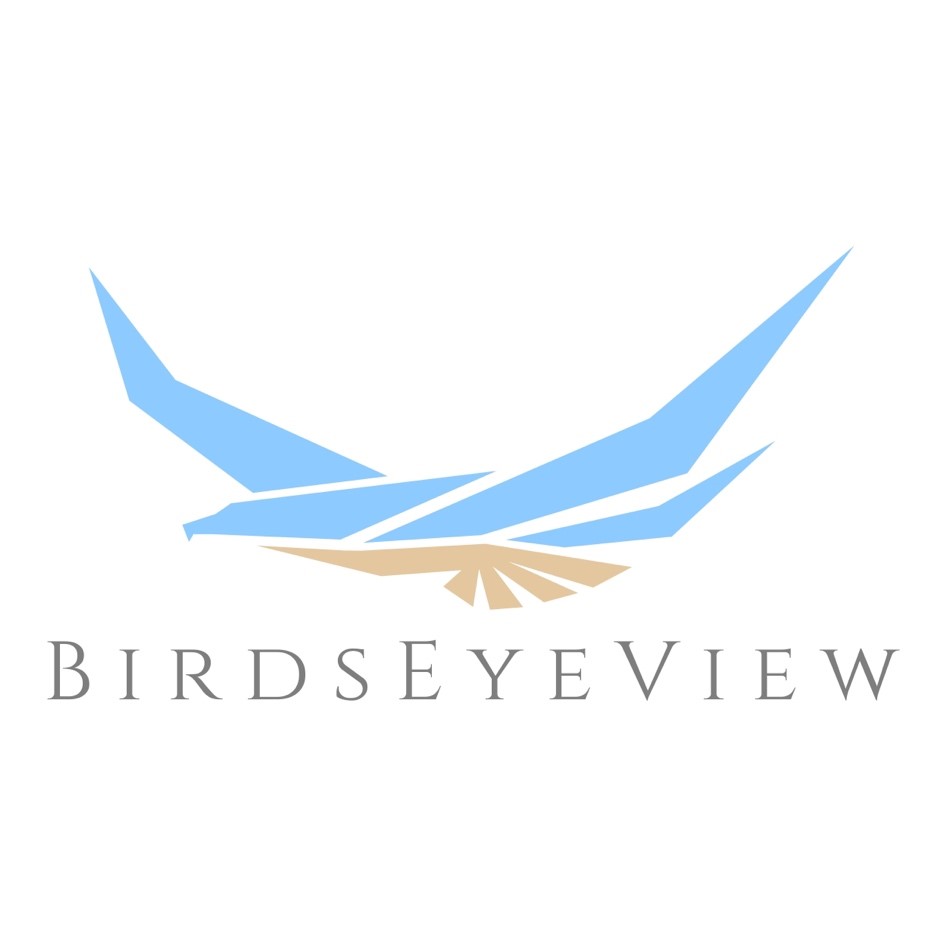 Objectives of the service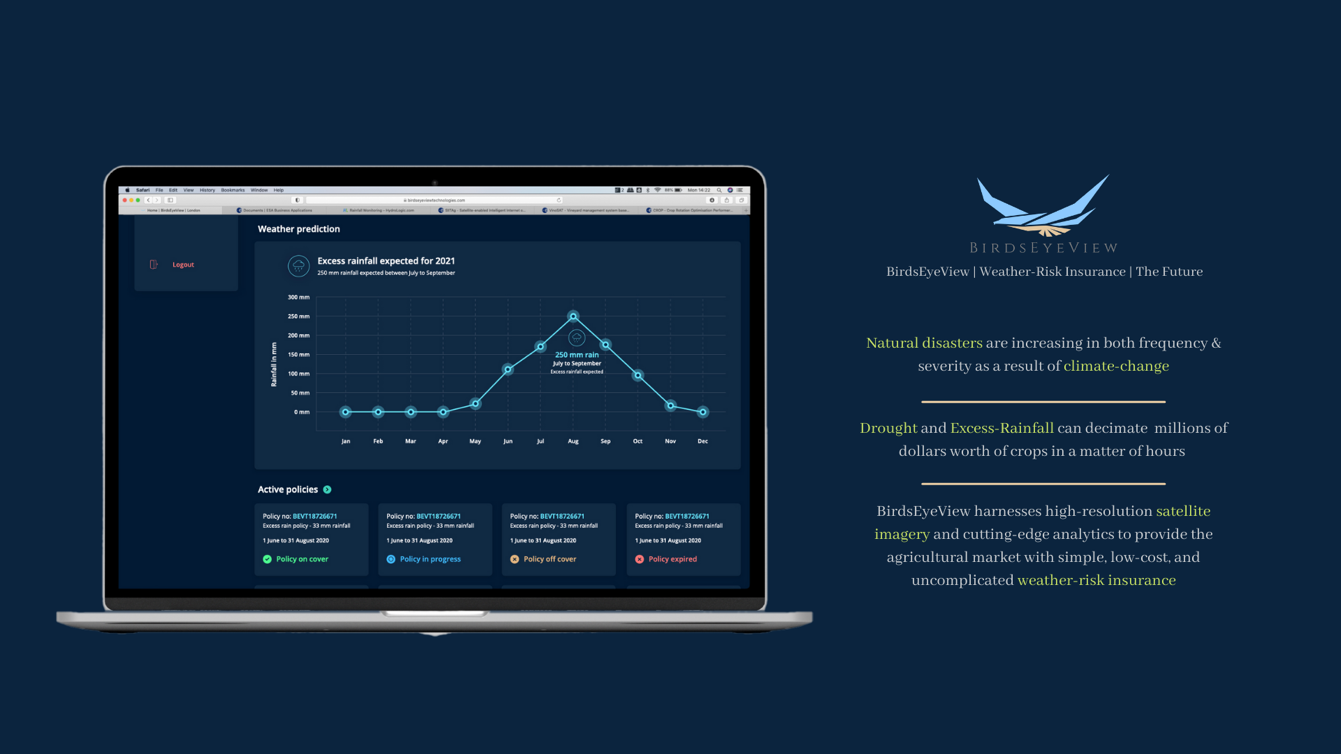 Natural disasters are increasing in both frequency and severity as a result of climate-change. Few feel the impact of these extreme weather events more than farmers. BirdsEyeView combines high-resolution satellite imagery with cutting-edge analytics to provide the agricultural sector with uncomplicated financial protection in the face of natural disasters. It takes just a single weather event to devastate millions of dollars' worth of crops. The limitations of traditional technologies mean that globally, crop insurance is widely unavailable or wholly unsuitable. This leaves crops, a farmers most valuable asset, at the mercy of increasingly volatile weather patterns.
BirdsEyeView is a B2B InsurTech, operating as a Managing General Agent. BirdsEyeView will sell a parametric weather-risk insurance product to the agricultural sector.
Customers tailor and purchase their cover directly from the BirdsEyeView app. They select their location, time-period, coverage amount, and the triggering event at which they want their insurance to pay-out. For example, they may want to purchase $2m of cover for a potential drought event in August. As soon as the threshold is reached, their policy is automatically triggered within RAPTOR, and they are immediately paid in full. No questions asked.
Users and their needs
Globally, 80% of crop failure is driven by excess-rainfall or drought. The MetOffice predicts that these extreme events will double in frequency by 2050. Traditional crop insurance requires manual 'boots on the ground' loss-adjustment and risk assessment. This makes it impossible to accurately assess potentially 1000's of hectares of crops. Manual loss-adjustments result in valuation disagreements, delays in pay-outs, inaccuracies, and high costs. Therefore, crop insurance is either unavailable of unpopular amongst farmers. This leaves farmers crops at the mercy of extreme weather.
It is imperative that farmers are financially protected to ensure that the increasing pressures on global food supplies are met.
Satellite imagery and the innovative 'parametric' insurance model enables BirdsEyeView to provide uncomplicated weather-risk insurance to the following customers and users:
Arable farmers.
Agricultural insurance brokers.
(Re)insurance companies that want to deploy underwriting capacity in the agricultural market.
BirdsEyeView's product will be made available globally. For the purposes of the ESA study, we are piloting the product in the UK before making it available in EU countries, Asia, S.America, and N.America consecutively.
Service/ system concept
Farmers, agribusiness and brokers purchase our uncomplicated parametric weather-risk product directly from the BirdsEyeView app. Our cover enables farmers to hedge against a future excess-rainfall or drought event occurring that could damage their crops.
The customer simply selects their location, chooses the amount of cover they would like to purchase, and then adjust the precipitation threshold at which they would like their insurance to pay out. When their chosen threshold is met, they receive an immediate pay-out with no need for time consuming and costly loss adjustments.
BirdsEyeView is a Managing General Agent (MGA). The Insurance Risk Management Institute describes an MGA as being "a specialised type of insurance agent/broker that, unlike traditional agents/brokers, is vested with underwriting authority from an insurer". Therefore, brokers can use the BirdsEyeView platform to sell the weather-risk insurance to their clients. Our weather-risk insurance addresses coverage gaps in their current risk solution offerings. (Re)insurance companies provide BirdsEyeView with underwriting capacity.
BirdsEyeView's RAPTOR platform ingests satellite, farming IoT, and ground-station data. RAPTOR's inbuilt machine-learning rating engine processes this big-data in order to calculate a real-time and transparent insurance premium for the customer. The customers can tailor their cover to ensure it meets their exact requirements.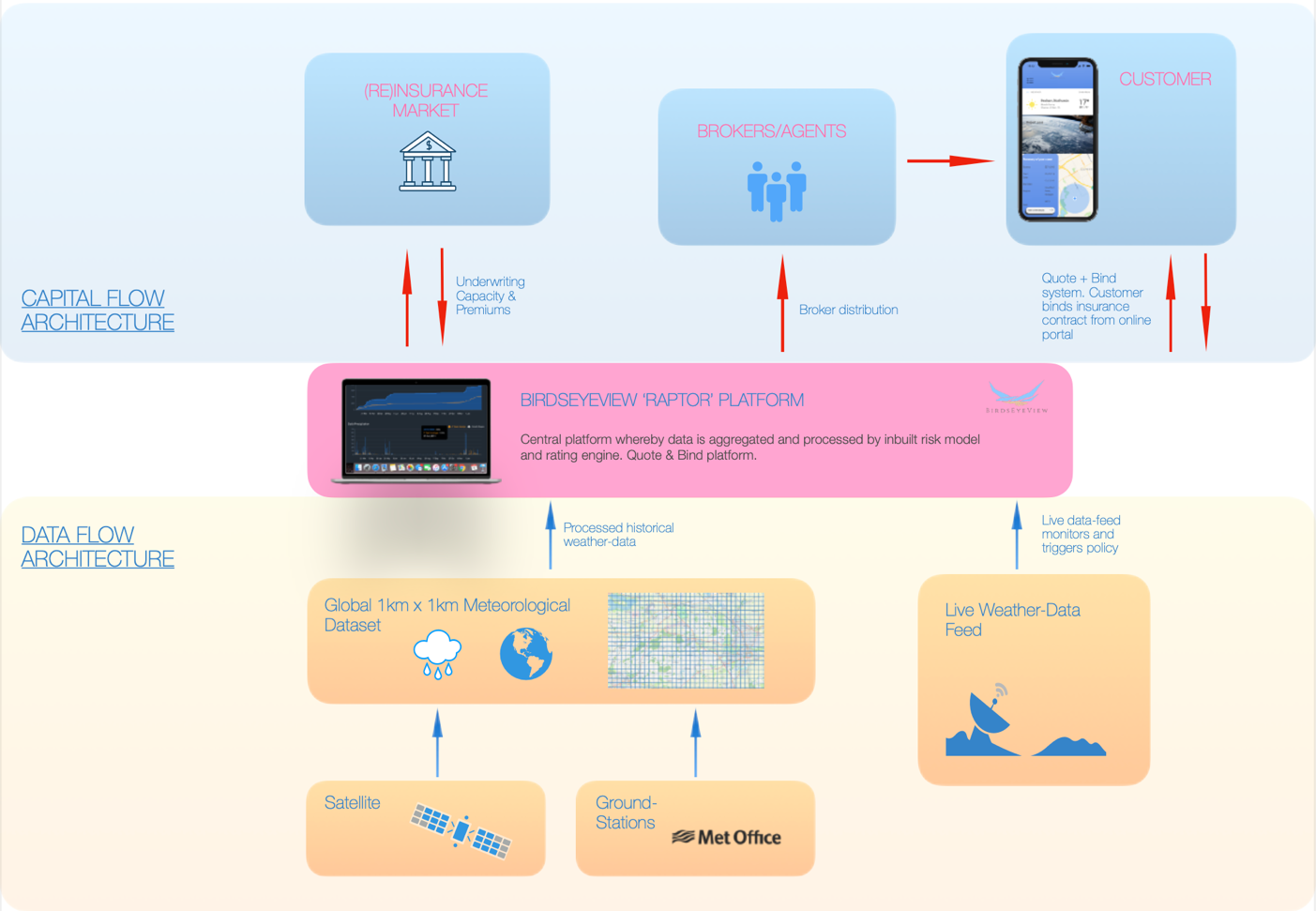 Image credit: BirdsEyeView Technologies Ltd, Project :RAPTOR: Weather-Risk Insurance
Space Added Value
BirdsEyeView collects satellite-derived precipitation data from
A) the Global Precipitation Measurement (GPM) satellite using the GPM Microwave Imager and the Dual-frequency Precipitation Radar, and
B) the Climate Hazards Group InfraRed Precipitation with Station data (CHIRPS) which utilizes infrared precipitation (IRP) pentand rainfall estimates created from satellite data using cold cloud durations (CCD) lower than 235k as a threshold value and calibrated in relation to the TRMM 3B42-based precipitation pentands by local regression.
This satellite data is then combined with data from ground-stations and farming IoT devices, and by aggregating this onto a global 1km x 1km gridded dataset, we can extract precipitation data in near real-time, globally, and at a much lower cost.
This is done with a far superior spatial and temporal resolution than is achieved by a manual on-site loss adjustments. This high-resolution meteorological data is combined with the innovative 'parametric' insurance model to create a simple and transparent weather-risk insurance product for crops. This is only made possible by harnessing satellite imagery.
Earth Observation data enables a low-cost, accurate, and globally homogenous data capture. This results in a transparent and low-cost product for the customer, whilst improving underwriting performance. This global dataset also enables (re)insurers to rapidly scale and deploy underwriting capacity to new regions at a low-cost. They can access a market that has grown from $10bn in Gross Written Premiums (GWP) to an estimated $40bn in GWP between 2006 – 2020.
Current Status
BirdsEyeView has released a beta version of its proprietary RAPTOR™ risk-modelling platform and user interface. This beta version is being used to sign-up brokers, work with underwriters, and secure investment ahead of a follow-on demonstration project.
RAPTOR™ will be commercialised with underwriting capacity in 2022.
Prime Contractor(s)
Status Date
Updated: 21 December 2021
-
Created: 02 August 2021